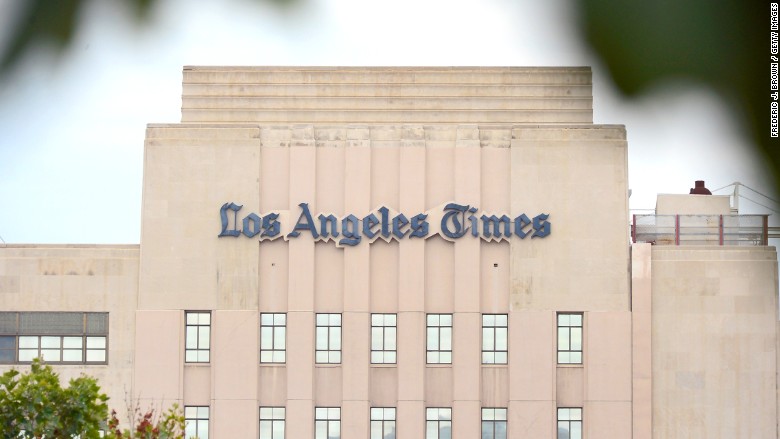 The owner of the Los Angeles Times has reached a deal to sell the paper to biotech billionaire Patrick Soon-Shiong, bringing the paper back under local control for the first time in nearly two decades.
Tronc, the Chicago-based company formerly known as Tribune Publishing, will sell the Times, the San Diego Union-Tribune and the rest of its California News Group to Soon-Shiong for $500 million in cash, plus the assumption of $90 million in pension liabilities, the company announced Wednesday morning.
The $500 million price tag is twice what Amazon founder Jeff Bezos paid for the Washington Post when he bought that paper in 2013, and more than seven times what Red Sox owner John Henry paid for the Boston Globe that same year.
The deal comes after a chaotic period at the Times that saw the appointment of three editors-in-chief in less than six months, the suspension of a publisher over prior sexual harassment allegations, and the creation of the Times' first union. Times staff was largely critical of Michael Ferro, who controls Tronc, and the Times' executive leadership.
Separately on Wednesday, Tronc announced that Ross Levinsohn, the publisher who had been suspended, would be reinstated at Tronc as CEO of a new division called Tronc Interactive. Levinsohn will oversee digital activities for Tronc's remaining papers, which include the Chicago Tribune, the New York Daily News and the Baltimore Sun.
Related: What went wrong at the Los Angeles Times?
The major question now is what the Soon-Shiong era will mean for the beleaguered paper. Known as "the world's richest doctor," Soon-Shiong is a controversial figure in the healthcare industry and on Wall Street. Shares of his biotech companies, NantHealth and NantKwest, have both fallen by more than 80% since he took them public. An initiative he launched to eradicate cancer by 2020 was described by STAT News as "an elaborate marketing tool" for his businesses. (Through a spokeswoman, Soon-Shiong responded to that story in two statements, saying the initiative had made "remarkable progress.")
In a statement, Soon-Shiong said, "We look forward to continuing the great tradition of award-winning journalism carried out by the reporters and editors of the Los Angeles Times, The San Diego Union-Tribune and the other California News Group titles."