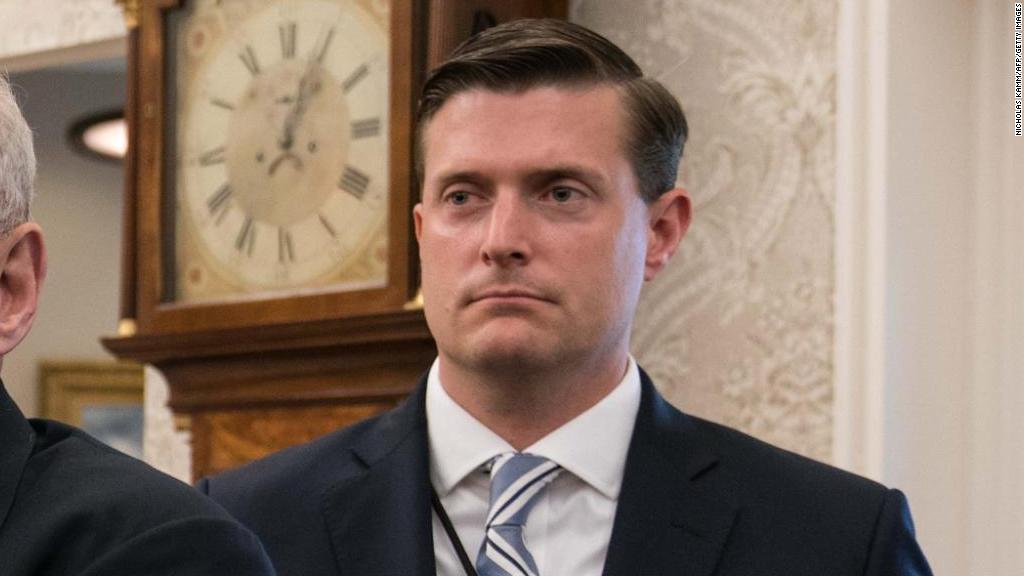 The Trump administration is reeling over domestic violence allegations against a top White House aide, Rob Porter. But you might not know it if you watch Fox News, where the disturbing story has been largely, and conspicuously, absent.
While virtually all other news outlets have provided extensive coverage of Porter, the White House staff secretary who resigned Wednesday after allegations that he physically abused two ex-wives were made public, Fox has all but ignored the subject.
The matter was only discussed a handful of times on-air Wednesday by Fox News reporters and anchors, according to transcript searches.
Porter's name was not mentioned during Fox News' prime-time lineup, which is stacked with pro-Trump commentators like Tucker Carlson, Sean Hannity and Laura Ingraham.
And Porter wasn't brought up once by Thursday during "Fox & Friends," President Trump's favorite morning show. Top White House adviser Kellyanne Conway appeared on the show as a guest, but the hosts of the show didn't ask her a single question about Porter.
Related: Right-wing media obsesses over FBI text message story; hours later it's debunked
As of 9 a.m. Thursday morning, Fox had gone almost 15 hours since discussing Porter -- the last on-air mention of Porter had been shortly after 6 p.m. on Wednesday on the program hosted by Bret Baier, according to the transcript searches.
Just after 9 a.m. Thursday, as the network went back into its daytime news programming -- which has a smaller audience than its prime-time shows, and probably less influence with the president than "Fox & Friends" -- Fox covered Porter again.
Fox's website also caught up to the news cycle on Thursday morning, publishing a story about Porter's impending departure from the website and placing it on its homepage.
A Fox News spokesperson did not respond to a request for comment.
Porter has denied the allegations, calling them "outrageous." Fox News host Harris Faulkner read the denial on-air Wednesday afternoon, marking the first time someone from the network addressed the subject. Prior to that, Fox viewers had only heard Porter's name during the White House press briefing shortly before 2 p.m.
By that time, the Porter scandal had already been discussed dozens of times on CNN and MSNBC. And by Wednesday evening, other news outlets had begun examining new questions related to the case -- namely, for how many months the White House had been aware of the allegations.
But Fox News continued to serve as a Trumpian echo chamber. Rather than cover the allegations against a senior White House aide, the network spent much of Wednesday hyping a debunked story suggesting that former President Barack Obama had waded into the FBI's investigation into Hillary Clinton's use of a private email server.