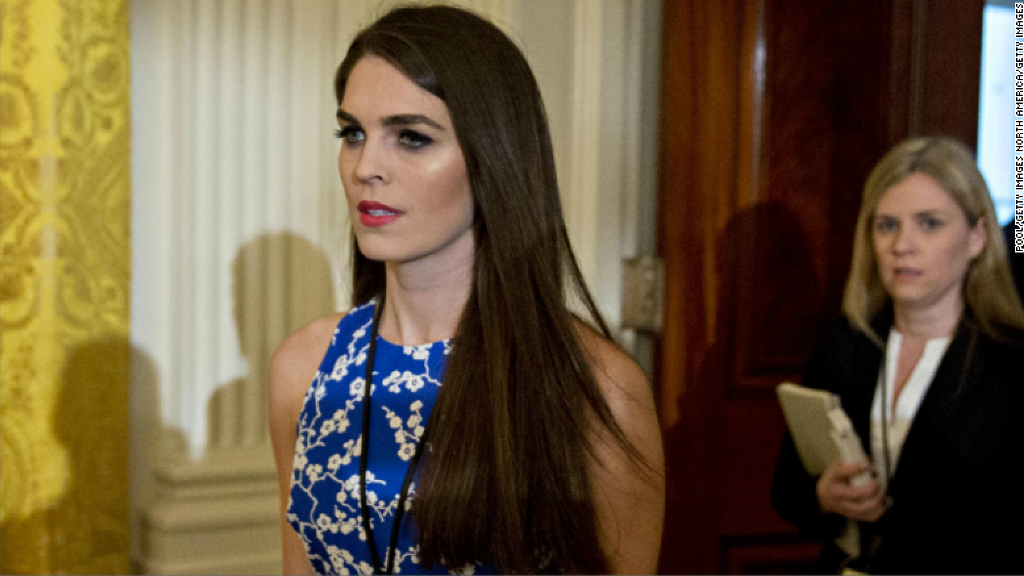 Hope Hicks is the enigma of the Trump administration.
Hicks is the White House communications director and one of President Trump's closest aides. Yet she has never given a TV interview. She is rarely quoted at all. She is the yin to Trump's attention-grabbing yang.
And right now she's in a terrible place for a press-shy person to be: In the middle of not one but two White House scandals.
Hicks, 29, has been dating Rob Porter, the Trump aide who resigned Wednesday after his two ex-wives accused him of domestic abuse.
The White House initially tried to weather the storm. When the Daily Mail called for comment before publishing its story on Tuesday, Hicks helped defend Porter -- sources told CNN that she worked with other aides to craft a supportive statement that was put out in chief of staff John Kelly's name.
The administration continued to defend Porter on Wednesday, even after photos of injuries from the alleged abuse were published by news outlets. Press secretary Sarah Sanders said Porter would not be leaving immediately. Observers wondered whether Hicks' relationship with Porter was a factor.
By the end of the day Wednesday, as the scandal deepened, sources said Porter would be gone as soon as Thursday.
Meanwhile, Hicks is also caught up in Robert Mueller's investigation into obstruction of justice and other matters.
Hicks declined to comment for this story.
As communications director, Hicks works behind the scenes at the White House, guiding press coverage and facilitating some of the president's interviews.
She is often seen coming and going on Trump's trips, but is never heard. Most Americans have never heard her voice. "SNL" tried to impersonate her last Saturday, but the bit fell flat because Hicks is so elusive and therefore difficult to mimic.
Hicks' good looks and gracious demeanor -- a recent Town & Country profile called her "unfailingly polite and deferential" -- make her a frequent subject of D.C. gossip.
Days before publishing the allegations against Porter, the Daily Mail published paparazzi-like pictures of Hicks and Porter together, claiming they were "canoodling" in the back of a cab.
True? Untrue? Hicks didn't say. She does not tweet. She does not seek the TV limelight.
This cloak of mystery has given rise to a kind of fan fiction on Twitter from those on the left. They imagine Keri Russell or Allison Williams someday playing Hicks in a movie about how she sabotaged Trump and saved the country.
Some journalists have also raised the prospect that she might turn against Trump. Michael Wolff, the author of "Fire and Fury," tweeted a prediction on Wednesday that "Hope Hicks becomes the John Dean of the Trump White House." Dean is the lawyer who helped thwart Watergate investigators and then turned on Richard Nixon by revealing the president's role in the cover-up
Wolff's tweet might be chalked up to wishful thinking. It's unclear how much he interacted with Hicks while spending time inside the White House for his gossipy book.
In "Fire and Fury," he says Trump usually treated Hicks "in a protective and even paternal way." But he also quotes the president saying to Hicks that she was "the best piece of tail [Lewandowski will] ever have," a reference to a reported relationship between Hicks and ex-campaign manager Corey Lewandowski.
Hicks and Lewandowski were reportedly seen having a public screaming match in Manhattan in May 2016, an incident that landed them in the New York Post -- a rare bit of unfavorable press for Hicks.
Hicks, a former model and P.R. professional, had no political experience before Trump tapped her to work on his presidential campaign in early 2015. But Trump knew her through her work doing P.R. and other projects for Ivanka Trump.
Hicks' mother, Caye, recounted her hiring this way: "Mr. Trump sat her down and said, 'This is your new job.' It was a shocker."
Trump officially entered the presidential race a few months later.
"Remember, she's the longest-serving aide" Trump has with him in the White House, said Olivia Nuzzi, who profiled Hicks for GQ magazine in 2016.
When Trump won, he appointed her "director of strategic communications," a new title for a new kind of president. Hicks has been the gatekeeper for most -- though not all -- of his interviews.
Trump went through two communications directors in his first seven months. After Anthony Scaramucci was ousted, Hicks took on the job.
But veterans of past administrations say it looks like a very different job than the one they held.
"The big difference is Donald Trump thinks of himself as his own communications director," said Jen Psaki, who was President Obama's last communications director.
"In a typical White House, your job is to oversee the development of the strategy and the message and to see around the corner for opportunities and thorns on the horizon," Psaki said. "In this case, it appears to be more of a relationship where Trump is dictating tweets and statements from the Oval, not a relationship where Hope and the communications team are a presenting a strategy to debate and then implement."
Nuzzi, now the Washington correspondent for New York magazine, told CNN that "you can't judge Hope Hicks the way you'd judge a typical political PR professional."
"The reason why she's endured throughout the hiring and firing and public scandals and private dramas and backstabbing is because she's smarter than anyone else who's passed through Trump's orbit," Nuzzi remarked.
All of which contributes to the sense that Hicks is an enigma.
"It was inevitable that at some point she'd find herself at the center of some scandal or other, but I think it's a testament to the kind of discipline she has that it took so long for it to happen," Nuzzi said.