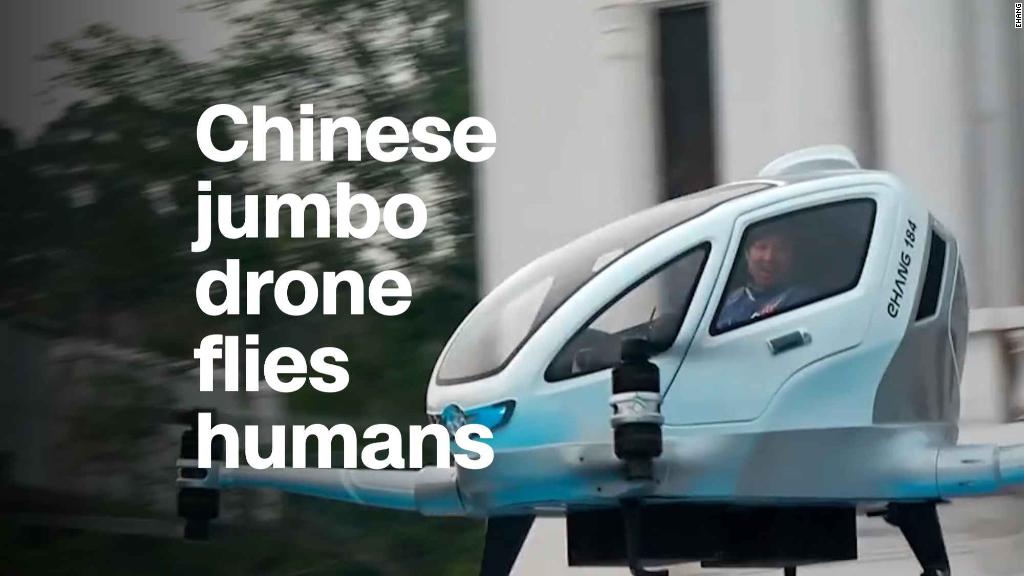 The dream of flying taxis whizzing through the skies above our cities may be closer to reality than you think.
Chinese company Ehang offered a glimpse this week of what could lie ahead, releasing its first video of passengers climbing aboard its autonomous drones and taking off with the push of a button.
It's one of a bunch of companies racing to bring their different versions of computer-controlled airborne taxis to market. The contenders include big plane makers like Boeing (BA) and lesser-known startups.
Ehang says it first managed to carry passengers in its drones back in 2015 and has since racked up at least 40 successful journeys. It hadn't shared footage of the flights publicly until this week.
Its video suggests the Chinese startup is ahead of companies in the U.S. and Europe in the push to develop a new generation of aircraft that could potentially ferry people across cites, from one rooftop to another.
Related: Google cofounder's 'flying car' makes its debut
This is a different game from helicopters. Smaller, electric-powered aircraft are changing the shape of flying.
Rather than traditional gas-driven engines and large propellers or rotors for forward and vertical flight, new designs spread out the work across many small electric motors. They're giant, people-carrying versions of the small remote-controlled drones that have become hugely popular with consumers around the world.
Ehang created a buzz at the CES tech conference in Las Vegas in 2016 where it showed off a prototype of its passenger drone, the 184. But it says the technology has come a long way since then.
Related: Human-carrying drone debuts at CES
Its video backs that up. Dozens of passengers, including company executives and local government officials are shown taking rides in a 184. They tap a button in the drone to take off over a field in China's eastern Jiangsu province or an abandoned space-themed amusement park in the southern city of Guangzhou.
The video showed the drone coping with challenging conditions. They included test flights 1,000 feet above the ground, in storm-force winds, in low visibility and even at night.
While other startups may have also carried out manned flight tests, no one is doing it on "this level," Derrick Xiong, Ehang's co-founder and chief marketing officer, told CNNMoney in an interview.
Ehang claims the 184 is the world's first passenger drone capable of reaching speeds of more than 80 miles per hour.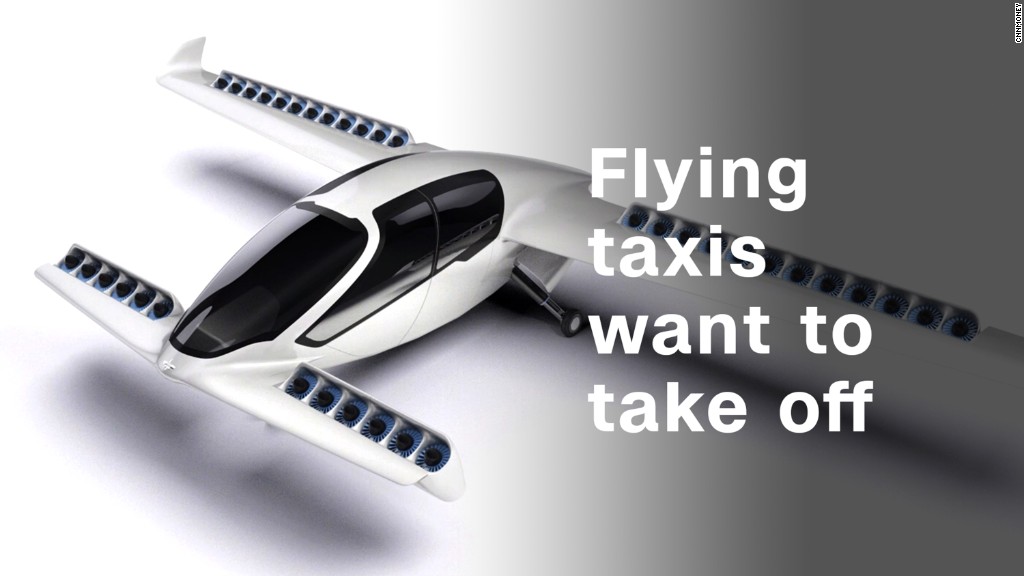 It hasn't always been smooth sailing. New flying technology requires plenty of trial and error, and Ehang CEO Hu Huazhi says in the video that it took him "a while" to get comfortable with actually putting passengers in the drone.
In the past three years, the team has carried out more than 1,000 test flights, including some that turned "violent," Hu said. (The company said no one was hurt in those tests, which used a dummy to simulate the weight of a passenger.)
"We do tests basically every single day," Xiong said. "I'm not going to say that there was no crash at all. But we do all the tests in a really, really careful way."
A global race
The race to harness electricity for flight is in high gear. Boeing (BA) and Airbus (EADSF) are competing with smaller newcomers in the U.S., Germany and China to bring a new generation of electric flying vehicles to the sky.
Last week, Airbus' Silicon Valley unit sent Vahana, its air taxi prototype, flying over Oregon for the first time. The flight came just months after its rival Boeing bought autonomous aircraft maker Aurora Flight Sciences.
Joby Aviation, a secretive startup based in Santa Cruz, California, also announced last week that it had secured $100 million in new funding, with the help of venture capital funds from JetBlue (JBLU), Intel (INTC) and Toyota (TM).
The company recently demonstrated its technology to a pair of Bloomberg News reporters with a piloted flight of around 15 minutes.
Related: Airbus' 'flying car' takes to the skies for the first time
Regulators have yet to catch up to the pace of development.
Traditional aircraft have rigidly established and globally recognized standards, from small propeller airplanes to enormous jetliners. But there's little in the way of national or international guidelines for the electric craft Ehang, Joby and others are developing.
And the technology to safely operate in busy urban airspace -- avoiding other small aircraft or obstacles on the ground -- has yet to be fully demonstrated.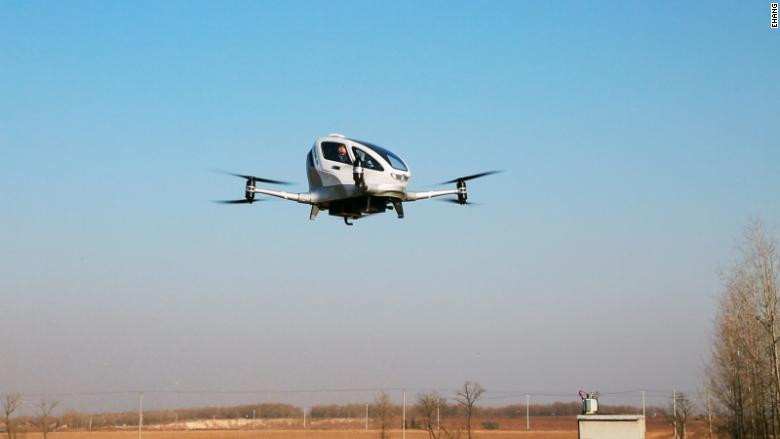 Ehang is working with authorities in Dubai, where a self-flying taxi service was announced with great fanfare last year. But that program has yet to set a launch date, and in the meantime, the Chinese company is eager to secure new partners.
One place it has won some support is Guangzhou, the city where it's based. Xiong said the deputy mayor had asked the company for a test ride in the drone.
It's still unclear when anyone will be able to buy their own 184. Ehang says it may announce the price and other details about the drone this summer.
And the company already has another product in the pipeline. Its video teased footage of an even bigger drone capable of carrying two passengers at a time.
-- Nanlin Fang contributed to this report.