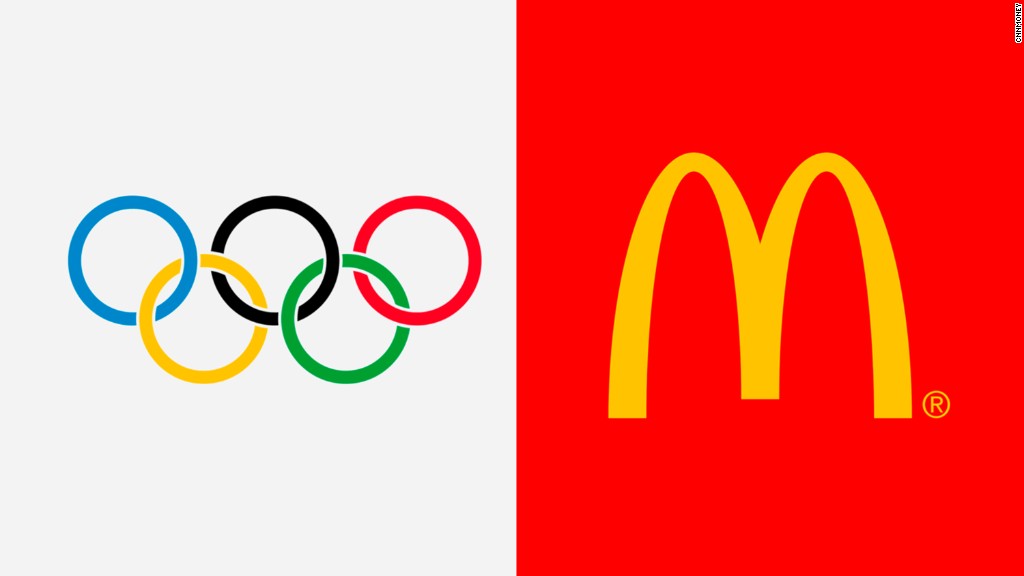 This year's Winter Olympics will be a first for many athletes.
But for longtime sponsor McDonald's (MCD), it'll be the last.
The fast food giant announced in June that it would end a decades-long partnership with the International Olympic Committee. The sponsorship was supposed to run through at least 2020, but McDonald's pulled out of the deal early.
That means American audiences won't see any Olympics-themed McDonald's television advertisements during this year's Games. It also means the 2018 Pyeongchang Olympics will be the last to feature McDonald's restaurants in the Olympic Park and Village.
Just two years ago, before the start of the Rio Olympics in 2016, McDonald's was heavily promoting and praising its partnership.
"It's a great opportunity for us and our business down in South America to really capitalize," John Lewicki, senior director of sports marketing said at the time.
Yet less than a year later, McDonald's changed its tune.
"We are proud of everything that we have achieved as an Olympic sponsor but as a part of our global growth plan, we are reconsidering all aspects of our business," McDonald's said in a statement to CNNMoney last week. "As a result, we have made the decision, in cooperation with the International Olympic Committee, to focus on different priorities."
The IOC echoed that the decision to part ways was mutual.
Michael Payne, a former IOC marketing director, told CNNMoney that the split makes sense for both parties.
"McDonald's has been a partner for a very long time, which is expensive," he said in June. "It also got to the point where McDonald's was difficult to manage. McDonald's viewed itself as owning the food category. This isn't just a case of the sponsor saying, 'We've decided to move on.'"
Viewership numbers for the 2016 Olympic Games in Rio were disappointing.
NBC, which has the broadcast rights through 2032, suffered a ratings dip in Rio when it averaged 25.8 million viewers. The 2012 London Olympics drew an average of 31.1 million viewers.
The split affords other food vendors a chance to partner with the Games, including those with healthier offerings.
Related: Intel drones and VR headed to 2018 Olympics
But Payne noted that ending the contract early is odd -- especially in this case since McDonald's has been such an important sponsor for so long.
Still, the company has undergone recent changes. A new CEO took over in 2015 and has focused on new features for customers like online ordering and delivery.
McDonald's first became associated with the Games in 1968, when it delivered hamburgers to athletes competing in the Winter Games in Grenoble, France.
It's been an official sponsor of the U.S. Olympic Committee since 1976 and has operated restaurants in both the Olympic Park, where competitions take place, and in the Olympic Village, where athletes live, since the 1996 Games in Atlanta.
In 1984, McDonald's ran a promotion called "When the U.S. Wins, You Win": Any time an American athlete won a medal, Americans won food. American athletes were very successful that year and the program was extremely popular.
During the Rio Games, McDonald's opened a dessert kiosk in the Olympic Park and sponsored 100 kids by sending them to the Games' Opening Ceremony.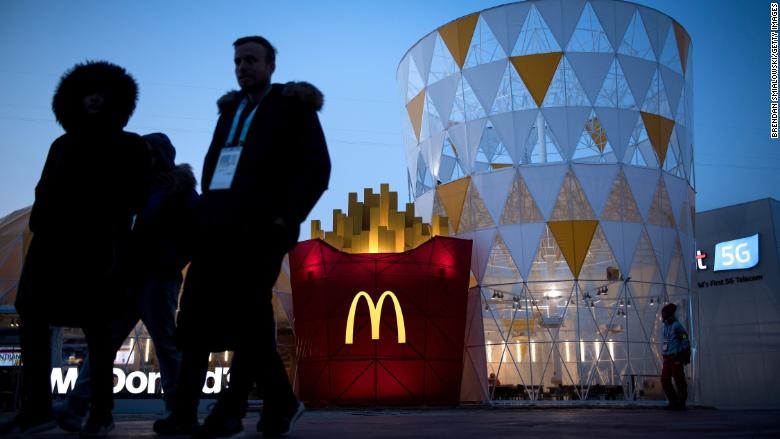 While fast-food might not seem like a popular choice for Olympic-caliber athletes, the McDonald's locations in the park and village were a big attraction, according to Lewicki.
"Our transactions in the athletes' village are very significant," he said ahead of Rio. "They look forward to us being there. Quite honestly, a lot of them it gives them a taste of home."