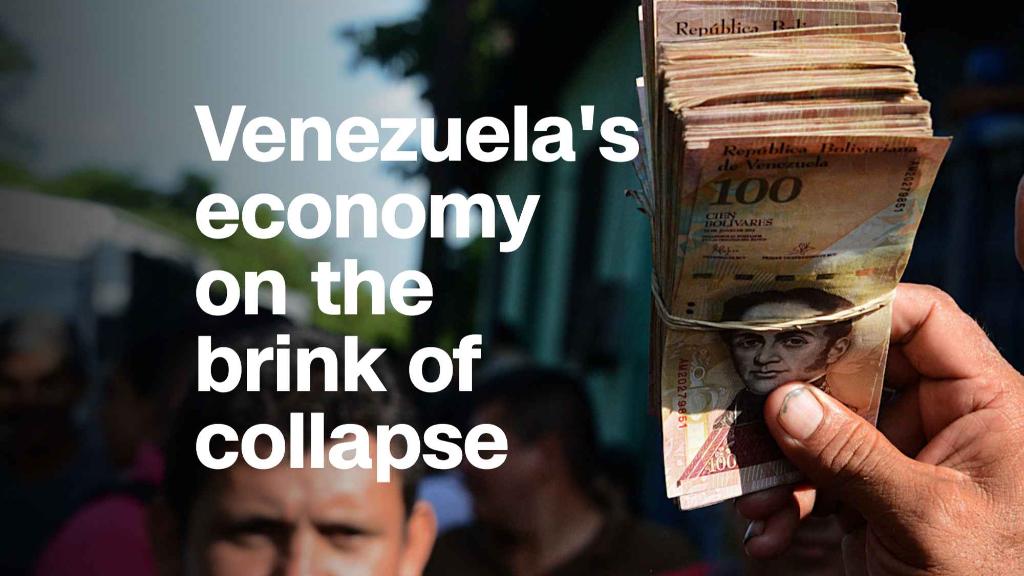 Venezuela's main source of cash is dwindling at a breathtaking pace.
The country's oil output in January fell to its lowest level in nearly 30 years, not including a brief oil strike in 2003, according to S&P Global Platts.
A monthly OPEC report published Monday revealed Venezuela pumped 1.6 million barrels of oil per day last month. Production in January was down 20% from a year ago.
The staggering decline is another sign of Venezuela's economic and political crisis. The country is heading toward a presidential election in April that international critics are already labeling fraudulent.
Venezuela has more crude oil than any other country in the world and it heavily depends on the commodity to power its economy. Crude oil makes up about 95% of Venezuela's exports. The country has no other source of foreign income.
Related: Latin America has little faith in Trump, and it's turning more to China
Yet the government-owned oil company, PDVSA, has pumped less and less oil for the last few years because of corruption, crumbling infrastructure and a massive debt crisis.
Meanwhile, hundreds of thousands of Venezuelans have fled the country of 30 million in recent years. Those who can't leave are suffering from food and medical shortages, rampant crime and soaring prices on all types of goods. Inflation is expected to shoot up 13,000% this year, according to the IMF.
Venezuelan President Nicolas Maduro is expected to tighten his grip of power after the April 22 election. He has already barred prominent opposition candidates from running because their political parties didn't participate in gubernatorial elections last year. The Trump administration, along with several other governments, has labeled Maduro a dictator. Maduro claims the U.S. and others are waging an economic war against Venezuela.
The United States could get tougher on Maduro very soon. Secretary of State Rex Tillerson said last week on his tour of Latin American countries that the administration is still considering a ban on Venezuelan crude oil exports to the United States.
Experts say a complete oil ban would be a devastating blow to Venezuela's economy and Maduro's political fortunes.