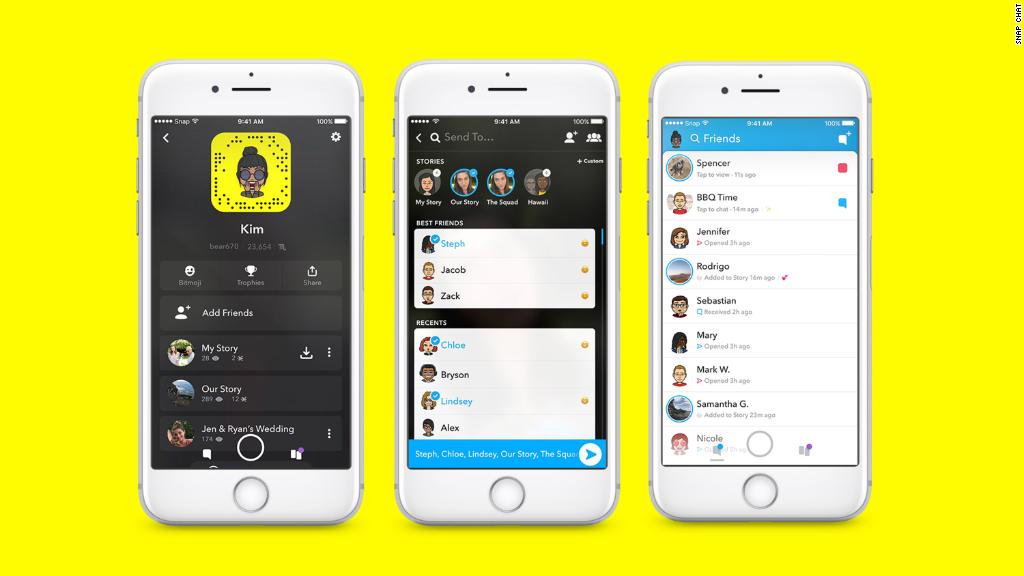 The goal of Snapchat's newly redesigned app was to make it easier to use.
But as the update rolls out to more users, Snapchat is getting criticism that the new interface is difficult to navigate.
"I might start using Instagram Stories now," Ashley Vasquez, a 21-year-old Snapchat user who is a senior at the University of Maryland in College Park, told CNN.
A Change.org petition asking the company to remove the new update has amassed more than 590,000 signatures by Monday afternoon.
Related: Snapchat redesigns confusing app as user growth stalls
Other users began sharing a workaround for reversing the update by deleting the app and turning off automatic updates before redownloading it, but Snapchat advises against it.
In November, Snapchat said it was working on a major redesign of its flagship app to attract new users. Even CEO and founder Evan Spiegel has acknowledged in the past that Snapchat can be hard to understand.
The app, which is popular with teens and Millennials, previously featured content from friends, publishers and celebrities on one page. Now, there's a designated page for publishers and a page for friends.
The redesigned app was rolled out to 40 million users as of last week, and all of its users will have it by the end of this quarter. Snapchat currently has 187 million daily active users. It does not disclose it's total user base.
Snapchat Stories, which are photos and videos shared by users that disappear after 24 hours, are now mixed in with direct messages and individual Snaps. Users you've interacted with recently appear higher on the screen rather than a list of recent Stories.
In response to the backlash, a Snap spokesperson told CNN: "Updates as big as this one can take a little getting used to, but we hope the community will enjoy it once they settle in."
Related: As Facebook stumbles, Twitter and Snapchat show new life
In the past, social media users have been resistant to change. In 2008, Facebook (FB) drastically redesigned its site, spurring criticism. Groups formed on the platform such as "Petition Against the New Facebook" and "1,000,000 Against the New Facebook Layout," and each had over one million members. Facebook did not change the design back.
However, some analysts believe Snapchat's update could turn off the app's key user base of teens and young adults in their 20s.
"Snap's new product strategy and redesign runs counter to why Snapchat was appealing to its younger demographic in the first place and it could alienate that existing user base because they're now trying to cater to the masses and Wall Street," said Jessica Liu, a senior analyst at research firm Forrester.
Others argue the update was necessary to expand Snapchat's user base.
"This was a much needed redesign for Snap as the complexity and nature of the app was shunning older demographics and a major issue for advertisers, which remain the golden goose for the company," said Daniel Ives, chief strategy officer and head of technology research at GBH Insights.
Ives said the update comes at the right time as Snap looks to boost its engagement and advertising growth. Last week, Snapchat reported quarterly sales and user growth that topped Wall Street's expectations.