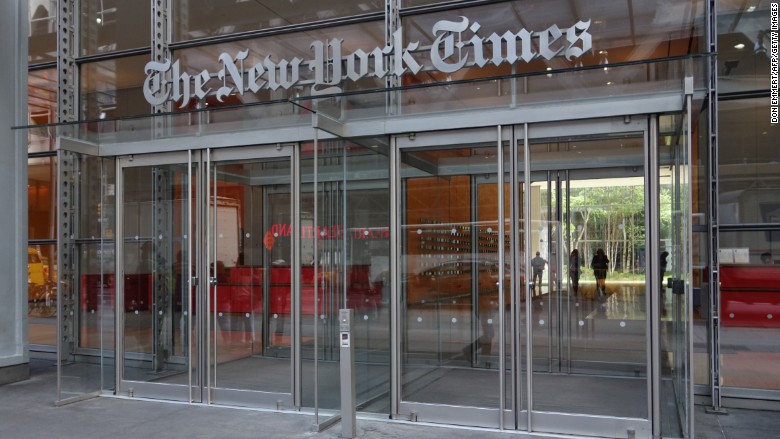 The latest addition to the New York Times' editorial board lasted less than half a day, departing the job over previous social media postings in which she used offensive language and admitted she was friends with neo-Nazis, while saying she did not agree with them.
At around midday Tuesday, the Times announced it had hired Quinn Norton, who most recently worked at Wired, to serve as its "lead opinion writer on the power, culture and consequences of technology."
By 9 p.m. the same day, Norton said on Twitter that she would no longer be working with the Times, the culmination of several hours of intense criticism directed at her over some of her previous writings on the site.
"As I said so many times to the @nytimes, no harm no foul," she said. "I'm sorry I can't do the work I wanted to do with them. I wish there had been a way, but ultimately, they need to feel safe with how the net will react to their opinion writers."
The Times confirmed her departure in a statement from editorial page editor James Bennet.
"Despite our review of Quinn Norton's work and our conversations with her previous employers, this was new information to us," Bennet said. "Based on it, we've decided to go our separate ways."
In a string of several tweets announcing her exit from the Times, Norton defended her work as a "queer activist" and said she "used a variation of offensive language to talk about questions of tone."
"I really wasn't comfortable using the word directly, so I didn't," Norton tweeted Tuesday. "I was trying to make a point, but something else would have made that point better. So, also not my best tweet."
In some years-old tweets flagged by Twitter users, Norton used anti-gay slurs, and on one occasion used the N-word. She also expressed sympathy for neo-Nazis like Andrew "weev" Auernheimer, who she once said was her friend, even though she disagreed with his views.
In one tweet from 2014, Norton told another user that she had been "friends with various neo-nazis in my time," adding that she had "never agreed with them."
Norton did not immediately respond to a request for comment.
Her hire was polarizing almost from the moment it was announced Tuesday. Norton herself admitted from the start that it was an unusual move by the Times.
"I'm as surprised as you are," she wrote in a blog post published Tuesday, saying she spoke candidly with Times editors about "my background, my philosophy, and my approach to the topic."
"I caveated everything with: if this is at all uncomfortable, not what you were looking for, no harm no foul, thanks for the ask," she wrote. "But they kept talking to me."
In a statement announcing the hire Tuesday, Bennet, along with deputy editorial page editor Katie Kingsbury and op-ed editor Jim Dao, said he was excited to have Norton on board to "help our readers understand what's possible and what's sensible, and where we're all headed."
But within hours, the backlash fully underway, the Times was singing a different tune, issuing a statement to express its concern over Norton's tweets.