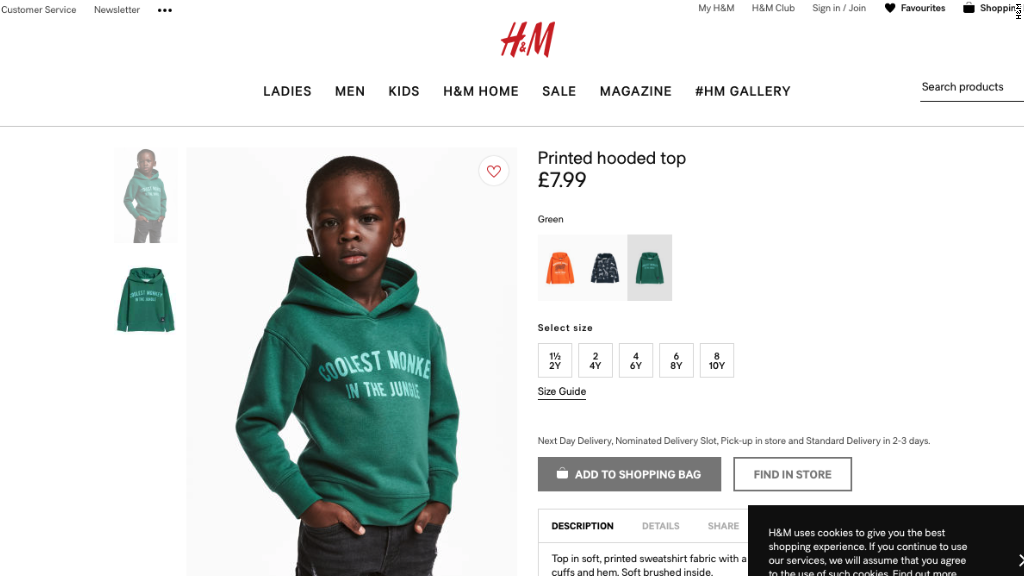 H&M wants to transform itself from a traditional retailer to an e-commerce powerhouse. But that won't happen in 2018.
Shares in the Swedish fashion company have declined by 45% over the past year as investors worried that it was being left in the dust by more nimble online rivals.
The mall mainstay was slow to embrace e-commerce, and weak sales in its brick-and-mortar stores had set off alarm bells.
The company still has a long way to go in its turnaround.
H&M (HMRZF) warned Wednesday that sales in existing stores would drop in 2018, although they should see a gradual improvement over the year.
The retailer also said that products have piled up in its stores, resulting in deep discounting.
"2018 is expected to remain challenging," the company said in a statement that was released as part of its first "capital markets day," an event designed to showcase its turnaround plans.
James Bidwell, co-founder of the retail consultancy Re_Set, said that H&M is held back by a "massive legacy of stores and all the infrastructure that goes with that." He said competitors such as ASOS and boohoo are much more agile.
Related: H&M apologizes for using black child to sell 'coolest monkey' top
H&M, which has an online presence in 43 markets, but physical stores in 69, made the case that its digital transformation is underway.
The world's second biggest fashion retailer revealed for the first time on Wednesday that its online business accounts for 22% of its operating profit.
It said it expects online revenue to increase at least 25% this year, and digital sales to increase 2.5 times from current levels by 2022.
Its smaller, newer brands are performing well, including COS, & Other Stories, Weekday, Cheap Monday, Monki and Arket. The brands make up just 7% of total sales, but they're growing quickly.
The company said that about 45% of its investments went into digital initiatives over the past financial year. It said last month that it would launch a store on Tmall, an Alibaba platform capable of reaching hundreds of millions of shoppers in China.
Related: H&M partners with Alibaba for online boost
"H&M are on top of the accelerated digital investments, they are creating new brands, so this could put them ahead of competitors," said Bidwell. "Consumers are responding to the emergence of new brands."
Investors were not convinced: Shares opened higher on Wednesday, but ended the trading session down by 5%.
Some aspects of the company's strategy remain unclear.
H&M mentioned Wednesday that it is developing "two separate and completely new business models" that would provide "great opportunities for further additional sales."
But it declined to provide any more information about the new businesses.
Andrew Hughes, a retail analyst at UBS, predicts the "new business models" could be new brands that would be launched in the near future.
"The [full-year 2018] guidance may be more downbeat than expected, but outer years looks more encouraging," he said.