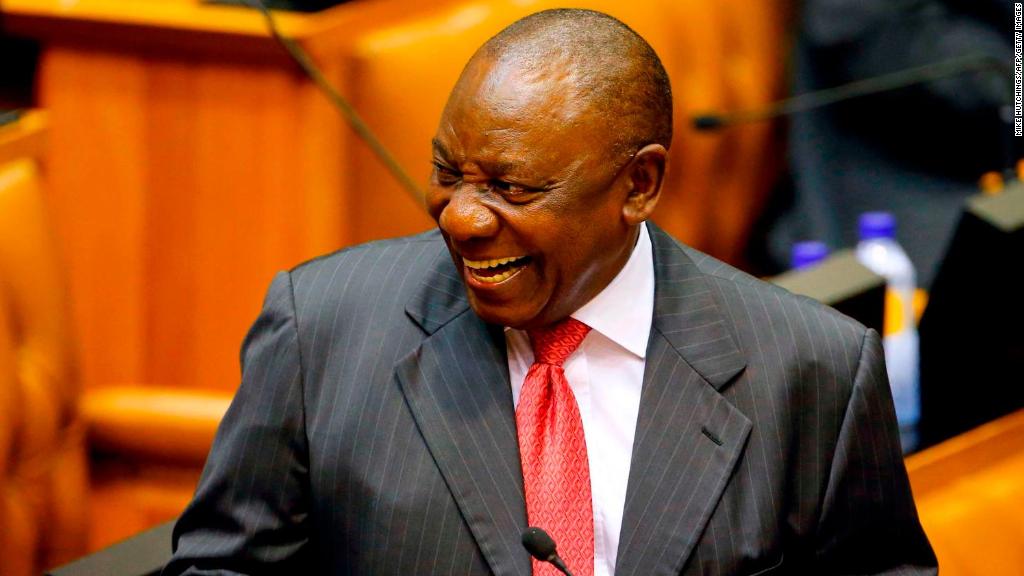 South African President Cyril Ramaphosa says his country is entering "a new era" following the ouster of his scandal-plagued predecessor, Jacob Zuma.
Investors appear to agree.
The country's benchmark stock index has surged 5% since Zuma stepped down late Wednesday. And the South African rand is trading at its highest level against the U.S. dollar in three years.
"The optimism and energy in the country is contagious," said Byron Lotter, a portfolio manager at Vestact Asset Managers. "Just a nudge in the right direction is all you need to spur confidence."
It was a rough ride for Africa's only G20 economy under former President Jacob Zuma, whose nine years in office were marred by a series of scandals that eroded investor confidence.
Under Zuma's watch, the economy sank into recession twice -- in 2009 and 2017 -- falling behind its emerging market peers. Government debt now carries a "junk" rating.
Its annual GDP growth has averaged less than 2% since 2009, one of the weakest rates in sub-Saharan Africa. The unemployment rate is sitting around 27%, and inequality is high.
Related: This drone startup helps farmers beat disease and drought
Analysts say that Ramaphosa must move quickly from words to action to restore confidence. Changing the cabinet will be especially important.
Removing "Zuma's cronies and restoring a more meritocratic approach," is a vital first step, said George Glynos, the managing director of ETM Analytics.
Lotter said that selecting a new finance minister will be crucial. He said there are many potential candidates, including Pravin Gordhan, who previously held the post but was ousted by Zuma.
"There's no lack of expertise," Lotter said. "If any of those guys were put in place as finance minister, it would instil huge confidence in global markets."
Investors are hoping the incumbent minister -- Malusi Gigaba -- will be replaced before next week's budget.
Little time, enormous challenges
Another important area: State-owned companies need to be overhauled following a string of corruption scandals and accusations of misused tax dollars.
Eskom, the state power company, and national carrier South African Airways may need to be partially privatized.
"The biggest negative is that [Ramaphosa] has little time before the next elections [in 2019], and that the challenges are immense," said Zin Bekkali, founder and CEO of Silk Invest.
Related: Africa's first bitcoin exchange targets 1 billion users
Bekkali said he's looking to invest in companies in the financial and consumer sectors.
"They will benefit the most from any structural improvements in financing costs and improvements in the local economy," he said.
Still, other analysts are not convinced that Ramaphosa is the right person for the job.
"[He] was part of the policies that have led to the decline of South Africa, so why do people think all of a sudden he's got some hidden secrets that he is going to put in place," Moeletsi Mbeki, deputy chairman of the South African Institute for International Affairs, told CNNMoney earlier this week.
-- Eleni Giokos contributed to this article.