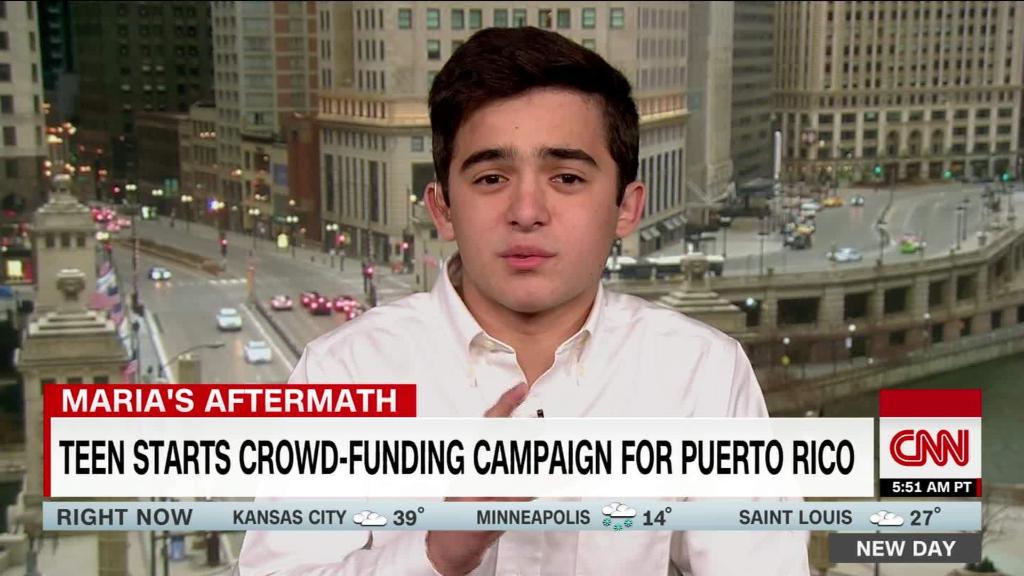 Hurricane Maria was the final straw for Gina Aponte Torres.
Aponte Torres had been working as an emergency room nurse at Puerto Rico Medical Center in San Juan for roughly two years. She loved being a nurse, but the island's struggling economy meant she was making much less than she would in the U.S. So in September, she applied to Florida Hospital's international nurse recruitment program.
Maria struck a week later, knocking out power and downing trees that temporarily trapped her in her house with her parents. When Aponte Torres could finally access a cell phone signal, she saw the email from Florida Hospital. She had been accepted.
"[I]t pushed me to make my final decision to leave," said Aponte Torres, who moved to Kissimmee, Florida, in late December.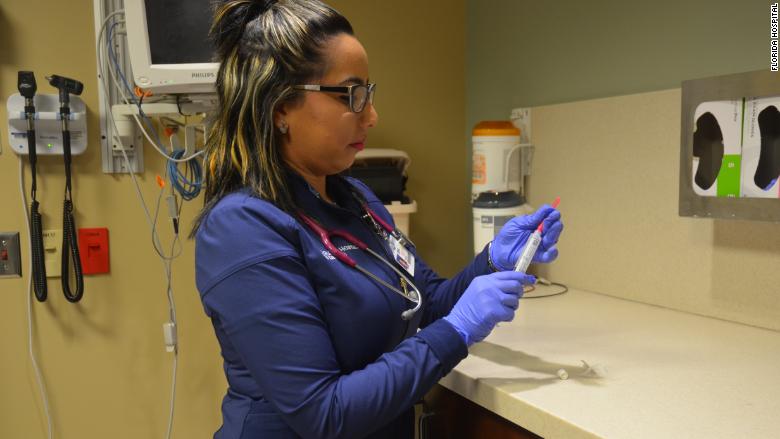 Since she started working as a full-time emergency room nurse for Florida Hospital, Aponte Torres says her pay has doubled, she's getting more on-the-job training and her workload has shrunk -- nurses in her unit are assigned to just four patients at a time instead of the 10 she used to be responsible for in Puerto Rico.
"This is my dream come true," she says.
In the aftermath of Hurricane Maria, Florida Hospital, which operates 26 hospitals throughout the state, has recruited as many as 45 health care professionals from Puerto Rico -- including nurses, medical technologists and nutrition specialists.
Like many other medical facilities in the U.S., Florida Hospital needs the help.
"The country has struggled with a nursing shortage since the early 2000s," says Seun Ross, director of nursing practice and work environment at the American Nurses Association.
Not only are experienced nurses retiring at a rapid clip, schools aren't graduating enough nurses to be able to replenish the workforce.
Exacerbating the problem is the aging U.S. population, which is fueling demand for health care services. Nearly 48 million people in the U.S., or about 15% of the population, are currently 65 years of age and older, according to the Census Bureau.
"We estimate the U.S. will need to produce over one million new registered nurses by 2022 to fill newly created jobs and replace a legion of soon-to-be retirees," says Ross.
That has Florida Hospital looking everywhere it can for new workers.
Related: Teen delivers hundreds of solar lamps to Puerto Ricans without power
"We're hiring them as quickly as we can find them. It's come one, come all," says Karla Muniz, the nonprofit health care system's senior director of talent acquisition.
Florida Hospital began an international recruitment program for nurses a decade ago. It has since hired nurses from the Philippines, India, Canada and the UK.
But Puerto Rico has become one of its most promising pipelines for talent. Before Hurricane Maria struck, about 3% of Florida Hospital's nurses came from Puerto Rico as a growing number of its residents migrated to the U.S. to escape the economic problems that were plaguing the island. But now, Muniz says that percentage is expected to double.
Florida Hospital has even developed an outreach program, partnering with community groups to find and help healthcare professionals from Puerto Rico find jobs. The hospital also fast tracks the hiring process. Interviews, applications, as well as getting the state requirements for nursing are all expedited, said Muniz.
"Many [Puerto Rican candidates] or most are bilingual, so they already have a good handle on the language," she says. "Many clinical processes that they are already familiar with easily translate here on the mainland."
And given that Central Florida has a large Puerto Rican population, she says many nurses they hire already have local connections and are able to easily integrate themselves into the workplace and the community.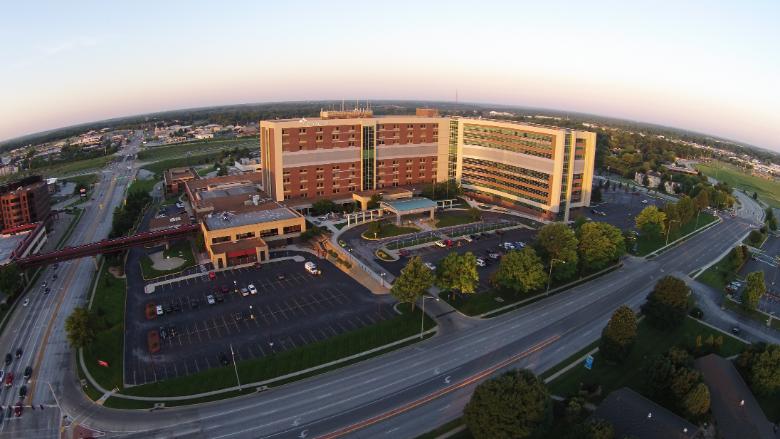 CoxHealth, a nonprofit regional healthcare system operating six hospitals and 80 clinics in Missouri, initiated a nurse recruitment effort in Puerto Rico last spring.
While CoxHealth has also been hiring nurses from other countries, Puerto Rico has emerged as an easier option "because we don't have to deal with work visa issues," said Celeste Cramer, the group's director of recruitment and retention.
There were at least 10 other nurses from Puerto Rico in Sharlene Morales' orientation class after she arrived in Florida.
Morales, 34, was working as a progressive care nurse at Doctors' Center Hospital in San Juan when Maria hit. She was earning $14.15 an hour, working long shifts and attending to as many as 15 patients at a time because the hospital was understaffed. "I barely saw my husband and my daughter," she says.
Morales had heard from other nurses about Florida Hospital's international recruiting program and contacted the hospital after the hurricane hit.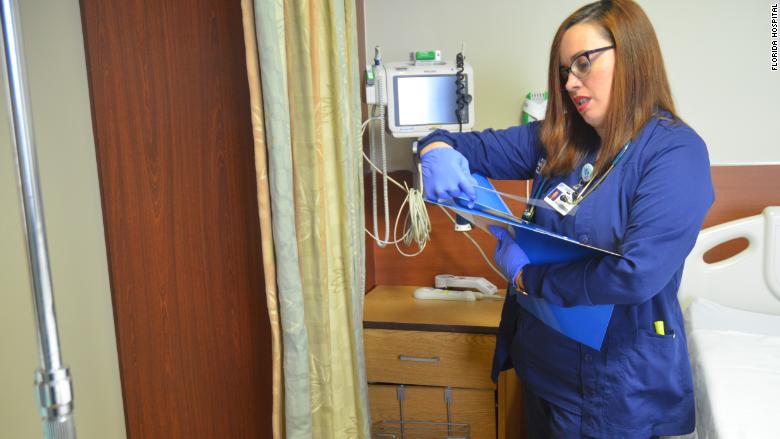 She went to Florida for an interview in November and by early December, she began her eight-week orientation program at Florida Hospital's Winter Park Memorial Hospital.
Her pay has almost doubled to $25.71 an hour since. She's also handling fewer patients and has more time to spend with her family. She hopes to become an ICU nurse soon.
Related: The U.S. still has no idea how many Puerto Ricans are out of work
Mary Perrone, the international recruiter for Florida Hospital, said 20 more nurses from Puerto Rico will finish training and be on staff in the coming weeks.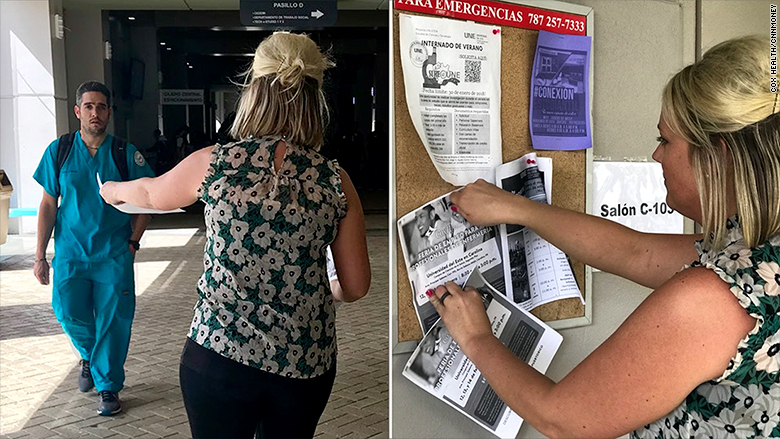 CoxHealth sent a recruiting team to Puerto Rico last weekend for on-site interviews with nursing candidates. If all goes well, it hopes to hire 30 more nurses soon, says Cramer.
"The nursing shortage is across units but the highest demand for us is in the ICU, emergency room and medical and surgical units," said Cramer.
The hospital network hasn't set a cap on how many nurses it expects to hire from the island, she says.
"There was already a lot of interest before Maria and it's overwhelming now," says Cramer.