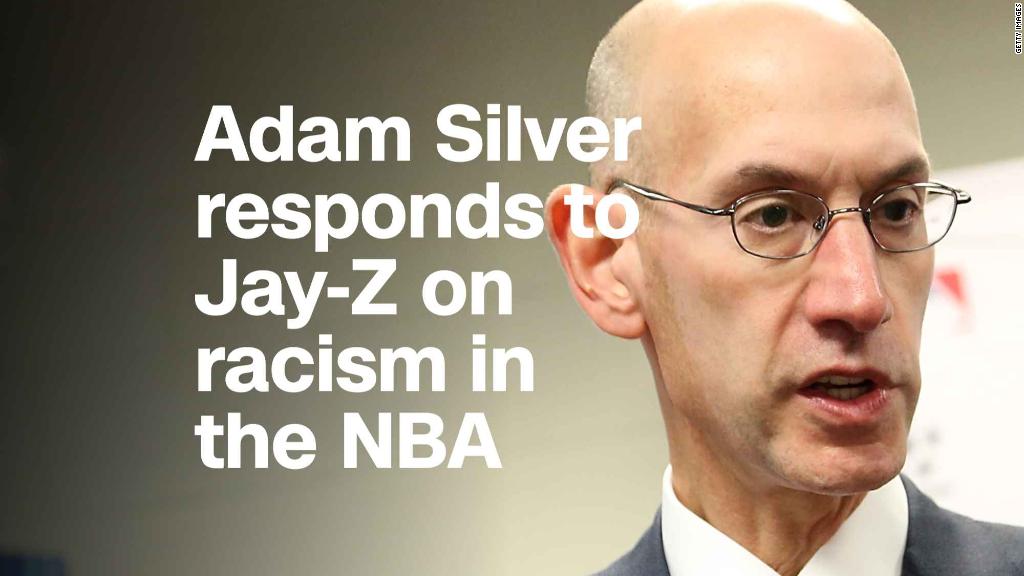 Adam Silver became NBA Commissioner in February 2014.
Just two months into his new job he was forced to navigate a major controversy, issuing a lifetime ban against then-Los Angeles Clippers owner Donald Sterling, who was caught on tape making racist comments.
Two years after that, Silver denounced the state of North Carolina's controversial transgender bathroom law and pulled the 2017 All-Star Game out of Charlotte.
Those decisions have become hallmarks of Silver's tenure, and their impact is still being felt.
In an exclusive interview with CNNMoney, Silver talked about what it means to be a modern-day sports commissioner, and the importance of being transparent in his decision making.
For example, the decision to ban Sterling was not without controversy.
Sterling's comments were made during a private conversation with his then-girlfriend V. Stiviano, who recorded the exchange. In the 10-miunte recording, a man later confirmed to be Sterling, can be heard saying to a woman that he doesn't want her bringing black people to games.
At the time Silver said he was "outraged" and used his authority to ban Sterling. He then asked team owners to vote on forcing Sterling to sell the Clippers franchise.
Hip-hop mogul Jay-Z recently criticized that decision because he said it ignored a tougher conversation on race. He said during an appearance on CNN that banning Sterling only encouraged "closeted racists" to hide their true feelings.
Silver said he understood the sentiment but said he isn't sure there was a viable alternative to the ban.
"I think it's an interesting point," Silver told CNNMoney. "I don't think in any way we didn't make the right decision at the time, and I will say that by banning Mr. Sterling from the NBA it sure engendered a lot of conversations about race."
He added that "the act that we took led to a much broader societal discussion about how comments like that should be treated, comments outside of the workplace."
Related: The NBA is not afraid to lead on social justice
The Sterling ban and decision to pull the All-Star Game had little to do with basketball. But changing societal norms have made choices like the ones Silver has faced more commonplace.
"So much is changing in these jobs everyday," Silver said. "You really have to pay attention to everything that's broadly happening in society. ... You've got to be a little bit of a jack of all trades in these commissioner jobs and you need to have a certain level understanding of lots of different industries and what's happening in your country and what's happening outside of it."
Paying attention and being flexible is something Silver learned from his predecessor, David Stern. Stern held the commissioner job for 30 years.
Silver is still relatively new, but he's already earned a reputation for being the most progressive commissioner in U.S. sports.
He told CNNMoney that he feels it's his job to protect players' free speech.
Last week, LeBron James and Kevin Durant were criticized by a Fox News host for comments they made about President Donald Trump. James said Trump is "someone who doesn't understand the people and really don't give a sh*t about the people." Durant said he doesn't think the country is run by a "great coach." The Fox host said the two should "shut up and dribble."
James said he wouldn't stay quiet because he was more than an athlete, and Durant called the host's comments "racist."
Silver said he was "proud" of their responses.
While other commissioners have showed support for their players, none has gone as far as Silver, who told CNNMoney he feels being socially active is "part of being an NBA player."
Related: NFL commissioner: 'We need to move past this controversy'
Since taking over as commissioner, the NBA has been on fire. The collective value of NBA teams has grown from $19 billion to $50 billion.
That's due in part to 9-year TV rights deals with ESPN and TNT worth $24 billion that Silver helped secure. Ticket sales, sponsorships and merchandising also contribute to that, but Silver said that conversations with interested team buyers may point to an even more important factor.
Silver said buyers are looking 10 to 15 years out and are encouraged by the NBA's expanding international footprint, evidenced by major rights deals in China and expanded coverage in Europe, Africa, and Latin America.
"It's like buying a stock," he said. "The fundamentals are important, but you're also making a prediction about the future business and I think that accounts a lot for where our franchise values are now."
Silver said he's focused on growing the league but isn't measuring the NBA's success against that of other leagues. (The NFL is still the most dominant U.S. sports league in terms of viewership.)
"I'm not necessarily targeting other sports as: 'I can't wait to get ahead of them,'" he said.
Still that doesn't mean he won't try.
While he's friendly with the other U.S. sports league commissioners, he said they're all aware that they're competing for the same customers.