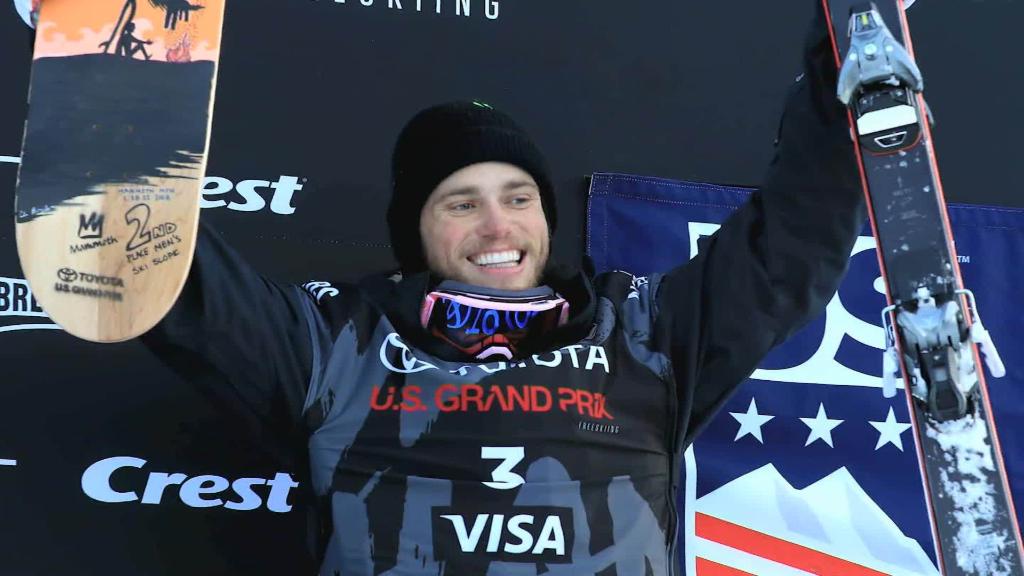 Not long ago, athletes like Olympians Adam Rippon and Gus Kenworthy might have waited until retirement to come out as gay.
Big companies were reticent to sponsor LGBTQ athletes, and athletes were hesitant to come out publicly for fear of being stigmatized and losing out on big money.
But that's changing. Diversity now adds to a star's marketability as companies strive to tell compelling stories with their advertising.
Rippon and Kenworthy are the first openly gay U.S. Winter Olympians. Both have grabbed headlines and positive attention at the 2018 Winter Olympics in Pyeongchang, South Korea, for being out.
That attention should translate into endorsements. For Rippon, who's been labeled as "America's sweetheart" the future is super-nova bright.
NBC offered the bronze-winning figure skater a gig as a correspondent to cover the remainder of the Olympics. Rippon declined. But NBC's offer shows the huge potential for Rippon, who was an alternate for the 2010 Vancouver Olympics and didn't even make the team for the 2014 Sochi Olympics.
He came out as gay in 2015 and has catapulted to stardom during the Games in Pyeongchang because of his memorable personality. He's amassed an impressive social media following with over 370,000 Twitter followers and nearly 500,000 followers on Instagram. Social media presence is attractive for companies looking to reach large Millennial audiences.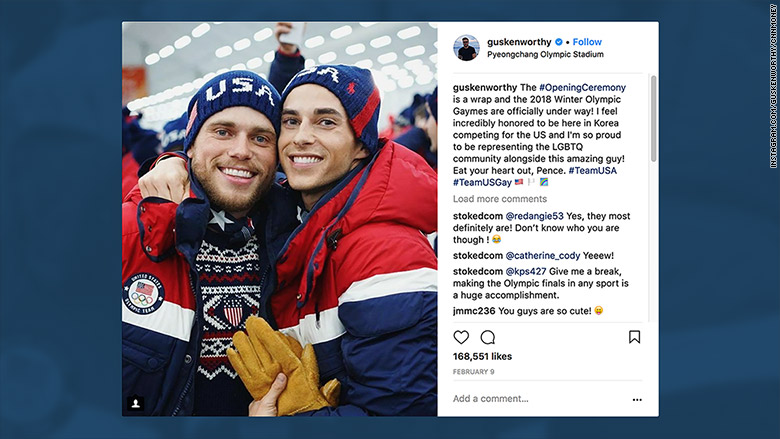 Rippon is a relative newcomer compared with slopestyle skier Kenworthy, a silver medal winner at the 2014 Sochi Olympics.
Kenworthy, who gained some attention after his win in Sochi and his efforts to rescue Russian dogs, hid his sexuality during his first Olympic appearance but came out as gay a year later. After that he started to gain endorsements from companies like Samsung, Monster Energy and more.
If his endorsement success is any indication, LGBTQ athletes should be excited by the prospect of landing sponsorships.
In fact many of the companies Kenworthy has partnered with have embraced his sexuality, understanding his significance to the LGBTQ community and celebrating his decision to come out.
Related: Olympic figure skater Adam Rippon pulls out of NBC gig
A Samsung ad campaign highlights Kenworthy's past, his journey since Sochi and his uncertainty about coming out.
"Until that point, I had always thought that it was something I was going to keep inside and never tell anyone until after my ski career and then I could have like a whole new life," he says in the video.
He describes how he was afraid that revealing his sexuality would have negative repercussions but discusses how well it ended up going.
In a commercial for Head & Shoulders, Kenworthy holds a Pride flag above his head as he says, "My shoulders carry more than my country's pride. They carry my community's pride."
Kenworthy has continued to attract endorsers like Xfinity, United, Atomic Skis, and Smith Optics.
Nike made him custom rainbow ski goggles, and he modeled for a MeUndies campaign to bring awareness to the LGBT community. He's also appeared nude in ESPN's "Body Issue" and as himself in ABC's "The Real O'Neals" sitcom and the Syfy TV drama "Sharknado 5: Global Swarming."
In September, he partnered with Deloitte and Visa for the Games, and he was one of the Olympians chosen to model Ralph Lauren's uniforms for Team USA.
"Gus is the embodiment of Shoulders of Greatness," said John Brownlee, brand director at Head & Shoulders. "He has pushed through personal and social barriers to compete at the highest level ... and at his personal best. We are so excited to be on this journey with him at the upcoming Olympic Winter Games, and we know he will inspire others to shoulder their own greatness, no matter what obstacles they face."
While not every company has highlighted his decision to come out, Kenworthy has been extremely vocal about his sexuality.
After the Opening Ceremony, he tweeted photos of himself and Rippon hugging, with the caption: "We're here. We're queer. Get used to it." He shared another image on Instagram with the hashtag "TeamUSGay."
Kenworthy was also shown kissing his boyfriend on NBC after competing, a first for the Games.
Related: Chloe Kim's winning more than gold after Pyeongchang
More evidence for the shifting attitude for advertisers comes from Chris Mosier -- the first transgender athlete on Team USA and the first in ESPN's "Body Issue." He was also featured in a Nike ad during the 2016 Rio Olympics. It was called "Unlimited Courage" and started with the words "This is Chris Mosier. Chris is the first transgender athlete to make the men's national team."
Related: Why sponsors are breaking up with the Olympics
It wasn't always this way for LGBTQ athletes. In fact, their recent brand-appeal is a far cry from what athletes from older generations have faced.
Diving superstar Greg Louganis won two gold medals at the 1984 Los Angeles Olympics and two at the 1988 Seoul Olympics.
"After the '84 Games, I signed with a talent agency, they asked me to 'tone down the gay thing,'" Louganis told CNNMoney in an email. "I didn't see too much harm in that, justifying to myself, everyone is entitled to a private life. Did it cost me endorsements? Probably... I heard a few things."
He said he was passed over for opportunities with diving's national governing body and also feels being HIV-positive was seen as a liability by some companies.
Louganis did have one significant ally -- Speedo. He said two people there knew he was gay and were his "champions."
He's seen firsthand that there's been "a tremendous shift" in how many companies view the LGBTQ community and its marketing potential. He said it's been positive but that he hopes both sponsors and athletes "stay committed" to being open-minded.
"For me personally, the last few years has seen a very positive shift and I've been extremely busy," he said.
When tennis superstar and feminist advocate Billie Jean King was outed in 1981, she lost all of her sponsorships overnight.
Those deals were worth millions.
That same year tennis star Martina Navratilova was outed. She has said she was told not to come out because she'd lose sponsors. She said Madison Avenue shunned her and it was negative in some ways.
"The crowd didn't warm up to me," she said in an HSBC diversity video. "Back then it was pretty lonely."
She's optimistic though that companies are realizing "diversity is a business necessity."
"The simple fact that more and more customers want to do business with companies that understand them. Companies that have a workforce that represents them. Companies that communicate with them."