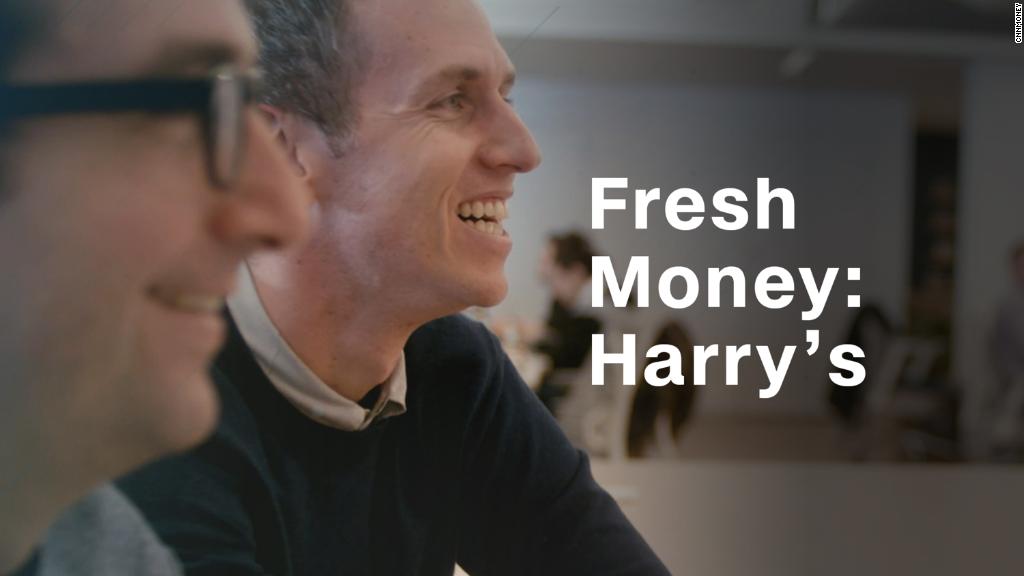 Razor, diaper and shampoo makers are waging a high-stakes battle over prices.
Procter & Gamble (PG), Kimberly Clark (KMB) and Colgate-Palmolive (CL)'s business models are under pressure. An onslaught of new competitors have entered the market. Retail traffic continues to decline. And shoppers are more frequently going online to compare costs.
The companies' response? Exchanging punches on pricing.
But prices aren't all moving in one direction. Manufacturers are discounting some brands to boost sluggish sales and win back their share of the market while raising price tags on other products to appeal to higher-end shoppers.
"It is an incredibly confusing landscape," said Jordan Rost, vice president of consumer insights at Nielsen.
Distribution models under attack
P&G, the country's largest consumer goods player, said average prices fell last quarter for the first time since 2011. Gillette's drop led the way.
Harry's and Dollar Shave Club, which Unilever bought in 2016 for $1 billion, upended the shaving industry. The two offered low-cost monthly subscription models that undercut Gillette's higher prices and upscale marketing campaigns built around star athletes, such as Roger Federer.
P&G responded last year by lowering Gillette prices an average of 12% and beefing up disposable razors. Those moves triggered rivals to bring down prices to keep pace.
Related: Gillette unveils new, cheaper razors to keep Dollar Shave at bay
Household goods producers in the past had been able to elbow out small companies through expensive marketing campaigns, vast supply networks and relationships with retailers to get products on the shelves in prime spots.
Those advantages have crumbled in the digital era.
Startups today can bypass brick-and-mortar stores and grow their brands online. John Zhang, a marketing professor at the Wharton School of Business, explained that digital startups "systematically attack established brands" by selling products directly to consumers. Dollar Shave launched in 2012 with a viral YouTube video.
"Building a premium brand or a premium pricing strategy based purely on your distribution strength is really hard to sustain," said Rost. "Distribution essentially becomes somewhat of a commodity."
Choices, choices, choices
Dollar store growth, discount grocers Aldi and Lidl's expanded footprint in the United States and retail investment in private label have given customers cheaper choices, said Neil Saunders, an analyst at GlobalData Retail.
Related: Dollar General is opening 900 new stores next year
Amazon's rise hurt big suppliers by allowing shoppers to easily compare prices and search around for the best deals.
"Customers today are floating around a lot more," said Zhang. "That considerably reduces the flexibility on the part of firms in setting prices. They have to worry about the fact that somebody else may be undercutting [them]."
Cheaper competitors can have a lasting effect by changing the reference price on products, said Zhang.
If shoppers are accustomed to paying $1 and a new brand comes along that sells the same quality item for $.50, it becomes difficult for them to switch back to the more expensive one, he explained. "That's dangerous for P&G."
Jockeying between brick-and-mortar and online sellers has roiled the diaper industry, where private labels have grown and consumers tend to buy in bulk. Disposable diaper prices have fallen 3% over the last year, according to Nielsen.
Huggies parent company Kimberly Clark slashed 5,000 jobs -- 13% of its workforce -- in part from the slowdown. P&G lowered the cost of Luvs diapers due to "significant retail competition," Moeller said.
How to control prices
Despite the challenging climate, producers still command premium prices on toothpaste and shampoo.
P&G took up prices on Crest toothpaste and Colgate followed suit. Shampoo and conditioner prices rose 5% over the past year as P&G hiked Herbal Essences, Head & Shoulders and Pantene, while Unilver rose Dove and Nexxus, according to Barclays analyst Lauren Lieberman.
Analysts agree that traditional companies can fend off new competition by pouring resources into digital and TV advertising to build relationships with customers and in research and development to stay ahead of new market trends.
Bringing new household products to the market that offer customers clear advantages is the key to controlling pricing, said Erin Lash, an analyst at Morningstar.
Innovations tailored to health and wellness, convenience and natural and organic trends can come with higher price tags. Upgrading packaging and design can also solve pricing issues, Lash noted.
Tide Pods, one of P&G's most successful innovations, were a hit because they offered consumers an easier way to do their laundry.
Related: Tide Pods: P&G's big innovation gone wrong
Zhang expects rewards programs and subscription models to become more common among traditional producers. In 2015, P&G started a subscription service for Gillette. It did the same for Tide Pods the following year.
If P&G can sell directly to consumers, it would help create loyalty to its brands and reduce the chances consumers shop around for products.
Russell Winer, a marketing professor at NYU's Stern School of Business, said low-cost competitors aren't going away anytime soon, but established companies have a key ingredient new ones lack: brand power.
The best way big players can fight back is by hammering a clear message to customers: we have the best, safest and most reliable products.