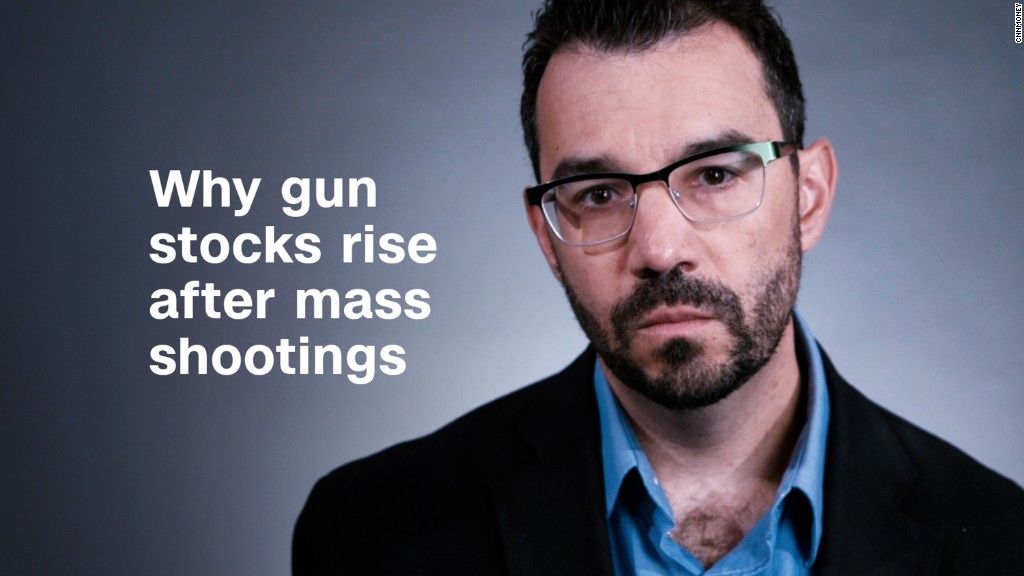 Sturm Ruger on Wednesday reported double-digit drops in gun sales and earnings for the quarter and the year.
Sturm Ruger (RGR), one of the major gun manufacturers, said that net sales fell 27% in the fourth quarter of 2017, and profits were nearly cut in half.
The company also said that net sales fell 22% for the full year 2017, and profit plunged by more than a third. Shares were down about 2% after the close on Wednesday.
In its earnings report, Sturm Ruger blamed "reduced purchases by retailers in an effort to reduce their inventories" as well as "aggressive price discounting and lucrative consumer rebates offered by many of our competitors."
The company, which makes a wide variety of handguns and rifles, also said that decreased consumer demand last year followed "stronger-than-normal demand during most of 2016, likely bolstered by the political campaigns for the November 2016 elections."
The year 2016 saw the greatest number of background checks conducted by the Federal Bureau of Investigation since it started tracking them in 1998. There's no figure for industry-wide gun sales, so background checks serve as the closest proxy. Background checks are not the same as gun sales because not all firearm sales are covered by background checks and a single background check can cover the purchase of multiple guns.
The gun industry as a whole has experienced a steep decline in sales and profits in the U.S. since the election of President Trump, a Republican endorsed by the National Rifle Association. The industry enjoyed strong sales during President Obama's tenure, particularly during the presidential campaign between Trump and his Democratic rival, Hillary Clinton. Gun enthusiasts were afraid that another Democratic president would impose gun control laws, so they continued to buy guns.
Related: Mass shootings no longer drive gun sales. Here's why
Mass shootings often drove gun sales during Obama's presidency, particularly for semiautomatic rifles, which have been used in mass shootings. One of Ruger's AR-15-style rifles, called an AR-556, was used in a mass shooting at a church in Texas last year, where 26 people were killed.
But mass shooters no longer drive sales with Trump as president, because strong gun control is off the table.
Sturm Ruger released its earnings as Trump held a televised meeting with people who lost family members and friends in mass shootings, including a shooting at a high school in Parkland, Florida, on Valentine's Day, where 17 people were killed.
Another major gun maker, Remington, said last week that it is preparing to file for Chapter 11 bankruptcy protection.