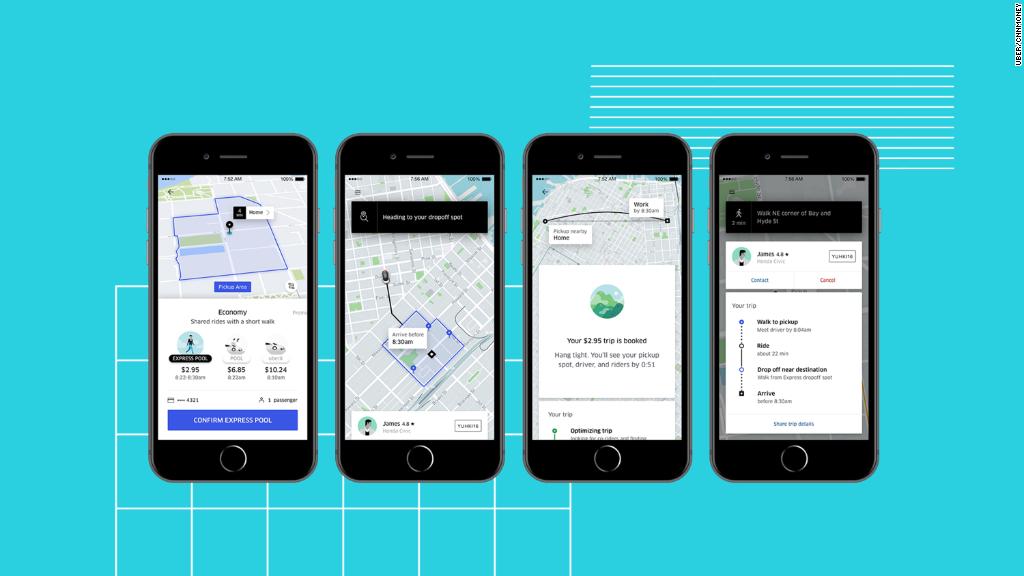 Uber's new carpooling service may rival the city bus.
The company announced on Wednesday a shared ride service called Express Pool. Fares will cost as much as half the price of Uber Pool.
Starting this week, Uber customers in select cities will be able to request a shared ride with up to four passengers. But unlike Uber Pool, its existing carpooling service, Express Pool riders won't receive door-to-door service. They'll have to wait a minute or two to be paired with other riders.
The service competes with other private van services, such as Via, in metropolitan areas including New York City.
Uber Express' concept is reminiscent of a bus. After choosing the option within the Uber app, riders will be paired with nearby passengers. Customers will be told to walk a short distance to a pick-up location no more than two blocks away. The rides, which are made in sedans, will end close to their final destination.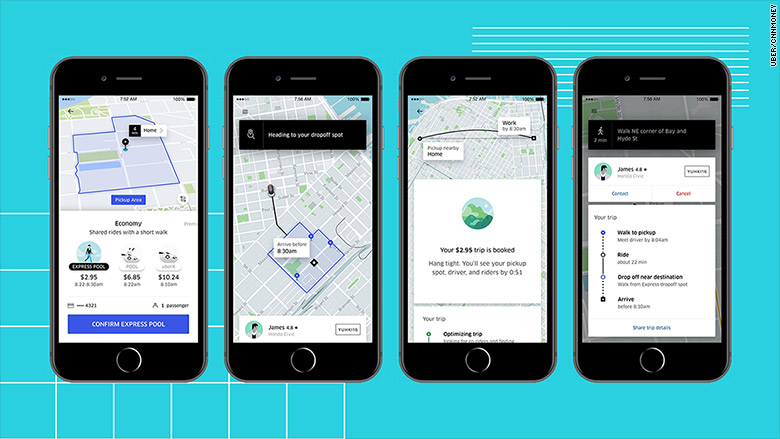 Stops and fares will shift based on circumstances. According to Uber, rides on Express Pool could be as much as 75% less than the cost of UberX, the company's cab competitor service. Uber told CNN it can charge riders less because it expects seats to be filled, and customers will split the cost of paying for a driver.
Although fares could rival public transportation costs, Express Pool will be significantly more expensive during times of surge pricing.
Related: Uber and Lyft are creating a traffic problem for big cities
The company hopes the low price will broaden the number of customers using Uber. It's also a way for Uber to complete more trips with the same number of drivers.
Drivers will still make the same rate for the time and distance they drive with passengers, according to Uber.
Express Pool will launch in Washington, Los Angeles, Miami, Philadelphia, San Diego and Denver. The company plans to bring it to more U.S. cities in the coming weeks and months.
Uber has been testing the new service in San Francisco and Boston since late 2017.
According to Uber director of product Ethan Stock, the trials revealed Express Pool passengers were more likely than Uber Pool users to be ready when their ride arrives. He attributed this to requiring passengers to walk a block or two to a designated Uber stop, rather than allowing them to wait inside a building.
In addition to saving time, Stock believes the service could help cut down on city congestion and pollution. He teased that Uber may adopt even larger vehicles in the future.
"Cities aren't going to work if everyone is trying to take an UberX," Stock said. "It's inefficient in how city infrastructure is used."
Ridesharing services such as Uber and Lyft have been criticized for increasing traffic congestion in big cities. Passengers are gravitating from public transit to personal rides, which use public spaces less efficiently.
Last week, Uber CEO Dara Khosrowshahi said at a Goldman Sachs conference in San Francisco he wants Uber vehicles to be even more involved in connecting users to parts of cities.
"I want to run the bus systems for a city," Khosrowshahi said.