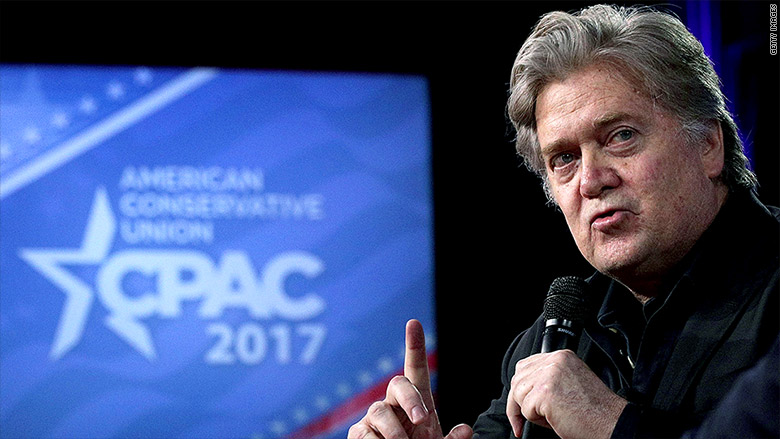 Last year's edition of the Conservative Political Action Conference served as something of a coronation for Breitbart. The conference's lineup was littered with the website's writers. Steve Bannon, Breitbart's former executive chairman who at that point served as one of President Trump's top advisers, received a rock star's welcome. And the far-right site carried an indomitable presence throughout the week, staking out a prime position on radio row and hosting a glitzy party on a boat.
This year's iteration of CPAC provides a vivid picture of how much has changed for Bannon and the site he used to lead. Ousted from Breitbart and shunned by Trump, Bannon isn't anywhere to be found. After claiming a choice location on radio row and in the exhibit hall last year, Breitbart's booth is nowhere in sight. While Breitbart reporters have been spotted covering the event, only one of the site's editors is appearing on the main stage as part of CPAC's official programming.
Oh, and there's no boat party.
A person close to Breitbart told CNN that the website indeed has a much smaller footprint at CPAC this year. The person added that this was because Breitbart was "putting resources in other areas" as "times are tough in digital media." A second person familiar with the matter told CNN that one former adviser to the site recommended to senior management that it have a large presence at CPAC.
A representative for Breitbart did not respond to a request for comment.
Related: Drama erupts at CPAC after panel told to drop Gateway Pundit speaker
Breitbart's absence is perhaps the most notable change from previous installments of CPAC. Much of this year's conference -- the speakers, parties and hosts who line radio row -- are largely the same. Sean Hannity broadcasted a live show from the main stage on Wednesday night, while a who's-who of conservative luminaries and Republican leaders kicked off proceedings on Thursday.
Breitbart's minimal presence also serves as a microcosm of how much Trumpland has changed in the last 12 months.
At last year's conference, Bannon cut a triumphant figure, making a rare public appearance on stage with former White House chief of staff Reince Priebus. They both drew roars of approval when they denounced the news media, which Bannon called "the opposition party." And they spoke glowingly of one another.
Neither is employed by the White House, where Bannon has become persona non grata. He was ousted from his position in the administration in August; months later, he drew the president's wrath with critical on-the-record comments in "Fire and Fury," the best-selling book about the Trump White House.
Those comments led to Bannon's dismissal from Breitbart in January. In the weeks since, the site has been critical at times of Trump, who has received almost uniformly positive coverage from the site.
Earlier this week, Breitbart dubbed Trump "Amnesty Don" after he signaled he was amenable to a path to citizenship for recipients of the Deferred Action for Childhood Arrivals (DACA) program. And this week, the site cried foul when Trump directed Attorney General Jeff Sessions ban bump stocks in response to the school shooting in Parkland, Florida.