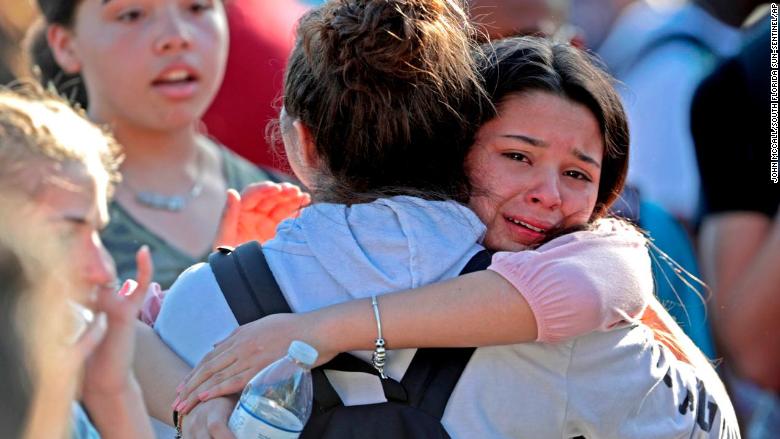 Seven days after a horrific shooting claimed the lives of 17 people at Marjory Stoneman Douglas High School, the front pages of some of the nation's largest newspapers are still featuring stories about gun control and school safety.
Victims' family members and survivors in Parkland, Florida, are still being interviewed, nearly by the hour, on television.
But last October, another shooting took place at a country music concert in Las Vegas, Nevada. The massacre left 58 dead and at least 500 injured. Despite the shooting's high profile location and a death count that far surpassed the number of people who died in Florida, the Parkland school shooting appears to be attracting much more attention.
Coverage diminished in the days after Vegas. The same major newspapers covered the aftermath, but they mostly focused on the shooter and how he carried out the attack.
Google searches for "gun control" seven days after the Las Vegas shooting had dropped dramatically, to nearly the same levels as the day before the October 1 shooting.
On Thursday, seven days after 19-year-old Nikolas Cruz opened fire at Marjory Stoneman Douglas High, Google searches for "gun control" are down slightly but have remained far higher than in the days before the February 14 incident.
It's not clear why last Wednesday's shooting has stayed on the national conscience and in the media. Whereas the survivors of the 2012 Sandy Hook Elementary School shooting were too young to mobilize, Parkland's survivors and their supporters are old enough to organize, tweet, stage walkouts and protest -- which they did in droves -- prompting even more media coverage. They took to Twitter and to the airwaves to demand action from lawmakers. They, along with other families affected by gun violence, scored a listening session at the White House with President Trump on Wednesday to voice their concerns about gun laws that was widely covered on TV.
Later that day, CNN held a town hall that kept the topic trending all night on Twitter.
These media moments did not materialize in the wake of the Last Vegas shooting. The victims and survivors were not part of the same tight knit community like those in Parkland. Concertgoers at Vegas' Route 91 Harvest music festival may have shared a love for country music, but many came from far flung places for the event.
In the seven days after the Las Vegas shooting, there were 724 mentions of "gun control" on CNN, Fox News and MSNBC, and just over 110 mentions on ABC, CBS and NBC broadcasts nationally, according to the media monitoring program TVEyes.
In the seven days after the Parkland shooting, there were 1,024 mentions of "gun control" on CNN, Fox News and MSNBC, and more than 200 mentions on ABC, CBS and NBC broadcasts nationally.
To be sure, these incidents don't happen in a news vacuum. The Las Vegas shooting took place when the country was still reeling from the aftermath of Hurricane Maria, which left more than 3 million Americans in Puerto Rico without power weeks after it made landfall on September 20.
Only time will tell how long Parkland and gun control will stay in the national and media conversation this time. But as the Parkland students have made clear, they don't plan on going away anytime soon.