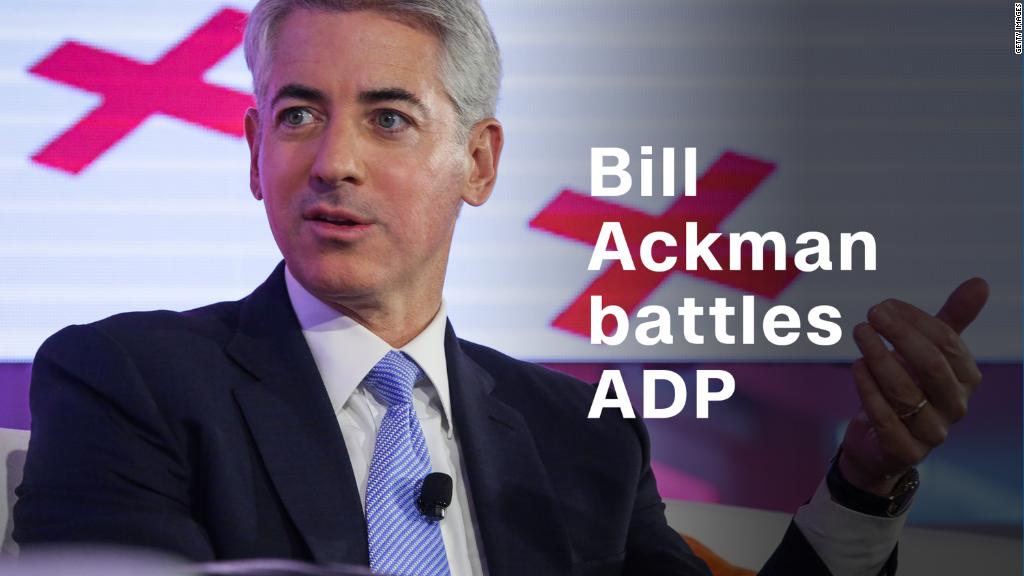 An $18 billion case of buyer's remorse is gripping the conglomerate that makes Sharpie, Yankee Candle and Elmer's glue.
In 2015, Jarden co-founder Martin Franklin sold his brand to Newell Rubbermaid, combining the company that made Mr. Coffee and Crock-Pot with Rubbermaid containers and Expo markers. But the match has fizzled. Sales have disappointed, and Franklin resigned his board seat last month.
He didn't go quietly though.
Franklin and two other former Jarden executives are now teaming up with Starboard Value, an activist hedge fund that owns 4% of Newell. They want to overthrow the board.
"This is a man-bites-dog story," said John Coffee, a professor at Columbia Law School who studies corporate governance.
Activist firms typically want to pick up two or three board seats and use their minority position to press for big changes -- maybe a new CEO, selling off business units, or a merger. Big investors often hesitate to give up any control to activists without receiving a premium in return, Coffee explained.
Related: The battle for the future of Tide
But Starboard wants to take complete control of Newell and steer it in a new direction without paying a dime.
"This is the equivalent of a tender offer without the money," Coffee said.
Starboard has executed the same playbook before. In 2014, Starboard successfully ousted the entire board at Olive Garden's parent company Darden Restaurants (DRI).
In a letter to Newell CEO Mike Polk last week, Starboard cited the company's "troubling underperformance." Newell (NWL) revised its financial outlook lower three times last year and its stock has cratered 42% in the last year.
Starboard blamed Newell's leadership for "critical missteps" integrating Jarden's brands into the business and failing to meet sales growth and profit targets. Starboard also criticized board directors for "[lacking] the confidence" to buy Newell's stock following its drop.
"We firmly believe that the time has come for management and the [board] to step aside," Starboard told Polk.
Some of Newell's problems are out of its control. Brick-and-mortar retail woes have plagued the company.
Newell sells products directly to mall and specialty stores, but both have cut back on orders and reduced inventory as traffic slows, said Joseph Altobello, an analyst at Raymond James.
Toys 'R' Us' and Babies 'R' Us bankruptcies hurt Graco car seat and Baby Jogger stroller sales. Office Depot closures dampened Newell's "learn" division, which includes Jostens notebooks, Sharpie, Reynolds, Parker and Uniball pens and Expo markers.
Sports brands like Berkley fishing gear and Rawlings baseball glove sales have also slowed during off seasons, said Jason Gere, an analyst at Keybanc Capital Markets.
Related: Now Amazon is coming for Sharpie, Rubbermaid and Elmer's
But many of Newell's issues are self-inflicted.
Bringing Jarden's independent brands into the fold has created challenges for Newell. Units operated autonomously at Jarden, but Newell has a centralized organizational structure. Integrating the two didn't go as smoothly as planned and some of Jarden's top brand experts were reshuffled or cut, said Gere.
"It all came together in kind of a perfect storm. Now they have to work their way out of it," he said.
Newell has a strategy to fight back.
On the same day it announced that Franklin and two other board members were leaving, Newell unveiled plans to downsize.
It's selling off struggling lines including Rawlings gloves, Goody hair curlers and Rubbermaid outdoor and garage products, shrinking manufacturing operations in half and consolidating into nine consumer brand divisions. The plan will cut Newell's annual sales by $3 billion. It's also going to reduce its debt and buy back stock.
In its letter, Starboard called it a "hastily-designed action to deflect blame from the recent poor performance."
But Polk defended the move on an analyst call last week. "We have a clear plan in place to drive value," he said. In addition, Newell nominated three new directors on Thursday.
Analysts say it's still too early to tell which side will win the proxy fight, but Newell's shareholder breakdown may provide a clue to who holds the upper hand when investors vote on each side's board candidates in the spring.
Twenty institutional investors control 55% of Newell's stock, which means Starboard has a strong chance if it can convince those large firms to side with its proposal. Newell's management also doesn't control a large stake in the company, hurting its chances.
"The majority institutional ownership means that Starboard can effectively ignore retail investors," said Nicole Boyson, an associate professor of finance at the D'Amore-McKim School of Business at Northeastern University. Boyson said Newell's unexpected divestiture move "signals to me that they're running scared."
Altobello said Newell's stock slide exposed the company to an activist challenge: "There's definitely a continent of shareholders who are unhappy and may be looking for change," he said.
But Charles Elson, a finance professor at the University of Delaware, argued Starboard is facing an uphill battle.
Starboard has to prove that corporate governance has failed and that it has a better plan than Newell for the future. "It's very, very difficult to replace entire boards," Elson said. "You're no longer are an agitator. You're a manager."