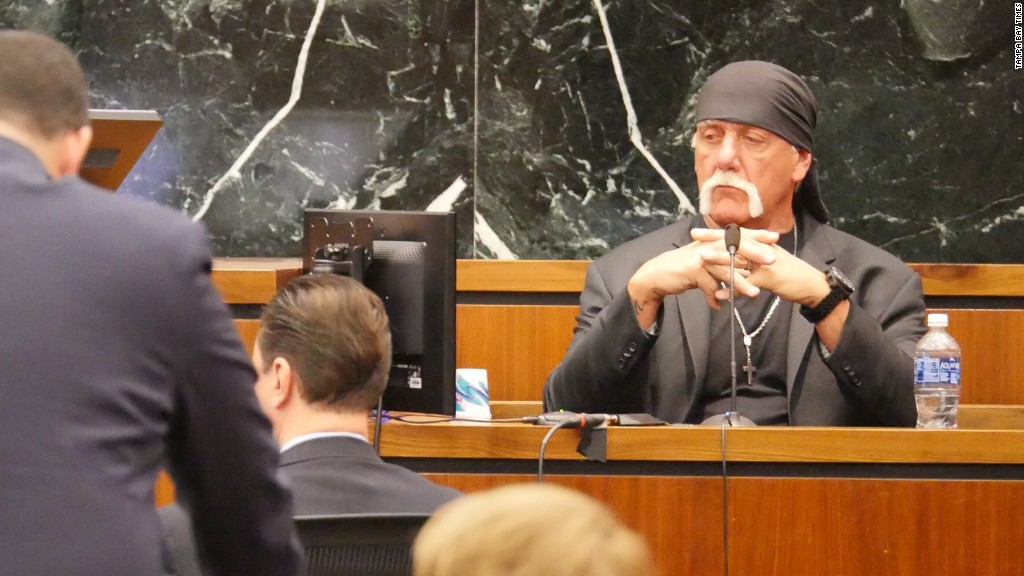 A new book about billionaire Peter Thiel's war against Gawker includes an explosive revelation about the real mastermind behind Bollea v. Gawker, the lawsuit that bankrupted the influential media company founded by Nick Denton.
Ryan Holiday reports in "Conspiracy: Peter Thiel, Hulk Hogan, Gawker, and the Anatomy of Intrigue" for the first time that a 26-year-old who goes by the pseudonym "Mr. A" in the book gave Thiel the idea to create a shell company to hire former investigative reporters and lawyers to track down causes of action against Gawker.
BuzzFeed reported on Friday that Mr. A is an Australian businessman, but CNN has not independently confirmed this. The person BuzzFeed unmasked as Mr. A did not respond to a request for comment.
"Gawker thought their enemy was Hulk Hogan and his lawyer Charles Harder and they did not understand that in the shadows was a man, a very determined, a very brilliant man with essentially unlimited resources and unlimited patience willing to see it through to the end," Holiday told CNN's Brian Stelter of Thiel on the latest edition of the Reliable Sources podcast.
Listen to the whole podcast here:
Mr. A, whom Holiday describes in the book as "not just young, but ambitious, ambitious in a way that makes observers slightly uncomfortable," first pitched his idea to Thiel over dinner in Berlin in April 2011. He explained that Gawker must have made a mistake somewhere in its thousands of articles and Thiel's team just had to find it. All the plan needed to succeed was three to five years, and $10 million.
"Thiel had said that capital wasn't the gating resource," Holiday told Stelter. "The idea was, and Mr. A is the one who came to him and said, 'Look, I think if we datamined Gawker's history, we could find weak points that we could exploit in the court of law.'"
In 2007, a post on Gawker's Silicon Valley blog Valleywag outed Thiel as gay. For the next several years, Holiday said, Thiel was "obsessed and distressed by this sort of violation of his privacy and by the idea that a site would sort of so capriciously wield its power as a media outlet."
Outing someone isn't illegal. But, per Mr. A's plan, perhaps something else that Gawker had run on its site would rise to the level of a legitimate cause of action.
Related: Why Peter Thiel is leaving Silicon Valley
Thiel found his opportunity a few years later, when the former wrestler Hulk Hogan, whose real name is Terry Bollea, sued Gawker, Denton, and former editor A.J. Daulerio over posting a nearly two-minute segment of a Hogan sex tape in 2012. The New York Times revealed after the case's end that Thiel had bankrolled Bollea's suit. CNN has reached out to Bollea's lawyer Charles Harder for comment.
Bollea's lawsuit claimed Gawker violated his privacy. He was awarded $115 million for economic injuries and emotional distress in 2016; the jury later added $25 million in punitive damages.
Still, Denton struck a defiant tone in an open letter to Thiel saying, "you show yourself as a thin-skinned billionaire."
Mr. A's identity and existence were kept a complete secret for years. Holiday explained to Stelter that Denton didn't know about Mr. A until he saw his book, which is scheduled to be released on Tuesday. CNN has reached out to Denton and Thiel for comment.
Holiday never revealed Mr. A's identity in the book due to his arrangement with his source. "I felt that was a trade worth making to get the perspective of the person who was sort of the man on the ground, the man wielding the knife," he told Stelter.