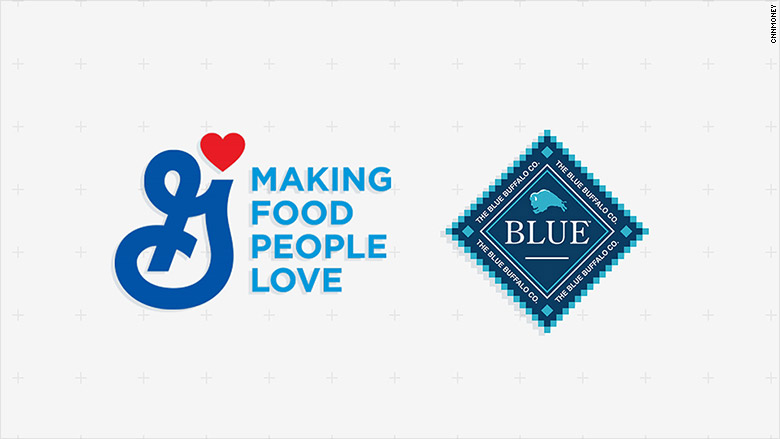 General Mills, which is best known for cereal brands like Cheerios and Wheaties, is branching into the fast-growing pet food business with a multi-billion dollar acquisition.
General Mills announced Friday that it's buying Blue Buffalo Pet Products (BUFF) for $8 billion. The brand makes natural food for dogs and cats.
"We know that pets are family members, as you've heard me say multiple times, and we want to continue to do better for all family members, both non-furry and furry," said Blue Buffalo Chief Executive Officer Billy Bishop, in a call with analysts.
General Mills hasn't sold pet food for about 50 years. Chief Executive Officer Jeff Harmening referred to the purchase as a "portfolio reshaping strategy" in the analyst call.
"Reshaping our portfolio is something we intend to continue to do and we'll probably accelerate," he said.
General Mills has experienced some weak profits because of lackluster cereal and Yoplait yogurt sales. But Wall Street didn't seem to embrace its diversification plan. General Mills (GIS)' stock price dipped 3% in early trading. Standard & Poor's said that it lowered General Mills' rating to BBB "because of the substantial increase in leverage," though the outlook remains stable.
But the acquisition makes sense to Larry Light, a brand revitalization expert who used to be the chief marketing officer for McDonald's (MCD).
"The three most profitable aisles in the supermarket are beverage, snack food and pet food," he said. "General Mills is under profit pressure. To me, it makes a lot of sense to get into beverages, snack food and/or pet food. In many parts of the world, people spend more per calorie to feed their pets than they feed their kids."
The pet industry has been growing rapidly in recent years. The pet care and pet service industry saw about a 10 percent jump in sales in 2016 and a nearly 6% increase in profit, according to data compiled by Sageworks, a financial information company.
Related: Consumers sour on yogurt and cereal
He said this is why Mars, Inc., which is known for candy, owns a couple of pet food brands.
General Mills spokeswoman Bridget Christenson said the company has already branched into the snack bar business, having acquired Lärabar, which has vegan and gluten-free energy bars, 10 years ago.
The company also has Nature Valley, a snack bar brand it developed in the 1970s. Christensen said that Blue Buffalo, with its organic products, is a good fit for the company's health conscious image.
The company also bought natural food company Annie's in 2014 for $820 million.
The Blue Buffalo acquisition is expected to close in May.