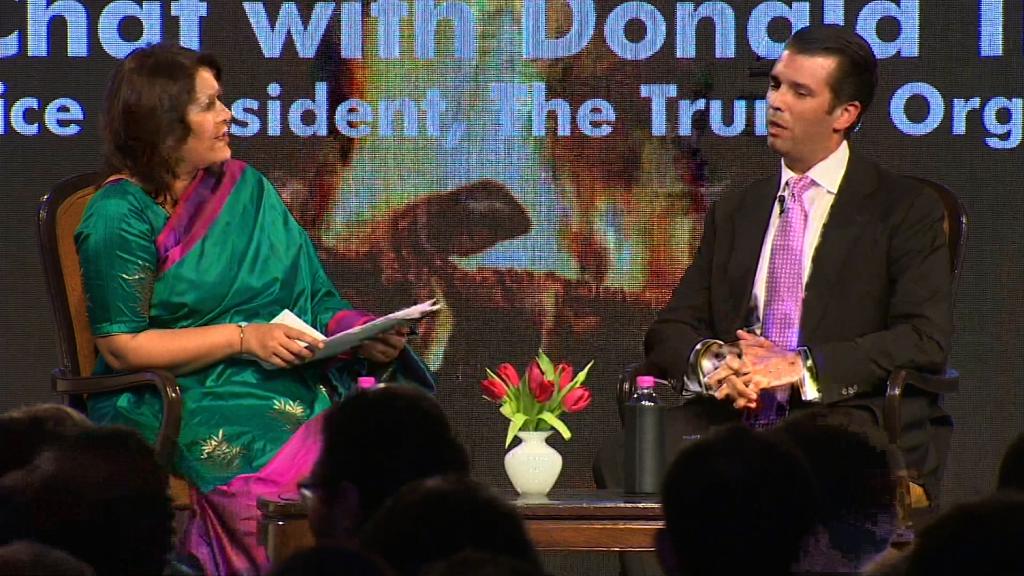 Donald Trump Jr.'s whirlwind tour of India took in four cities, three dinners with real estate clients and an appearance at a high-profile conference. It's also been good for business.
"You could say it's been a good week," Trump Jr. told CNN, when asked to confirm that sales of Trump-branded apartments spiked on the eve of his visit, which began Tuesday.
The Trump Organization's business partners in India were clearly hoping for just such a bump.
One local developer -- M3M -- took out full page ads in major Indian newspapers last weekend, offering people who signed up this week for apartments in a Trump Towers project near New Delhi "a conversation and dinner" with Trump Jr.
"Trump has arrived. Have you?" said the ads, carrying a large picture of the president's eldest son.
The New Delhi dinner was due to take place Friday, soon after Trump Jr. addressed a business conference that was also attended by Indian Prime Minister Narendra Modi and the CEOs of Uber and Netflix.
Trump Jr. attended a similar dinner in Kolkata and a glitzy reception in Mumbai earlier in the week, drawing criticism from ethics experts that he was mixing business and politics.
"They are auctioning off access to the first family in a foreign land," Norman Eisen, a Brookings Institution senior fellow and chair of Citizens for Responsibility and Ethics in Washington (CREW), told CNNMoney this week.
"What is to stop a foreign national with interests before the US government from asking Don Junior to raise some issue or concern with his father?"
Eisen and other ethics experts have warned that people could use access to the Trump Organization's businesses to get to the US president.
Related: Donald Trump Jr: I could be doing more deals in India
With five real estate projects across four cities -- Gurgaon (near New Delhi), Mumbai, Pune and Kolkata -- India is the largest market outside the United States for the Trump family business.
President Trump handed control of his business to Trump Jr. and his brother Eric when he took office. The Trump Organization has also pledged not to sign new deals during Trump's presidency. But ethics experts say that doesn't go far enough in addressing concerns about conflicts of interest.
Buyers in India don't appear to share those concerns -- apartments worth $100 million have already been sold in the Trump Towers in Gurgaon, Trump's local partners told an Indian TV channel. Sales worth $15 million were agreed on Monday alone, they added, two days after the newspaper ads first appeared.
"Clearly there are a very large number of people who are perfectly comfortable with that blurring of lines," said Reuben Abraham, CEO of Mumbai-based infrastructure think tank IDFC Institute.
The Trump family does not own or build any of the properties in India. Instead, it licenses its name out to the local developers.
At the end of the week, Trump Jr. was steering well clear of politics. His address Friday to the business conference was billed as a speech on "Reshaping Indo-Pacific Ties: The New Era of Cooperation." That was changed in the event schedule to a "Fireside Chat" shortly before it began.
During the chat, Trump Jr. spoke about the experience of being on the campaign trail with his father but otherwise downplayed his involvement in politics.
"I'm here as a businessman," he stressed. "I've been coming to India for over a decade."
The event organizers and the Trump Organization both declined to comment on the change to the schedule.
-- CNN's Nikhil Kumar, Sugam Pokharel and Cristina Alesci contributed to this report