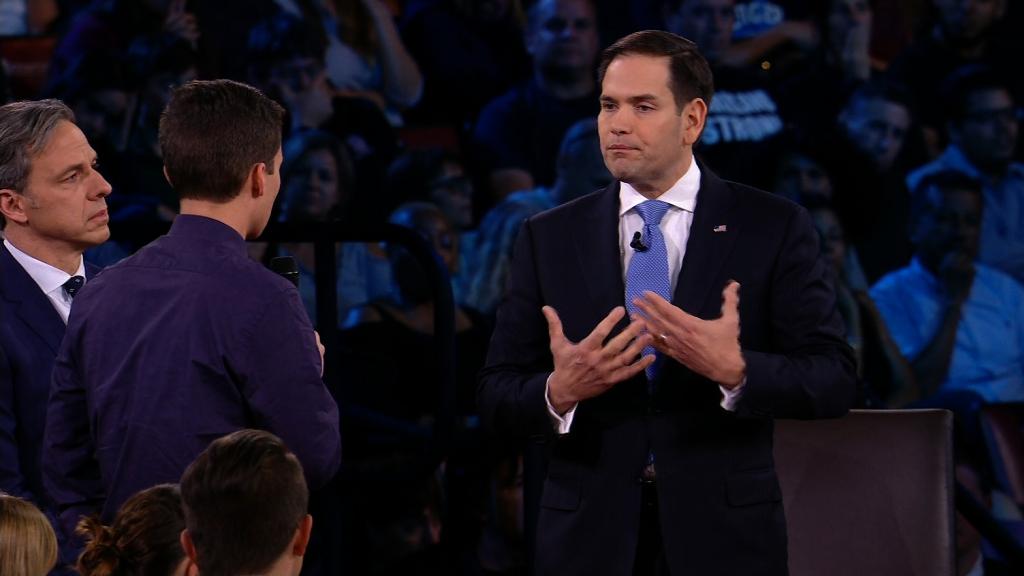 Bank of America wants to talk to gun makers about assault weapons.
After an AR-15-style rifle was used to murder 17 people at a Florida high school last week, the company said in a statement Saturday that it will "examine what we can do to help end the tragedy of mass shootings."
"[A]n immediate step we're taking is to engage the limited number of clients we have that manufacture assault weapons for non-military use to understand what they can contribute to this shared responsibility," the statement reads.
Bank of America (BAC) did not detail any concrete actions it plans to take, but the announcement is the latest sign that businesses are increasingly willing to put pressure on the gun industry.
Since Thursday, a wave of companies -- including United and Delta airlines, Metlife and six car rental brands -- have abandoned the National Rifle Association. They've pulled discount deals they used to offer to NRA members, and one local bank in Omaha pledged to stop issuing an NRA-branded Visa card.
None of those companies gave specific reasons for parting ways with the NRA, but their announcements came as the hashtag #BoycottNRA flooded social media.
And BlackRock, a giant investment firm that holds significant stakes in several major gun companies, said on Thursday that it plans to speak with major players in the gun industry to "understand their response to recent events."
Related: BlackRock has questions for gun companies after Florida massacre
"Even if we disagree with management, we focus on engaging with the company and understanding how they are responding to society's expectations of them," BlackRock spokesperson Ed Sweeney said in a statement.
High school students who survived the February 14 massacre at Marjory Stoneman Douglas High School in Parkland, Florida have driven forward a renewed national gun control debate.
The teenagers have called for a reinstating a ban on the type of weapon that was used in the massacre. And students and activists around the country have showed solidarity for new gun control measures by planning sit-ins and walkouts.
At a CNN town hall on Wednesday, they urged elected officials to act and sparred with NRA representative Dana Loesch.
Loesch said at the event that a flawed background check system was at the root of the issue.
"I don't believe this insane monster should have ever been able to obtain a firearm," Loesch said, referring to the school shooter, who purchased the weapon legally.
But the NRA remains opposed to strengthening gun laws.
In a speech Thursday, NRA chief called for beefing up security in American schools. He also blasted liberals and called those who want stricter gun laws freedom-hating "European-style" socialists.