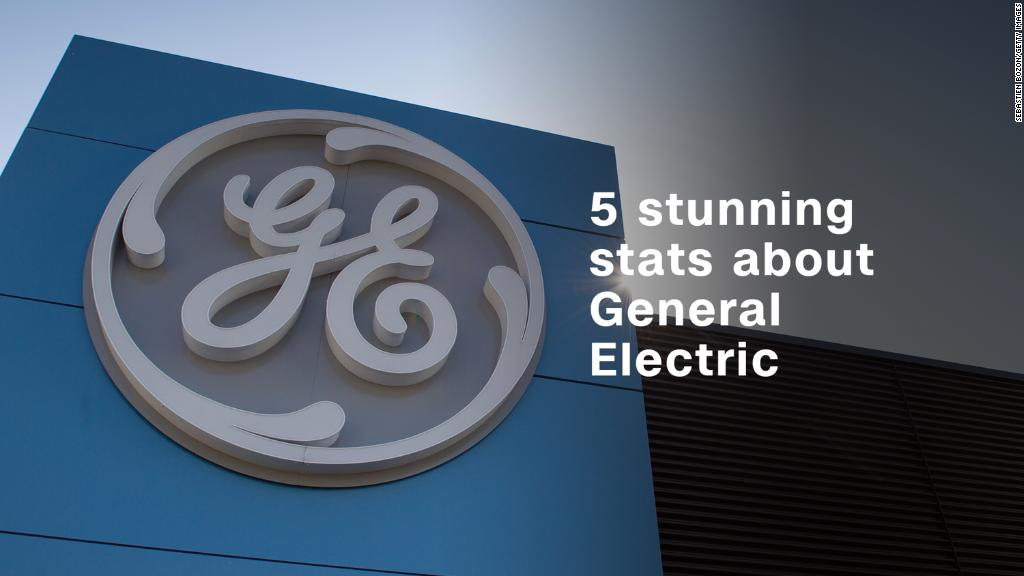 General Electric has a mountain of legal problems.
The company's well-established financial troubles could be made worse by legal headaches that may cost the conglomerate billions of dollars, new filings show.
The SEC is investigating GE's accounting tactics and its massive insurance losses. The Justice Department is probing GE's (GE) pre-crisis sale of subprime mortgage. Furious shareholders are suing GE and former top executives over allegedly misleading statements.
JPMorgan estimates that the company faces more than $9.2 billion in damage claims in addition to other potential losses from the SEC and shareholder lawsuits.
Warren Buffett, whose Berkshire Hathaway (BRKA) sold its stake in GE last year, told CNBC on Monday that "clearly there were mistakes made" at GE.
"The accounting at GE has not been a model at all in recent years," Buffett said.
GE's stock briefly sank below $14 on Monday for the first time since July 2010.
The company is trying to clean up its problems, in part by revamping the board of directors. GE named three new director candidates on Monday. The nominees include Leslie Seidman, the former chairman of the Financial Accounting Standards Board, the independent organization that establishes the accounting standards used by Corporate America.
Here are some of the top legal issues GE faces:
Subprime mortgage mess: GE Capital's discontinued subprime mortgage business, known as WMC, still haunts the company. GE has previously disclosed a Justice Department investigation into how WMC wrote, bought and sold mortgages before the financial crisis.
GE said in a regulatory filing Friday that the Justice Department is "likely to assert" that WMC and GE violated a 1989 banking law that has been used in recent years to fine big banks tens of billions of dollars for alleged mortgage crimes.
GE said it will explore "whether an acceptable settlement of this matter can be reached." If not, GE warned that the Justice Department may sue, which the company believes it could defend against.
The company also faces lawsuits against WMC from Deutsche Bank (DB) and other groups over subprime mortgages.
GE estimates its current exposure to damages is about $3.7 billion, not including any Justice Department settlement. GE has set aside about $400 million, though it conceded it is "difficult to assess" future losses here.
Related: Are GE's days on the Dow numbered?
Furious shareholders: Angry shareholders have sued GE at least five times since late last year. Some of the suits name former CEO Jeff Immelt and his successor, John Flannery, alleging they "made false and misleading statements" about GE's expected financial performance.
Three of the lawsuits have been consolidated into a single action.
Immelt and Flannery were also named in a GE shareholder lawsuit filed on February 15 alleging "breaches of fiduciary duties and unjust enrichment." Among other issues, this lawsuit slams GE for allowing Immelt to be escorted around the world by a spare plane. (GE has said it stopped deploying an extra jet for Immelt in 2014.)
"The company will defend itself against these claims," a GE spokesperson told CNNMoney.
Expanded SEC probe: The Boston office of the SEC notified GE in late November of an investigation into the company's accounting, according to filings. At first, the probe focused on GE's revenue recognition practices and internal controls over long-term service agreements.
The SEC expanded the investigation in January after the company shocked Wall Street by revealing a $6.2 billion charge on a portfolio of long-term care insurance policies. Buffett said on Monday he was "staggered" by the size of GE's insurance losses.
GE said it is cooperating with the SEC investigation by providing documents and other information.
GE also plans to restate its 2016 and 2017 results because of a change in accounting standards for how companies book gains and losses on long-term contracts.
A GE spokesperson said that the "recast" of results is "independent of the SEC review, which is in early stages."
Related: GE is under SEC investigation
GE retirees want $700 million: At least four groups have sued GE since late September over the company's oversight of its 401(k) plan. GE said the lawsuits allege the company breached its fiduciary duties by using proprietary funds that underperformed the market and were expensive. The plaintiffs are seeking class action status.
"We believe we have defenses to the claims and will respond accordingly," GE said.
Alstom corruption case: GE acquired Alstom's power business in 2015, a deal that has backfired by increasing its exposure to slumping coal. GE faces legal proceedings related to alleged anti-competitive conduct and improper payments by Alstom linked to projects in Israel and Slovenia.
The Alstom conduct in question took place before GE bought the business. GE has set aside $858 million for potential losses here, but it has warned that the losses could be higher.
Offshore wind turbines: GE said it is still cooperating with a European Commission investigation into the company's proposed takeover of LM Wind, a Danish maker of rotor blades. Regulators have alleged that during a review of the deal, GE provided incorrect or misleading information about its offshore wind turbine research and development activities. GE faces a fine up to 1% of its annual revenue, or about $1.2 billion, if the EC finds the violations were intentional or negligent.