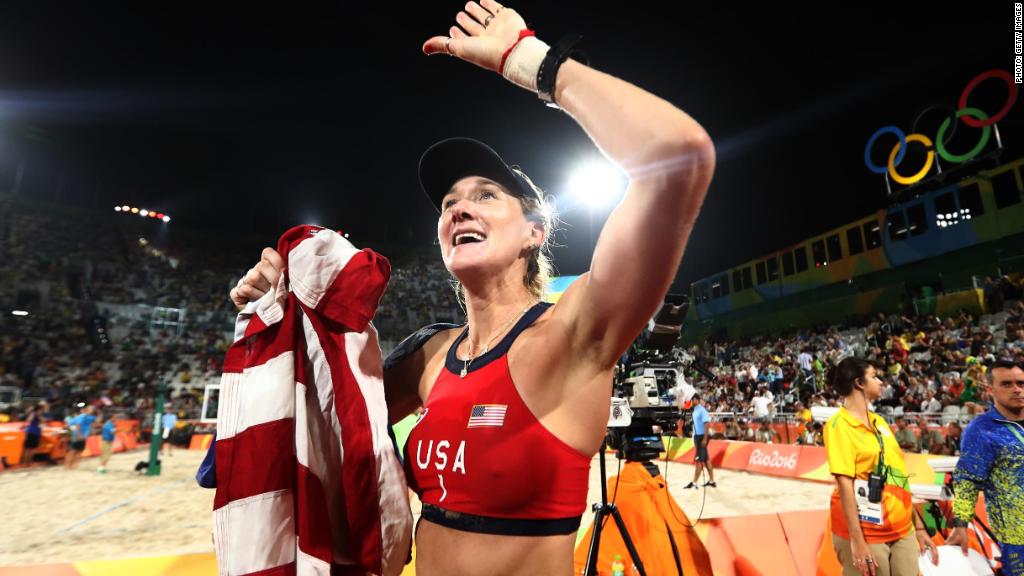 Top female athletes often face a choice between motherhood and athletics, but women competitors and their sponsors are changing that narrative.
"The smartest brands understand that athletes actually become more dimensional, relatable, and influential as moms -- and that they can leverage that for their own marketing campaigns," said Lindsay Kagawa Colas, a talent agent for Wasserman who focuses on Olympics and women.
But fear of losing sponsors still remains for many female athletes.
"There's so much risk involved with our jobs that I think it's just an automatic assumption that if you get pregnant you're not going to do what you do anymore," professional snowboarder Kimmy Fasani told CNN.
Fasani, a back-country style snowboarder who has competed in the XGames is eight months pregnant. When she got pregnant, she worried about her future in the sport, and her potential for endorsement deals. But she knows motherhood won't limit her abilities on the snow.
Related: NBC's $12 billion investment in the Olympics is looking riskier
In terms of athletic performance, plenty of female athletes have demonstrated an ability to perform at a high level during and after a pregnancy in some sports. Recent research supports that assertion, as does anecdotal information.
Tennis superstar Serena Williams famously won the Australian Open in 2017 while eight weeks pregnant. Olympic curler Kristie Moore, a Canadian, won silver in the 2010 Winter Games while five months pregnant. And beach volleyball legend Kerri Walsh Jennings was six weeks pregnant when she won a gold medal in the 2012 London Olympics. She and her partner took bronze in Rio in 2016 and now she's focused on training and launching her new company, p1440. The endeavor is a beach volleyball festival that combines pro tournaments with music and wellness activities for fans.
Pregnancy never slowed Walsh Jennings down, but she said she was told to hold off on starting a family by sponsors.
"Before we had our first child, I was told not to do it because they're like, 'You just won the Olympics, you're going to lose all these endorsements, people are going to forget about you when you hold your baby," Walsh said.
Walsh Jennings said making the decision as a competitive female athlete to take time off and have a baby was "scary."
Related: Why gay Olympians Gus Kenworthy and Adam Rippon are marketing gold
"I remember, not to be too explicit, but after the first time we tried it, I was bawling. I was like, what am I doing? Did I just give up everything that I've worked so hard for in my life, for this new adventure in life, which is beautiful but so scary," Walsh said.
Walsh Jennings, who plans on competing for another gold in 2020 at the Olympics, said "life is so much bigger than the sponsorship deal ... some people think you get pregnant, you have kids and your dream stops, and it's just such nonsense."
Having children doesn't need to be a career-ender, says Doug Shabelman, president of Burns Entertainment, which matches celebrities with corporate sponsors.
"Athletes and their agents should try to be as open and honest with their sponsors. If they can have a dialogue, a marketer should be able to figure out how to augment their campaign to their client becoming a mom," said Shabelman.
That's ultimately the approach Fasani took.
She said she struggled with the decision to tell her sponsors about her pregnancy for fear that they might drop her from endorsement deals. But to her surprise, all of her sponsors celebrated the news.
Among Fasani's list of sponsors is Burton Snowboards. Its CEO, Donna Carpenter, embraced Fasani's pregnancy.
"When I told her that I was pregnant, she was so utterly supportive, so incredibly supportive from the minute the words came out of my mouth. That completely changed how I felt, all those assumptions that I had been making up that my sponsors weren't going to support me," Fasani said.
Carpenter, a female CEO in a male-dominated industry, says Fasani is "the perfect person to be that pioneer."
Carpenter's support aligns with Burton's initiative to help elevate women into leadership positions.
"My team is pretty much 50/50, and so you don't really see that in our industry necessarily or in a lot of industries. I think the athletes see that. We've always had a commitment to female athletes and supporting their careers," Carpenter said.
Fasani says her pregnancy has opened the door to mom-friendly endorsements like Thule, a transportation group with child bikes and stroller products. Walsh Jennings, too, with brands like The Honest Company, stepping up to sponsor her.
"I feel like we are at a new place for women, not just in sports but in the workplace as well. Brands and employers are realizing that their women are really valuable. In order to keep them in their positions, they have to support them to go through starting a family," Fasani said.
--CNN's Ahiza Garcia contributed to this story.