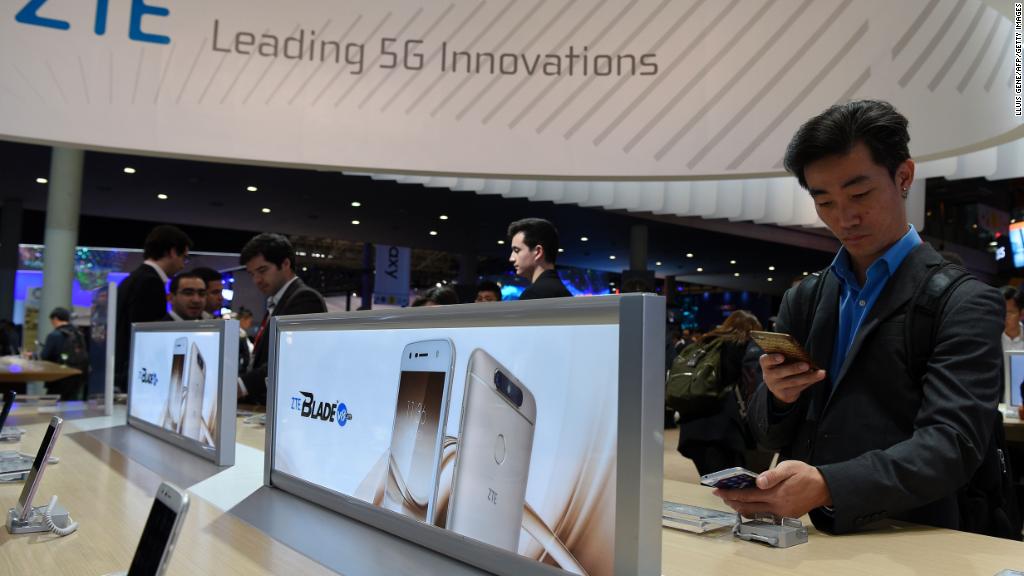 One of China's biggest tech companies says it needs to step up efforts to win over US intelligence agencies.
ZTE, which makes smartphones and builds mobile networks, must make "more effort to build the trust among the people in Washington," said Lixin Cheng, CEO of the company's mobile devices business. "We need to do more."
Top officials from the FBI, CIA and NSA testified before Congress this month that ZTE and Huawei, another Chinese smartphone maker, pose a security threat to American customers.
"We understand the concerns, and respect the concerns of different agencies of the United States government," Cheng said in an interview with CNN's Kristie Lu Stout at the Mobile World Congress in Barcelona. "We promise we are going to work very openly, as we did before, [and] transparently to address their needs and their concerns."
Related: The FBI, CIA and NSA say American citizens shouldn't use Huawei phones
Those concerns include the risk of letting companies "beholden to foreign governments" inside the US telecommunications infrastructure, FBI Director Chris Wray testified.
ZTE (ZTCOF) and Huawei's alleged ties to the Chinese government were the subject of a US House Intelligence Committee report in 2012 that focused on the equipment they make for telecommunications networks. The report said the companies "cannot be trusted to be free of foreign state influence and thus pose a security threat to the United States and to our systems."
The Chinese companies strongly disputed the report's findings.
Despite being largely shut out of the US market for telecommunications equipment, ZTE has managed to build a steady following for its smartphones among American consumers.
With budget devices priced between about $100 and $250, ZTE had 11% of the US smartphone market in the fourth quarter of 2017, according to the latest data from market research firm Counterpoint Technology. That makes ZTE the fourth biggest smartphone supplier in the US.
Related: Huawei fails to clinch smartphone deal with AT&T
Cheng said ZTE earned that market share by spending years building trust with the US telecom industry. The company first started investing in the US market in 1998.
Unlike Huawei, ZTE has managed to sell its phones through the four major wireless carriers -- AT&T (T), Verizon (VZ), Sprint (S) and T-Mobile (TMUS) -- which is key to making inroads in the US.
Those relationships only developed over the past two years, according to Cheng.
"We have been working very hard to earn their trust," including by meeting their requirements in terms of cybersecurity and privacy, he said.
Losing the trust of those carriers would be a huge blow to ZTE's smartphone business.
Related: Chinese firm fined $1.2 billion for violating U.S. sanctions on Iran
Huawei has been trying to crack the market for years. It almost clinched a deal with AT&T in January, but talks "fizzled out at the last minute," a person familiar with the matter told CNN at the time.
Lacking that crucial carrier support has cost Huawei: it has less than 1% of the US smartphone market, according to research firm Kantar Worldpanel.
Despite the current political headwinds, ZTE remains bullish on its future in the world's largest economy.
He cited Chinese basketball icon Yao Ming as an example ZTE would like to follow -- competing on the global stage, earning the respect of competitors and winning the hearts of local communities.