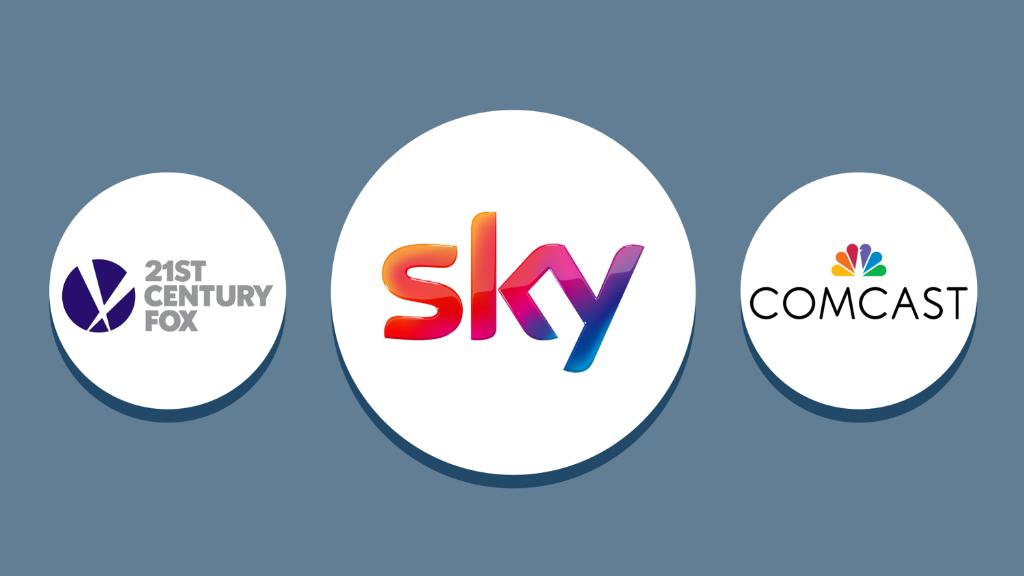 Comcast's surprise bid for the U.K. broadcaster Sky adds another twist to the long, complicated saga of Rupert Murdoch's pursuit of Sky -- and it could spark a bidding war between some of the biggest names in media.
Under Murdoch, 21st Century Fox has been seeking to buy the 61 percent of Sky it does not already own. In the midst of that, and a lengthy regulatory review of the deal by the U.K. government, it agreed to sell a large chunk of itself to Disney.
But on Tuesday, Comcast (CMCSA), the U.S. cable operator which also owns NBCUniversal, put in a bid for the whole of Sky that is 16 percent higher than 21st Century Fox's offer.
Now the question is what Disney (DIS) might do next and whether it will be content to let Fox take the lead or initiate a bid of its own for all of Sky.
If 21st Century Fox (FOXA) wished to counter Comcast's offer, it would likely need approval from Disney. Analysts with the investment firm Jeffries said they think a bidding war could ensue between Fox and Comcast, or that Disney might make "a direct offer to Sky shareholders."
"[Disney CEO Bob Iger] has described Sky as the 'crown jewel' asset among the Fox operations he is seeking to acquire. Just as with Comcast, adding more international distribution (direct to consumer) and content production is strategic to countering Netflix, Amazon, etc.," the banks' analysts said in a flash note. "A counter-bid from [Disney] would avoid the regulatory complexities/delays in much the same way as the Comcast approach."
Disney and 21st Century Fox did not immediately respond to requests for comment.
Alex DeGroote, a media analyst for Cenkos Security who has been following Sky for 15 years, said the market's early reaction -- Sky shares soared 21 percent on news of the bid -- implies that investors think there will be a bidding war.
"Disney may well extract Sky from the Fox bid, and bid for it separately," DeGroote said in an email. "Comcast is being opportunistic. This is an opening salvo only. They have the resources to fund a much bigger bid. So get ready for multiple bids, which will make Sky shareholders very happy."
Sky would give Disney an important "bridgehead into Europe," DeGroote added.
Several analysts believe that Comcast's bid could easily succeed, not just because it's offering a higher price but also because Comcast would likely not face all the regulatory hurdles 21st Century Fox has endured.
U.K. regulators have put 21st Century Fox through the wringer over the past year as they assess whether the company is not only "fit and proper" to take over all of Sky, but also how the deal might affect the "plurality" of the media market in the U.K.
Though Fox had already been given the all clear on the "fit and proper" test, it was dealt a blow last month when one of the U.K.'s media regulators said the government should not approve the deal because it would place too much media power into the hands of the Murdoch family, considering the number of media properties they already own in the country.
Fox has since proposed several measures to try to assuage the regulator's fears over the Murdochs' potential influence. A final recommendation from the regulator is expected in April, with a final decision from the government on approval of the takeover coming in June.
While Fox was dealing with the regulatory hurdles for the Sky deal, it agreed to sell a major chunk of its operations to Disney, including its current 39 percent stake in Sky. Though Disney has said it will take on the whole of Sky should the U.K. government approve Fox's takeover, which if approved is expected to close before Disney's deal with Fox does, Disney told a U.K. regulator in December that it would not want to buy the whole of Sky on its own if the government rejects Fox's attempt. Instead, it indicated, it would be happy with the current 39 percent.
A Comcast bid would likely face far fewer regulatory hurdles in the U.K., Comcast CEO Brian Roberts told analysts in a conference call on Tuesday.
"We don't see any material issues and expect to receive the necessary approvals in a timely manner," Roberts said.
Roberts also said Comcast was prepared to co-own Sky with Disney if they Comcast had the majority stake, though Comcast prefers to own the broadcaster outright.
Not all analysts believe Disney will want to fight for Sky. Analysts Ian Whittaker and Annick Maas from the investment bank Liberum said they expect Comcast will ultimately succeed as they do not think Fox or Disney "want to get into a bidding war" and that by selling to Disney Fox has already indicated it wants to let Sky go.
"The Comcast bid may be more attractive even if Fox does come back with a raised bid as it would come with much lower regulatory risk (Comcast does not have the same PR issue as Fox does in the UK) and the comments about investing in the UK content space, upholding news impartiality and a commitment to the UK in general are likely to help the bid gain favour with the UK Government who may be looking for an optimal way to defuse the political risks from the Fox bid," Whittaker and Maas said in an analysis post on Tuesday.
Tuesday's announcement is not the first time this year Comcast has made an aggressive move related to Fox. Earlier this month both Reuters and the Wall Street Journal reported that Comcast was thinking of reviving its attempt to counter Disney for Fox's assets even though its previous bid was rejected late last year.