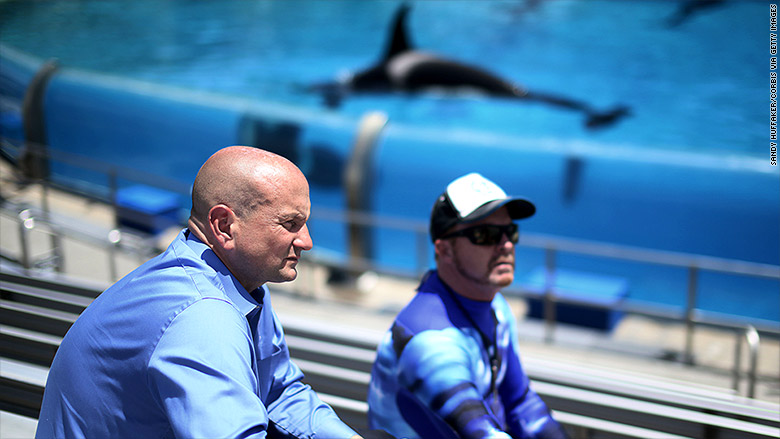 The CEO of SeaWorld has stepped down as the company struggles with slumping sales and declining attendance at its theme parks.
SeaWorld Entertainment (SEAS)appointed company insider John Reilly to serve as interim CEO after Joel Manby resigned.
The company said Tuesday that Manby "agreed that this is the right time to identify a new CEO as the company enters its next phase of intensified focus on execution and growth.
SeaWorld said that it lost about $200 million in fiscal year 2017, which was not quite as bad as the year before, when it lost $215 million. Revenue was $1.26 billion, down from $1.34 billion the year before.
Attendance at its theme parks, a key measure of SeaWorld's financial health, was down again in 2017. SeaWorld said that 20.8 million guests visited its parks last year, compared with 22 million the year before.
The company said it's hoping to attract guests with 15 new rides and new marketing strategies, and is cutting $65 million in costs. The company laid off 350 workers last year.
SeaWorld has been struggling with its image ever since the CNN documentary "Blackfish" came out in 2013. The film focused on an orca that had killed people, including a trainer, and suggested that the conditions in which it was confined at SeaWorld contributed to its violent behavior. The company has disputed certain points in the documentary.
The animal rights organization People for the Ethical Treatment of Animals, or PETA, has been an outspoken opponent of SeaWorld and any other company that uses animals in entertainment, like Ringling Brothers Circus, which shut down last year after nearly 150 years in business.
Related: SeaWorld lays off hundreds of workers
PETA is also a SeaWorld shareholder. PETA spokesman David Perle confirmed to CNN that the organization owns 339 shares, which he said is the minimum to file shareholder resolutions.
"SeaWorld is underwater," said PETA executive vice president Tracy Reiman in a statement. She said PETA filed a resolution offering the "abusement" park a way to boost earnings and attendance: End all its breeding programs, release orcas into seaside sanctuaries and "stop imprisoning animals altogether."
SeaWorld did not immediately respond to CNNMoney about the resolution.
The company has stopped breeding killer whales in captivity and said it will phase out its killer whale shows. It opened a park in Abu Dhabi in 2016 that didn't have any killer whales. It was the company's first park outside the US.
The company has about a dozen theme parks in the United States, including SeaWorld parks in San Diego, Orlando, Florida, and San Antonio, Texas.
The company said it is looking for a permanent new CEO.
Manby stepped down after about three years as CEO. Reilly, the interim CEO, has worked for SeaWorld for 32 years, with job titles including chief parks operations officer, and also park president of SeaWorld San Diego and Busch Gardens Williamsburg in Virginia, according to the company.