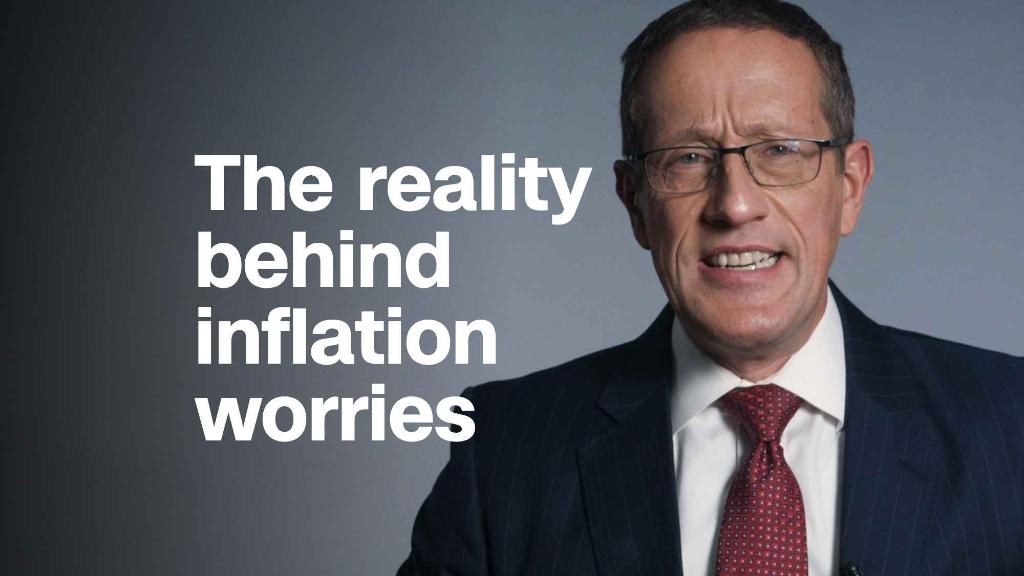 Federal Reserve Chairman Jerome Powell's bright economic outlook is raising investor expectations that faster interest-rate hikes may be on the way.
The Fed already has plans for three hikes to keep the economy from overheating. But inflation, which has run below the Fed's 2% target for years, is finally picking up. And wages are climbing in a tight job market.
Powell expressed confidence that the next few years will be "good years for the economy" as Americans spend more and businesses increase their investments, helping to boost productivity.
"My personal outlook for the economy has strengthened since December," Powell told the House Financial Services Committee, where he delivered the Fed's twice-a-year report on the state of the economy.
Investors took the upbeat report as a sign that the Fed may have to raise rates four times instead of three.
In the bond market, the 10-year Treasury yield quickly spiked from 2.86% to 2.92% while Powell was delivering his rosy outlook, driving the stock market modestly lower. Higher bond yields are a sign that investors expect faster inflation and more aggressive moves by the Fed.
"This is a little bit more hawkish than the testimony we might have expected," said Matt Forester, chief investment officer at BNY Mellon's Lockwood Advisors. "He was pretty upbeat and optimistic about what's coming in 2018."
Powell did not promise a fourth rate hike. And he stopped short of forecasting how members of the Federal Open Market Committee would revise their economic forecasts when they meet in three weeks.
"I wouldn't want to prejudge that new set of projections," Powell said.
But he told House lawmakers: "We've seen some data that will in my case add some confidence to my view that inflation is moving up to target. We've also seen continued strength around the globe, and we've seen fiscal policy become more stimulative."
Fed officials have been increasingly cheerful about the economy's prospects. Business investment is up sharply. Consumer confidence is highest since November 2000.
Related: What to watch for in Jerome Powell's Capitol Hill debut
Unlike his predecessor, Janet Yellen, who steadily worked to rev up the economy after the 2008 financial crisis, Powell must ensure that the economy doesn't grow so robustly that inflation takes off.
He pledged to keep the economy humming without starting a recession — a risk the Fed chair does not see as imminent.
"We are all rooting for you, because much is at stake," said Representative Jeb Hensarling, chairman of the House Financial Services Committee.
Powell will make a second appearance at the Senate Banking Committee on Thursday.
Economists are watching whether inflation is finally picking up. A tight job market means employers will have to pay more to attract and keep workers. That means businesses may have to raise prices.
The Fed's preferred gauge of inflation stands at 1.5%. But central bankers expect it to "move up" this year. Data show it was already "a little bit higher" by the end of last year.
Fears that higher inflation might force the Fed to raise rates faster than expected helped send stocks plunging earlier this month. Stocks have since recovered most of what they lost, and bond yields, which reflect inflation fears, have dropped.
Powell said many of the challenges that the economy faced in the last few years are now in the background.
Related: As Yellen leaves, Fed will face new challenges
The Fed chairman said that "fiscal policy is becoming more stimulative," although he did not specifically mention the recently enacted Republican tax cuts or the $300 billion spending bill. He said under these conditions, including an expected uptick in inflation, wages will increase at a "faster pace."
Both the tax cuts and the spending bill will add to the federal deficit. Lawmakers questioned Powell on whether the Fed would have to change its plans and raise interest rates faster to account for the rise in deficit spending.
"Fiscal policy changes can have an effect, changes of this size can have an effect, and that can be seen in the path of policy," he said. "It's very hard to say in advance what that would be."
Powell urged Congress to act fast to address America's growing debt problem.
"We need to get on a sustainable fiscal path, and the time to be doing that is now," he said.
— CNN's Matt Egan contributed to this report.