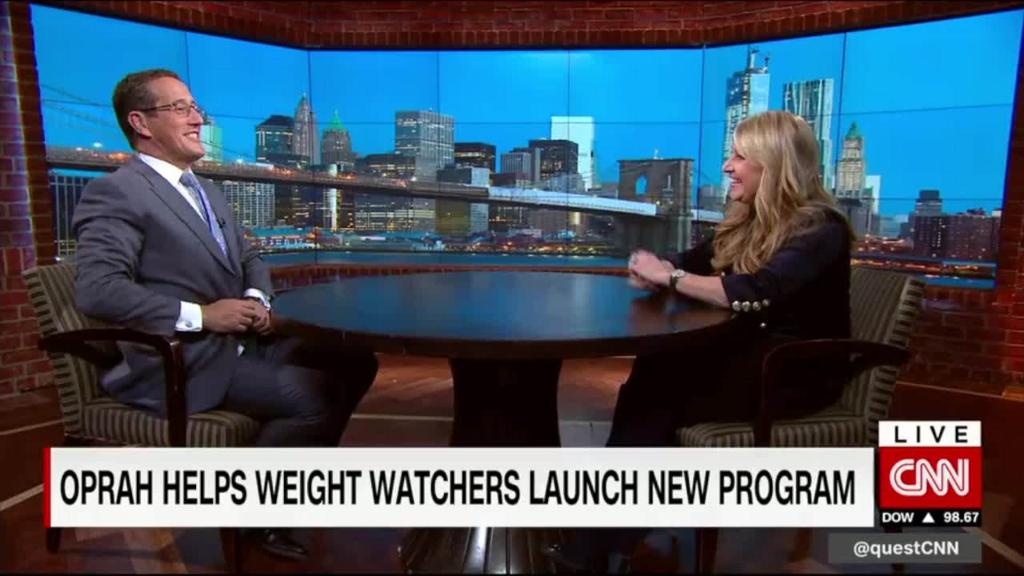 Weight Watchers keeps racking up impressive results. That's making billionaire board member and celebrity spokeswoman Oprah Winfrey even richer.
The diet company said late Tuesday that it posted a 23% jump in subscribers -- nearly 600,000 more people than a year ago -- and reported sales and earnings that topped forecasts.
Although members may be shedding pounds, investors -- including Winfrey -- are gaining more profit.
Shares of Weight Watchers (WTW) initially rose on the earnings news Wednesday before pulling back. But the stock is still up nearly 60% this year.
Winfrey's 6.4 million shares in the company -- a nearly 10% stake -- are now worth about $445 million.
That's a more than $400 million increase from what she paid for the stock back in October 2015.
The success of Weight Watchers is coming at the expense of rival Nutrisystem, which reported a lackluster outlook Tuesday morning.
Shares of Nutrisystem (NTRI) plunged more than 20% on that news.
Related: Weight Watchers offers free memberships to teens
The star power of Winfrey, as well as hit music producer and new "social media ambassador"/endorser DJ Khaled, appears to be a main draw for Weight Watchers.
DJ Khaled has been touting the company's new Freestyle program, which expands Weight Watchers' famous "zero points" offerings beyond fruits and vegetables to things like eggs, beans, chicken and seafood.
Weight Watchers also is doing a great job of convincing people that it's not just about counting calories, points and pounds.
CEO Mindy Grossman, who took over the top spot at Weight Watchers last year after a long stint as the head of retailer HSN, is emphasizing that the company's services are about better living choices in general and not just eating fewer fatty foods.
Grossman told analysts in a conference call Tuesday that "healthy is the new skinny."
"The world doesn't need another diet. The world needs a leader in wellness and a brand that can bring wellness to everyone, not just a few," Grossman said.
Grossman added that the company will launch what it dubs the "Summer of Impact" in May -- a new program that "will celebrate food, family, health and fun, inspiring families and their friends around the world to be healthier."
Wall Street is celebrating the healthier outlook too. Credit rating agency Moody's upgraded its outlook on Weight Watchers' debt Wednesday.
Moody's senior credit officer Edmond DeForest cited expectations for "solid" revenue and subscriber growth this year "following an impressive performance in 2017."
So it looks like investors may be able to keep getting fat on gains from Weight Watchers stock -- even as Oprah, DJ Khaled and millions of other members shed pounds.