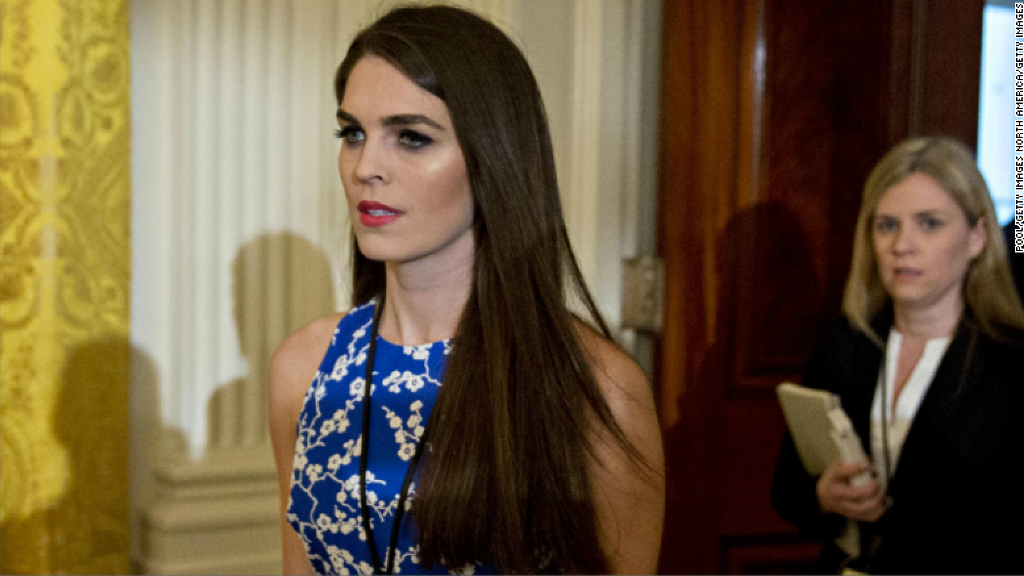 For the journalists covering Donald Trump, there was always Hope Hicks.
From the moment Trump came down that escalator in Trump Tower in June of 2015, Hicks was his right-hand woman, the one constant reporters have always dealt with.
Reporters have always seen Hicks as one of the few people who is actually close to the president and who can telegraph his point of view, or his willingness to participate in an interview. Often it was because she was literally right next to him.
She held immense power, and was able to circumnavigate what would be considered the traditional hierarchies of previous White House communications operations. She was the point person for many of the nation's highest profile reporters and could and would arrange an interview with the president seemingly independent of the rest of the White House press operation.
Related: Hope Hicks is resigning from the White House
When now Washington Post reporter Josh Dawsey was working at Politico, he and fellow reporter Alex Isenstadt were invited by Hicks to interview Trump in April for a feature on his first 100 days in office. The reporters' presence in the West Wing was unusual not because of the interview, but because of White House Press Secretary's Sean Spicer's well known distaste for Isenstadt.
"Senior staff, including Priebus, Spicer, Bannon, etc. had no idea we were in with Trump," Dawsey wrote on Twitter Wednesday after the news of Hicks' resignation broke. "Priebus and Spicer were particularly unhappy. Hicks didn't seem to care."
During the campaign, reporters would email Hicks seeking comment, and -- in a clear sign of how close she is to Trump -- the comment would come back immediately. Sometimes Hicks would even have Trump available on the line. Sometimes the invitation for an interview came unsolicited.
"She once invited me to talk to Trump after he saw me on Morning Joe. I don't think press staff was even aware," Bloomberg's Josh Green tweeted Wednesday.
Some reporters have told stories about the confrontations they've had with other communications staff, in this White House and previous ones -- heated confrontations with former White House Press Secretary Sean Spicer, for instance. They don't say the same things about Hicks. Sure, conversations could get testy -- Hicks was always known for her devotion to the president, and could get especially forceful defending him -- but several reporters said they found her useful at times, if a little mysterious.
"Hicks largely floated above day to day conflicts with the press (and more than others, internally) whereas the nature of Spicer's job required day to day conflict," said New York magazine White House correspondent Olivia Nuzzi, who profiled Hicks for GQ Magazine in 2016.
But there was one sure way to get her to clam up: Ask for an interview with her. Hicks was rarely ever quoted in stories, and she has never granted a TV or radio interview about herself or her job.
Hicks advocated behind the scenes for Trump to be accessible to the press, both through interviews and other public appearances. And she privately made the case to journalists that Trump was actually very accessible, even though he avoided some traditions like a pre-Super Bowl interview.
She was the point person for many of Trump's interviews during the campaign. She carried this responsibility to the White House, and initially placed Trump in a wide variety of settings, from ABC's "World News Tonight" to "Fox & Friends" to the cover of The New York Times Magazine.
Presidential interviews became less frequent after a few months. There was a noticeable change in approach after Robert Mueller was appointed special counsel in May. Although Trump has given off-camera interviews to The New York Times, Reuters and other outlets, he has not given a TV interview to any of the major networks other than Fox News since Mueller was appointed.
Fox anchor Jessie Watters said on Wednesday afternoon's "The Five" that he's sad to see Hicks go because "selfishly, she was my point of contact with the president."
"If I ever wanted to interview the president, I would go through her," Watters said." "I'm scrambling now...I'm going to have to find a new friend."
Although a big part of her job was turning down endless press requests, she was sometimes viewed as an advocate for greater access.
"She respects reporters' roles in a way that most people in that building do not," one of Hicks' confidants said.
Her confidant expressed concern that press access will become more limited without her there -- although Trump ultimately calls those shots himself.
White House reporters were skeptical that press relations would so drastically change.
"At the end of the day, Trump is his own communications director, so it seems unlikely that there will be meaningful changes to the overarching White House media strategy to the extent that there is a conscious strategy in place right now," Nuzzi said.
The tweets, Fox interviews and unpredictable bursts of access -- long gaggles, impromptu interviews and off-the-cuff remarks -- will likely continue, Nuzzi said.
"I think the changes that may occur as a result of Hicks's exit have more to do with the president's ability to exist without her in an emotional sense," Nuzzi continued. "She's a familiar presence at his side in a place where he's uncomfortable, and she understands him more viscerally than others in the press shop who haven't known him as long or observed him up close the way she has since the winter of 2015."