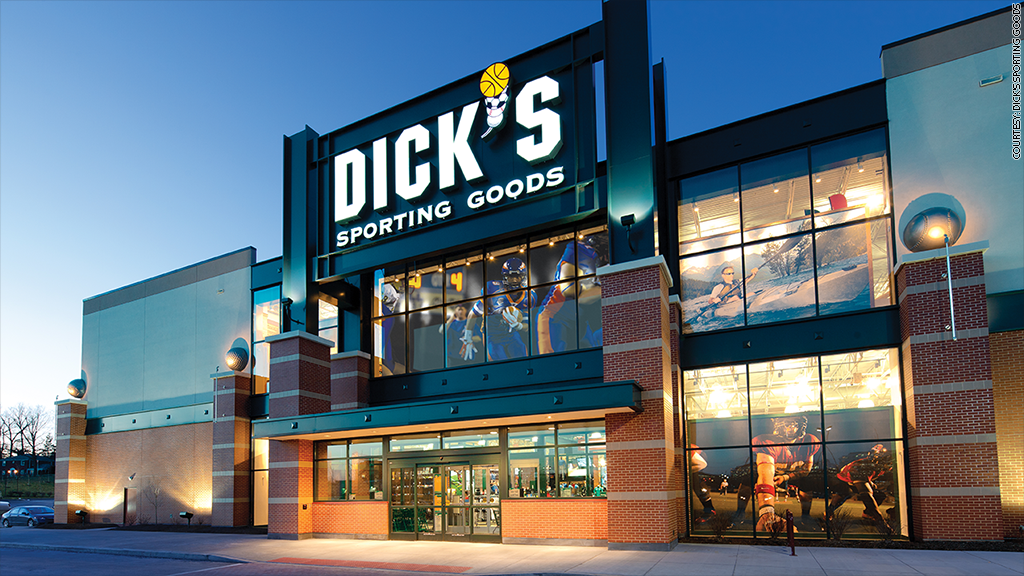 Dick's Sporting Goods will stop selling semiautomatic rifles like the type used in the mass shooting at a Florida high school two weeks ago, but plenty of other gun sellers still do.
Bass Pro Shops and its subsidiary Cabela's sell what they call "semiautomatic tactical rifles" like the Smith & Wesson M&P 15 produced by American Outdoor Brands (AOBC), and the AR-556 made by Sturm Ruger (RGR). Both types of guns cost about $700.
Bass Pro Shops has 100 stores and Cabela's has 89 across the country, according to a statement from the companies released last year. They didn't return messages from CNN seeking comment.
Bass Pro Shops and Cabela's are "likely the largest big box" retailers of modern sporting rifles, the industry's preferred term for assault rifles, now that Dick's has dropped out, according to Rommel Dionisio, a gun industry analyst for Aegis Capital.
Walmart (WMT) stopped selling modern sporting rifles in 2015 and on Wednesday said it was "raising the age restriction for purchase of firearms and ammunition to 21." But Gander Outdoors still offers the AR-556 on its web site, the model of gun used in a mass shooting at a Texas church last year. Gander did not immediately comment to CNNMoney.
The semiautomatic rifles are also still sold by prominent online retailers like Cheaperthandirt.com, Gunbroker.com and Hunterswarehouse.com. None of those companies returned messages from CNN.
Assault-style weapons, also called tactical rifles, are based on a military design but are widely available to civilian customers in the United States, who can legally purchase them in most states. Guns of this style have been used in mass shootings including at Sandy Hook elementary school in Newtown Connecticut, and in the country's deadliest shooting incident in Las Vegas, where 58 people were killed.
The "heavy majority" of retailers selling the rifles are small independent outfits, said Dionisio. There are 56,000 gun retailers in the United States, most of them small businesses.
Related: A could hangs over the gun industry
Edward Stack, CEO of Dick's Sporting Goods, said in an interview with CNN's Chris Cuomo on Wednesday that the company would stop selling "assault-style rifles" like the AR-15-style semiautomatic rifle used to kill 17 people at the school in Parkland, Florida, on February 14.
He also said Dick's would stop selling high capacity magazines, which are typically defined as magazines that can hold more than 10 or 15 bullets. The company will also no longer allow customers younger than 21 to purchase any type of gun, he said.
"We think it's the right thing to do after Parkland," said Stack. "We were so disturbed and saddened by what happened at Parkland we said we need to do something."
Related: Why the AR-15 is the mass shooter's go-to weapon
The National Shooting Sports Foundation said it was "disappointed by the decision of Dick's Sporting Goods to stop selling modern sporting rifles" and "certain magazines." The NSSF does not generally comment on specific companies.
Related: This is why mass shootings no longer drive sales
Assault rifles were banned by the federal government from 1994 to 2004. They are still restricted in some states like New York, California and Massachusetts, which do not allow rifles to have pistol grips and which limit magazine capacity to 10 rounds.
Sales for tactical rifles, and for guns in general, soared during President Obama's administration, as he tried unsuccessfully to get an assault weapon ban through Congress. Gun enthusiasts stockpiled guns and ammunition because they were afraid that Obama or a future Democratic White House would try to tighten gun laws. Under President Trump, a Republican endorsed by the National Rifle Association, gun sales plunged as the possibility of tightened federal gun control diminished.