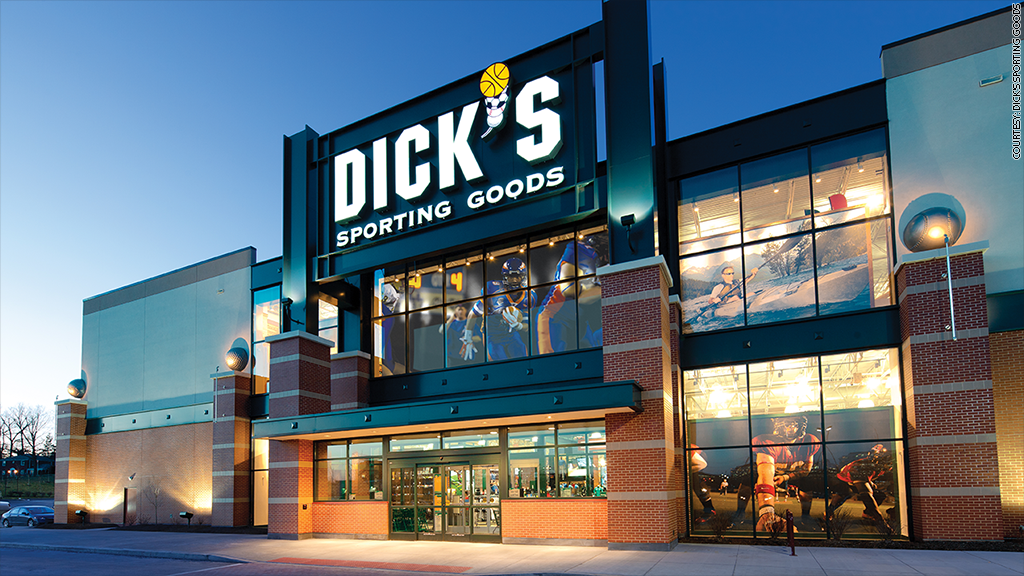 More than a dozen companies have ended partnerships with the NRA. Wall Street banks are re-evaluating their ownership stakes in gun makers and sellers. Gun stocks are falling.
And Wednesday, Dick's Sporting Goods announced it will stop selling assault-style weapons like the one used in the Parkland, Florida, high school shooting two weeks ago. The $3 billion retailer backed by Wall Street investment giants also said it will raise the minimum age for all gun sales to 21.
Big Money is forcing a reckoning on guns.
Fran Gormley, a marketing professor at NYU, said pressure from students and advocacy groups has "forced brands to get off the sidelines" and re-examine their relationship with the gun industry.
"The students are taking this up in a way that reframes the argument. It's not about guns. It's about children and safety," Gormley said. "It causes companies to look at this differently."
Dick's CEO Edward Stack said on CNN's "New Day" that the company was moved by the Parkland students' pleas for gun control.
"We concluded if these kids are brave enough to organize and do what they're doing, we should be brave enough to take this stand," Stack said.
Related: Companies learn the hard way: There's no easy way to take sides in polarized America
This isn't the first time national outrage has forced companies to rethink their gun strategy.
Walmart (WMT) stopped selling assault-style weapons shortly after nine people were gunned down in a Charleston, South Carolina, church in 2015. Dick's (DKS) stopped selling military-style semi-automatic weapons after the Sandy Hook elementary school shooting in 2012, but it kept selling them at its 35 Field and Stream stores.
After the Parkland shooting, though, Dick's once again found itself under its investors' microscope.
BlackRock and State Street, two of Dick's largest shareholders, said they had questions for gun companies after the school massacre.
Related: Wall Street has more questions on guns
BlackRock, the biggest shareholder in gunmakers Sturm Ruger and American Outdoor Brands, said last week that it would be "engaging with weapons manufacturers and distributors to understand their response to recent events." State Street wanted to know how gunmakers "will support the safe and responsible use of their products."
Vanguard Group is both Dick's largest investor and a top shareholder in gun manufacturers. It declined to comment on Dick's decision to stop selling assault-style weapons and to raise the age for gun purchases.
Signs that Wall Street and Corporate America are growing weary of gun companies have taken a toll on stock prices.
American Outdoor Brands (AOBC) is down 14% and Sturm Ruger (RGR) has dropped 10% since the shooting. Vista Outdoor (VSTO), which makes guns and ammunition, has fallen 9%.
When Barack Obama was president — and when it looked like Hillary Clinton might succeed him — the threat of gun control lifted gun sales. That threat has faded considerably now that Republicans control both the White House and Congress.
Analysts say the combination of Wall Street scrutiny and limited action in Congress will continue to weigh on gun stocks.
"I think you're going to see a continued sideways grinding on these gun stocks," said Brian Rafn, an analyst for Morgan Dempsey.
—CNN's Chris Isidore and Aaron Smith contributed to this report.