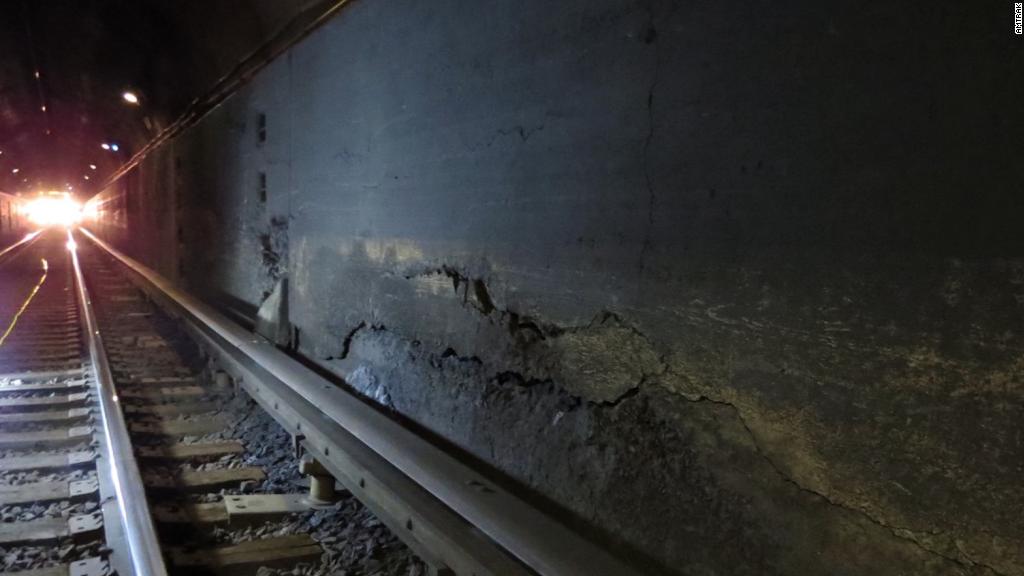 If President Trump were to get his ambitious $1.5 trillion infrastructure plan through Congress, the country would need a lot more workers for all of the construction projects that would get underway.
That poses a problem: Builders are already having a hard time finding skilled workers, says Ahu Yildirmaz, head of the ADP Research Institute. The payroll company says wages for workers in the field rise 4.8% over the year, and 5.9% for those who switch jobs — a sign that bosses are poaching from one another, rather than hiring the unemployed.
"Firms are paying to retain their employees, but it's not easy to find the skilled construction workers as it is in other industries," says Yildirmaz.
But it's not just construction that needs help. Industries from health care to manufacturing have also voiced a need for more skilled workers and there's also mounting evidence that automation will fundamentally change or kill off many job categories entirely — creating even more need for programs that retrain America's workforce.
Trump's infrastructure plan includes some proposals for training more workers, such as allowing Pell Grants to be used for short-term certificate programs, and creating more opportunities for work-based learning in high school.
Related: Trump unveils infrastructure plan
To that end, the White House's budget said it would "reorganize and consolidate" the $17 billion it spends on job training annually through 14 government agencies.
While details are scant for now, the budget contains a few clues: It would cut programs that deal with worker health and safety, $733 million in supplemental tuition aid and $1.2 billion for after school education programs, among other reductions.
Congress likely won't go along with all of those cuts, but they may take some of Trump's recommendations. And though workforce development experts support some of the White House's proposed reforms, the bigger picture is starting to worry them.
"Our policy team was pleasantly surprised by some of the changes," says Maria Flynn, president of the nonprofit research group Jobs for the Future. "But the overall funding levels and the lack of detail around any kind of consolidation or reorganization is troubling."
Nevertheless, there is a lot of agreement on how the federal government could help train people better for the jobs of the future. Here are the ideas getting the most attention.
1. Open Pell Grants to short-term certificates.
The federal government spends tens of billions annually on Pell Grants to help low-income students afford college, depending on how many apply. But only programs lasting more than 600 hours qualify, even though many valuable training and certification programs don't take that long to complete.
There's already bipartisan legislation pending in Congress that would open up Pell Grants to shorter-term programs that teach specific skills, and the idea is widely favored in policy circles.
However, there's concern that it would be difficult to ensure the quality of such programs, especially as new ones spring up to compete for federal student aid. That's part of what fueled some of the predatory practices at for-profit colleges that offered subpar educations and failed to help their graduates get jobs.
"If you're opening up Pell eligibility to a new class of programs, the quality piece is really important," says Angela Hanks, a workforce education specialist at the Center for American Progress. "And given how much the Administration has demonstrated that they're in favor of deregulation, I'm not sure that any kind of quality assurance is likely to be layered on top of this."
2. Tie funding more tightly to employer needs.
Another billion dollars a year in federal workforce spending comes through the Carl D. Perkins Career and Technical Education Act, which funds career-focused training at high schools. The House has twice passed bills that would reauthorize the legislation with a greater emphasis on training for in-demand jobs and more flexibility for states, but they have stalled in the Senate.
The White House has urged passage of that legislation, with tweaks to promote more apprenticeships, work-based learning and dual enrollment with community college programs.
Related: Trump proposes 40% cut to job training programs
That came as welcome news to Chris Padilla, vice president of government and regulatory affairs at IBM, which has partnered with school districts in New York, Chicago and elsewhere to develop skills-focused high schools that allow students to earn an associate degree in a field that local employers need.
"We've long been urging that federal money should be redirected more towards the kind of jobs that are open today rather than the jobs of 50 years ago," Padilla said.
There are also proposals winding their way through Congress to bring higher education in line with the needs of local industry by funding training programs that are designed by businesses and community colleges with concrete job opportunities for those who enroll.
3. Make work-study jobs more relevant.
The United States spends about $1 billion a year on work-study, which allows college students to work off some of their tuition. But these jobs are usually menial and don't build skills or add to a resume. Also, the aid is concentrated among high tuition schools in the Northeast, because it's parceled out according to an historical funding formula.
A coalition of think tanks and business associations have recommended targeting the money toward students with higher needs and making sure it's aligned with their studies instead.
The Trump administration endorsed some of those recommendations, but it also proposed to cut funding for work-study by almost 80%.
4. Leverage infrastructure funding for worker training.
Both the Obama and Trump administrations have supported increasing the number of apprenticeships, which allow people to earn money while working and learning a skill.
Tamar Jacoby, who runs the conservative think tank Opportunity America, recommends using federal infrastructure funding to pay for 10 weeks of classroom training for each new worker a contractor hires.
"The infrastructure initiative is a great vehicle," Jacoby says. "Why don't we also use it to rebuild the workforce?"
She projects it would cost $1.8 billion over 10 years to train 600,000 people, which is a small fraction of the $200 billion the White House proposes spending on its plan.
5. Treat workforce training like research and development.
Businesses get a tax credit for the money they spend on product innovation, but not for investing in their employees' skills. And they've been doing less of it: Between 1996 and 2008, the percentage of workers receiving employer-sponsored training fell 42%, according to calculations by President Obama's Council of Economic Advisers.
That's a problem given the ever-changing technology in industries ranging from health care to manufacturing. The Aspen Institute has proposed giving employers a tax credit for the money they spend on training, especially on lower-income workers.
Related: This bill could change the way Americans pay for college
Other countries and some U.S. states — like Connecticut, Kentucky, and Virginia — are already doing something similar, and Connecticut has found that participating firms got more productive. Three Democratic senators introduced a bill to that effect last fall, but it was not included in the tax reform package that ultimately passed.
6. Put more money into existing programs -- not less.
The Trump administration isn't the first to propose a reorganization of federal workforce development programs.
Congress already overhauled and consolidated many of them back in 2014 with the Workforce Innovation and Opportunity Act, which provides grants to states to run their own training and pushed for more coordination across different federal agencies.
Funding for those state grants has already shrunk by 40% over the last 15 years, and the Trump administration proposed another 40% cut in its 2019 budget (although it later recommended adding back all the money after Congress passed its budget with spending increases). The conservative Heritage Foundation has favored cutting them entirely.
Related: The real apprentice: How to bring jobs back
Kermit Kaleba, federal policy director at the National Skills Coalition, says funding gyrations and big policy shifts would jeopardize the effectiveness of the whole system.
"The number one thing the administration could do is make sure they're fully implementing Congress' vision around WIOA," Kaleba says. "We need to give the law a chance to work rather than come in four years later and say let's completely rearrange things yet again."