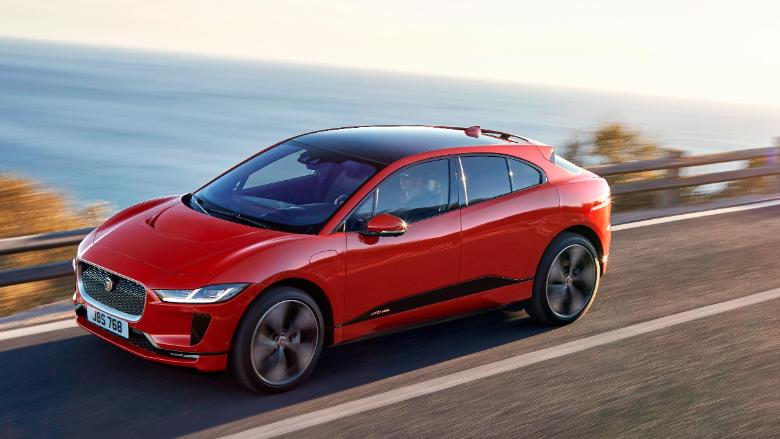 Jaguar has unveiled its first electric vehicle, the I-Pace SUV.
A concept version of the I-Pace was revealed two years ago. The vehicle displayed Thursday was the actual production version of the SUV that will go on sale later this year.
Like the concept vehicle, the I-Pace has a very short hood allowing for as much room as possible inside. The I-Pace will have only two rows of seats, not three like the larger Tesla Model X. A glass sunroof runs the length of the roof.
The I-Pace will have an estimated driving range of 240 miles, according to Jaguar. Its electric motors will produce up to 394 horsepower allowing it to get from a stop to 60 miles an hour in about 4.5 seconds. The batteries are placed as low as possible between the front and rear wheels to give the I-Pace the best weight balance possible, according to Jaguar.
A self-leveling air suspension system will lower the SUV's body to the ground at high speeds to optimize aerodynamics. It will also allow the SUV to be agile in curves while still providing a comfortable ride, Jaguar said.
Like other electric vehicles, the I-Pace will generate energy to recharge the batteries slightly while slowing down. Drivers will be able to adjust the degree to which that happens even allowing for full "one pedal driving" in which the car will slow quickly all the way to a full stop just by lifting off the accelerator pedal.
The I-Pace will have at least a little off-road cability, Jaguar said, being able to wade through nearly 20 inches of water and to operate in temperatures down to -40˚Fahrenheit or -40˚Celsius.
Jaguar has not yet announced the price for the I-Pace in the US but, in the UK, prices will start at roughly £64,000.