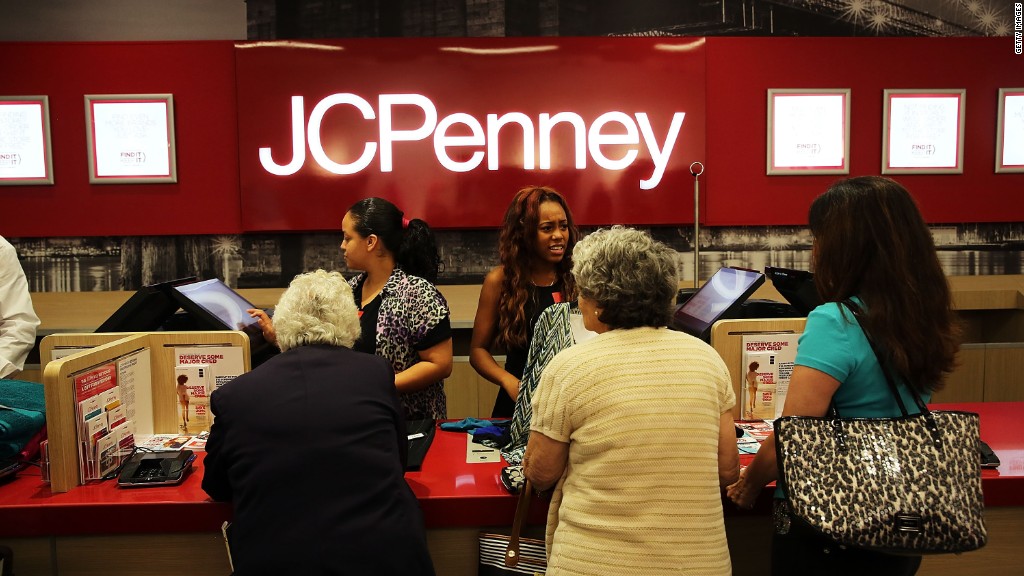 It's been a brutal week for many big American retailers.
JCPenney announced Friday that it will cut 360 jobs at its stores and corporate headquarters. That's on top of the more than 5,000 layoffs in 2017 after JCPenney decided to close nearly 140 stores.
The struggling retailer also said that its earnings and sales for this year will be worse than what Wall Street analysts were expecting. Shares of JCPenney (JCP) plunged nearly 10% in early trading.
JCPenney wasn't the only prominent bricks and mortar chain to report poor results this week.
Barnes & Noble (BKS) posted a quarterly loss and a drop in sales Thursday morning, sending the bookstore's shares to an all-time low.
Victoria apparently needs a new Secret too. L Brands (LB), the owner of the lingerie seller and Bath & Body Works, plunged 14% Thursday after its outlook turned out to be more devilish than angelic.
Nordstrom (JWN), which is trying to go private, failed to impress investors with its latest results after the closing bell Thursday. Its stock fell 6% Friday morning before rebounding.
And the other shoe dropped at Foot Locker (FL). The sneaker and athletic apparel company's sales missed forecasts and its outlook was weak as well. Foot Locker's stock dove 7% Friday morning.
Related: The one sector of retail that's hiring -- a lot
All this bad news comes at a time when the retail industry is undergoing a massive transformation as more and more consumers shop online.
People are still spending. They are just doing so on their phones as opposed to at the mall.
That's been great for e-commerce leader Amazon (AMZN), which has continued to post impressive sales growth. Its stock is also up more than 25% this year and is near a record high.
Coye Nokes, partner in the consumer and retail practice at strategy consulting firm OC&C, said that the threat from Amazon is clearly the biggest challenge for most traditional retailers.
"Amazon is still coming and it is entering even more categories," she said.
But she added that there are some retailers that have been fighting back and have done a good job of boosting their own digital operations.
Related: Macy's is back! Stock up on solid sales
Macy's (M) shares rallied earlier this week after the iconic retailer topped analysts' forecasts and said that online sales continued to grow at a double-digit pace.
Best Buy (BBY) also posted strong sales in its stores and digital operations on Thursday. The electronics retailer's stock even rose 4% while the broader market tanked on fears of a global trade war.
And there are other traditional retailers that are holding up well.
Gap (GPS) shares bucked the market's downward trend Friday, rising 5% after it posted solid results. The Gap's Old Navy brand is on fire. Its same-store sales were up 9% during the holiday quarter.
Department store chain Dillard's (DDS) topped forecasts earlier this week too, sending its shares up nearly 17% on the news.
So it's not all doom and gloom for retail. The industry is in the midst of a shakeout that will lead to some casualties and some big winners. But the American consumer is still alive and well.