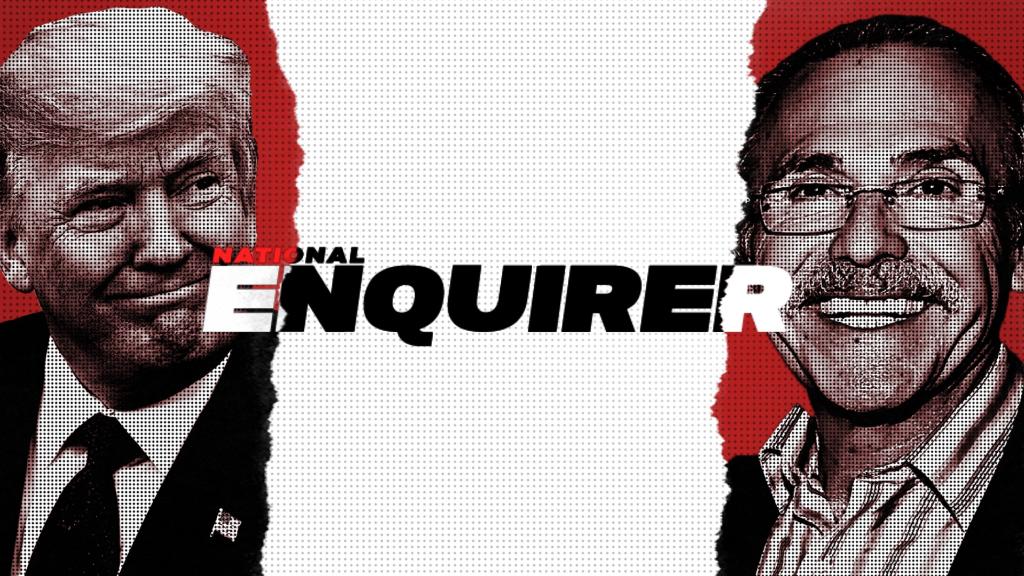 Fox News and Breitbart might get most of the attention, but a majority of the public recognizes the National Enquirer's own role in the pro-Trump media ecosystem.
A CNN poll released Friday found that 56% of Americans believe the allegation that the supermarket tabloid has paid for exclusive rights to stories that may be damaging to President Donald Trump in order to keep them from being published. Thirty-nine percent of respondents said the allegation was "probably true," while 17% said it was "definitely true."
Ronan Farrow likely helped shape those findings. His story last month in The New Yorker claimed that, in a tabloid practice called "catch and kill," the publisher of the Enquirer paid six-figures to a former Playboy model for exclusive rights to her story in order to hide her extramarital affair with Trump. American Media, the Enquirer's parent company, called the allegation "laughable."
When the Wall Street Journal first wrote about the payout days before the 2016 election, the Enquirer claimed at the time that "AMI has not paid people to kill damaging stories about Mr. Trump." Last month, a White House spokesperson denied that Trump had an affair with the woman.
Related: 'Catch and kill': How a tabloid shields Trump from troublesome stories
But Farrow's explosive reporting, combined with Trump's known ties to American Media chairman David Pecker, has brought increased attention to the Enquirer. Just how much has the tabloid covered up to protect Trump? That may never be precisely known. But the Enquirer's zeal for the president is clear to anyone at the grocery store checkout line.
Scan the Enquirer's headlines and you'll learn that Trump may be plotting revenge against each of his foes -- if he hasn't exacted it already. The president's adversaries -- from Barack Obama to Hillary Clinton to James Comey -- all come in for vicious criticism.
True to its legacy of sensationalism, the Enquirer distinguishes itself from other pro-Trump outlets like Fox, which still adhere to at least a modicum of journalism.
The Enquirer's editorial direction comes from Pecker, who holds Trump in the utmost esteem. Months before Farrow's story, CNN senior legal analyst Jeffrey Toobin wrote his own story for The New Yorker that examined the Enquirer's "fervor" for Trump. Toobin spent time with Pecker in reporting the piece.
"Pecker always looked up to Trump, and you know, he's kind of got this old-fashioned idea of friendship, which is not the kind that journalists usually like to have," Toobin told CNN in an interview. "But you know, David Pecker is not a journalist. He's a businessman and he has run the National Enquirer like his personal fiefdom. And he has made it his business to protect Donald Trump as Trump has become a more and more important public figure."
Related: In Touch's Storm Daniels interview: The rare unflattering tabloid story for Trump
Toobin noted that Pecker is "not a particularly political person"; his tabloid's allegiance to Trump is personal, not ideological. And what drives Pecker more than anything is his obsession with selling magazines.
"All of his attention is focused on making sure the content that they publish appeals to the audience who are loyal to that publication," said Stu Zakim, a former spokesperson for American Media.
A spokesman for AMI told CNN on Friday that "there is no hidden agenda behind the editorial decisions of the National Enquirer or any AMI publication." He acknowledged that AMI pays sources cash for tips, but added that "any decision to publish a story in the National Enquirer is made by the editors of the publication and must meet its editorial standards."
The Enquirer sells about 300,000 issues a week, according to AMI and Pecker has a well-honed sense of what resonates with the tabloid's audience. Veneration of Trump appears to click with the readership as much as unflattering photos of celebrities.
Those same factors help explain why the Enquirer has steered clear of another story that would seem to be tailor made for a tabloid: the allegations that Trump had an extramarital affair with the adult film star known as Stormy Daniels, and that the president's personal lawyer paid her for her silence. (Trump's lawyer and the White House denied both allegations. Trump's lawyer did acknowledge the payment.)
CNN's poll found that 65% of the public believe the allegation that Trump's personal lawyer made a payment to the actress to prevent the story from going public during the 2016 presidential campaign is either definitely or probably true.
The poll was conducted February 20-23 by the independent research company SSRS using phone interviews with 1,016 respondents. It has a margin of error of 3.7%.