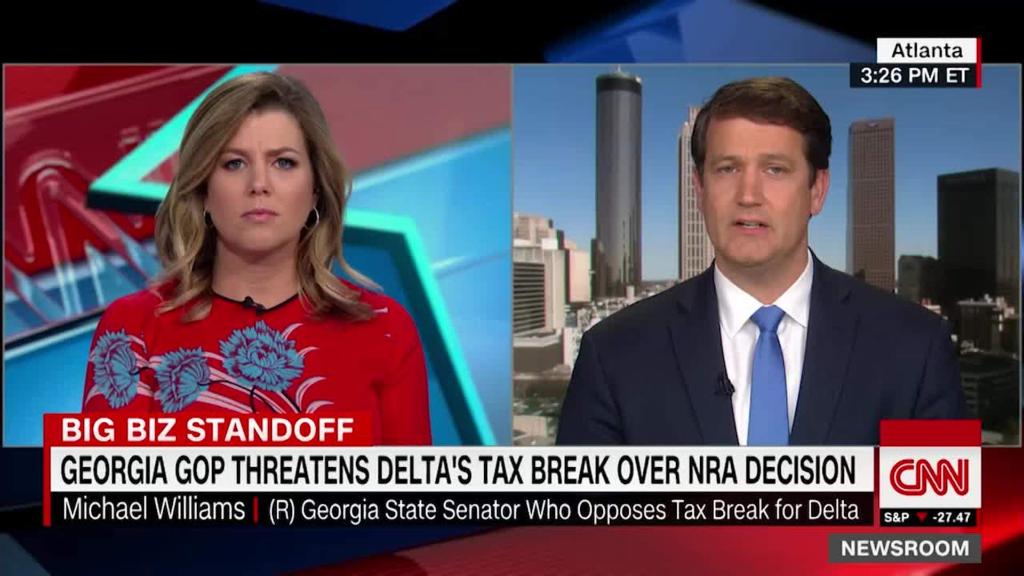 Delta's CEO says the company supports the Second Amendment.
CEO Ed Bastian said in a memo to employees Friday that the company's goal was to "remain neutral" in the debate over guns.
The airline ended a discount for the NRA after the school shooting in Florida. That angered Georgia Republican lawmakers, who retaliated by killing a tax break for jet fuel.
"Our people and our customers have a wide range of views on how to increase safety in our schools and public places, and we are not taking sides," Bastian wrote in a memo to employees.
"We are supporters of the 2nd Amendment, just as we embrace the entire Constitution of the United States," Bastian wrote.
Related: Why Delta and Atlanta need each other
More than a dozen companies cut ties with the NRA after 17 students and staff were shot to death at a high school in Florida. Delta (DAL) ended a discount it had offered to NRA members flying to their annual meeting.
Georgia Republicans responded by removing the tax break, which would have been worth about $50 million. Governor Nathan Deal, a Republican, signed the bill into law on Friday.
Chuck Hufstetler, the Republican chairman of the state's Senate Finance Committee, told CNN on Friday that he was satisfied with the Delta CEO's memo. But he said it was too late to make any other changes to the bill.
"I feel for Delta," he said. "At the same time, we didn't really feel like we started this."
Delta said the lawmakers misunderstood its attempt to stay neutral.
"Some elected officials in Georgia tied our decision to a pending jet fuel tax exemption, threatening to eliminate it unless we reversed course," Bastian wrote. "Our values are not for sale."
Related: Companies learn the hard way: There's no easy way to take sides in polarized America
The governor said this week that he would find "a pathway forward for the elimination of sales tax on jet fuel, which is non-negotiable." Bastian applauded the governor in his memo to Delta staff, calling him a "great friend" to the company.
After Georgia Republicans threatened to remove the tax break, the governors of New York and Virginia invited Delta to move its headquarters to their states.
But it was never likely that Delta, which employs 33,000 people in Georgia and has called Atlanta home since 1941, would leave.
"Our home is Atlanta and we are proud and honored to locate our headquarters here," Bastian wrote.
In his memo, Bastian sought to strike a balance — voicing support for the Second Amendment while saying it wanted to remove any "implied affiliation with the NRA."
Other companies have offered more context for their decisions after an initial statement distancing themselves from the gun organization.
FedEx (FDX) said it would not change rates for any of its customers, including NRA members. A day later, it issued another statement to offer "clarifying facts" on its relationship to the powerful gun lobby. The company said it has never donated to the NRA.