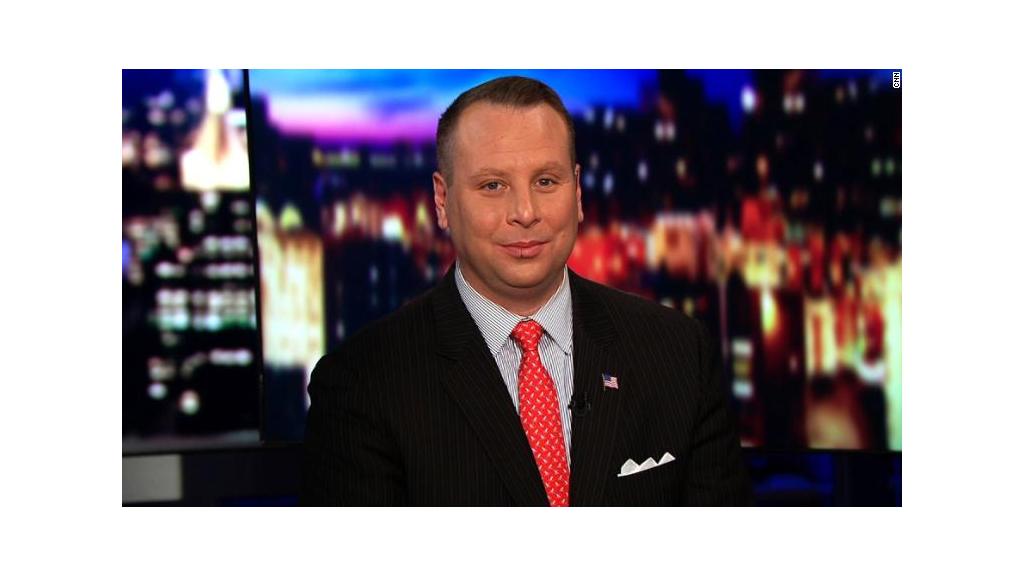 On Monday afternoon, newsrooms across Washington were brought to a standstill. Everyone in them was glued to the television, as a wild interview unfolded live on MSNBC with a former aide to Donald Trump.
Sam Nunberg seemed to be imploding before everyone's eyes. For nearly 20 minutes, and then later again and again, politicos and journalists couldn't believe what they were seeing. Nunberg was laying bare his interactions with the special counsel's investigation into Russia's interference in the 2016 presidential election -- not to mention insulting President Trump and some of his former colleagues.
It started with the Washington Post, which posted a story by Josh Dawsey at 2:29 p.m. ET reporting that Special Counsel Robert Mueller's office had subpoenaed Nunberg to appear before a federal grand jury, but that he will not go.
At 2:44 p.m. MSNBC anchor Katy Tur abruptly ended an interview with another guest to go to Nunberg live on the phone. What ensued was a wild nearly 20 minutes in which Nunberg laid nearly everything bare, including what he said Mueller's team had been asking him and that he believes Mueller may "have something" on President Donald Trump.
"I think [Trump] may have done something during the election, but I don't know that for sure," he said.
Tur was uniquely positioned to question Nunberg, having dealt with him during the campaign as a reporter.
As the hour closed and Tur prepared to pass MSNBC's air to Kasie Hunt, Tur remarked that the interview was "remarkable" and "unbelievable."
Hunt, though, asked to keep Tur on the air to debrief her.
"I'm going to ask for forgiveness from my producers for completely ignoring the script that they've written for me for just a moment," Hunt said.
"I would just like to be on record as saying I would have been fine with @KatyTurNBC going through the whole next hour," she later tweeted.
Washington agreed.
"This is insane," tweeted HuffPost editor-in-chief Lydia Polgreen.
It's an uncommon moment when all of Washington and its hordes of media organizations all seem to be just staring, aghast, at one story. But Monday afternoon was one of those moments.
It wasn't just reporters who were stunned. White House officials were also watching and were stunned by his freewheeling interviews. "Bizarre and nuts," one told CNN's Kaitlan Collins.
But Nunberg wasn't done. Within minutes he was on air with CNN's Gloria Borger. Then again with CNN's Jake Tapper and New York news station NY1.
Nunberg at one point was asking anchors for legal advice as to whether he should cooperate.
"Why should I have to produce every email?" Nunberg asked.
"Sometimes life and special prosecutors are not fair, I guess," Tapper said. "I would cooperate were it me. I'm a different breed of cat."
Later on MSNBC, Nunberg appeared with three lawyers including host Ari Melber for more than 30 minutes. The interview turned into what seemed like a legal advice session.
"What you're essentially projecting to me as an attorney is that you're actually protecting [Roger Stone] because there's something to protect," lawyer Maya Wiley said. "I think your family wants you home for Thanksgiving and I think you should testify."
Reporters were soon joking that Nunberg might call into The Weather Channel and C-SPAN 3.
Time politics editor Ryan Teague Beckwith tweeted that there was a new "Full Ginsburg," referring to William Ginsburg, Monica Lewinsky's lawyer, who in 1998 appeared on all five major Sunday morning news shows.
"The Full Nunberg (noun): Like the Full Ginsburg, only involving weekday cable-news appearances," he wrote.
The interviews were far from over with more seemingly scheduled every hour. Nunberg told the Post he was planning to go on Bloomberg TV to rip up the subpoena live on air.