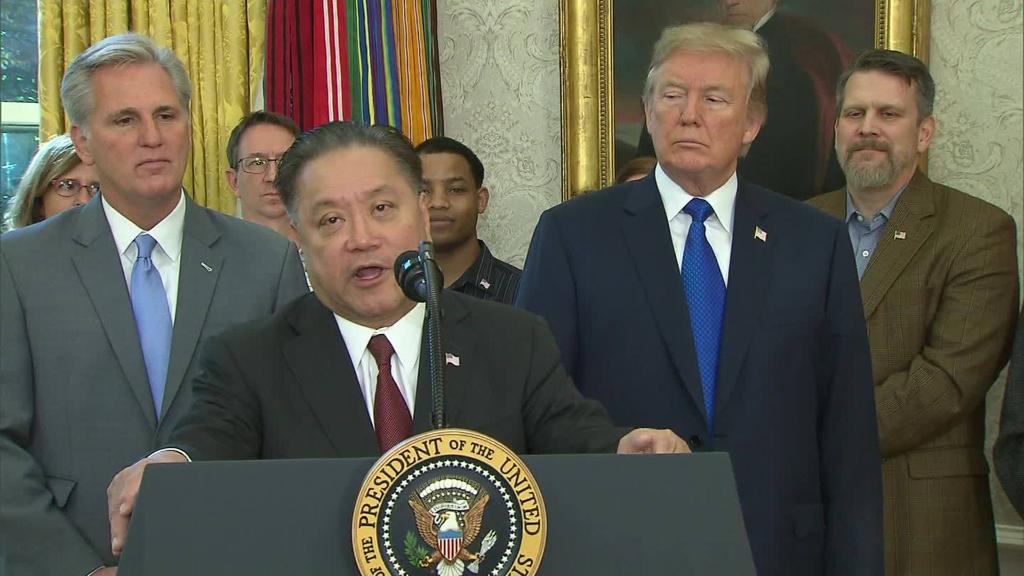 American regulators have held up Broadcom's hostile takeover of Qualcomm over concerns the deal could harm national security. Now, we know why.
The Committee on Foreign Investment in the United States laid out some of its concerns in a letter to Broadcom (AVGO) and Qualcomm (QCOM) dated Monday. Qualcomm made the letter public Tuesday.
The memo provides rare insight into the thinking of the notoriously secretive inter-agency body, which is chaired by the Treasury Department and vets deals that could give a foreign investor control of a US business.
Late Sunday, the government asked Qualcomm, which is based in San Diego, to delay its annual shareholder meeting by 30 days. The meeting, which had been scheduled for Tuesday, was supposed to determine whether Broadcom could move forward with its bid to combine the two chip makers. If it goes through, it could be the largest technology deal in history.
Broadcom is headquartered in Singapore, but said in November it would move its legal headquarters back to the US.
While many of the specific concerns of CFIUS are classified, the body disclosed that it's looking at "the risks associated with Broadcom's relationships with third party foreign entities," as well as the "national security effects of Broadcom's business intentions with respect to Qualcomm," according to the letter, which was written by a Treasury Department official.
Related: US regulators delay Qualcomm board meeting to review Broadcom bid
One big concern is that the takeover would cause the United States to fall behind on the development of 5G technology, giving China an edge.
Right now, Qualcomm is the "current leading company in 5G technology development and standard setting," according to the memo.
Wireless carriers across the country are about to unleash 5G technology, or fifth generation wireless broadband technology, and Broadcom and Qualcomm will be a major part of that shift.
The US government is worried that if Broadcom takes over Qualcomm, leadership will prioritize short-term profits and cut back on research, causing Qualcomm to lose its competitive advantage. This could allow Chinese competitors in 5G, like Huawei, to gain ground.
"A weakening of Qualcomm's position would leave an opening for China to expand its influence on the 5G standard-setting process," the letter said.
It added: "Given well-known U.S. national security concerns about Huawei and other Chinese telecommunications companies, a shift to Chinese dominance in 5G would have substantial national security consequences for the United States."
Qualcomm is known for inventing the 2G and 3G wireless network technology that's used by Verizon (VZ) and Sprint (S). It now focuses on mobile chips that power smartphones and radios that enable cellular communications.
Broadcom, meanwhile, primarily makes chips for wired broadband communications, such as modems, Wi-Fi, switches and routers.
The letter also noted that the Department of Defense relies on "continued access to Qualcomm products," and CFIUS will need to determine whether the "security and integrity" of the supply chain will be affected due to the deal.
The regulatory body's intervention in the Broadcom-Qualcomm merger is unusual, particularly because the deal itself is not final. Broadcom's latest offer is $117 billion for Qualcomm. Qualcomm's opposition to the deal has diminished, but the company claims Broadcom's offer is still too low.
-- CNNMoney's Donna Borak contributed to this report.