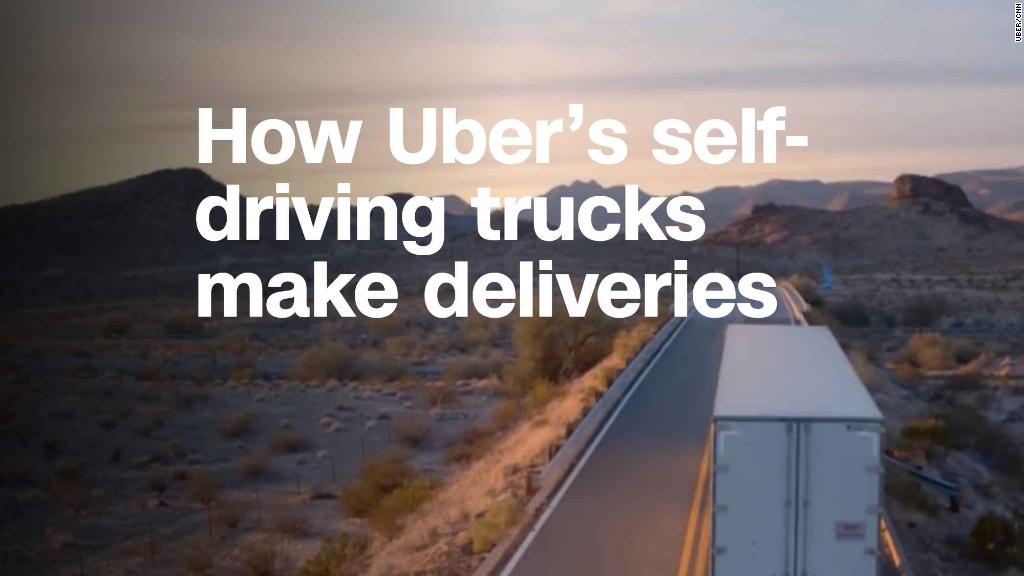 Uber is offering a glimpse of the future in Arizona.
The tech company announced Tuesday that it has begun using its self-driving trucks to haul freight on Arizona's highways. The trucks continue to have a human driver behind the wheel as a backup to take control of the vehicle as needed.
Eventually, Uber plans for these trucks to operate without a human present.
This isn't the first time Uber has operated a self-driving truck on public roads. In October 2016, it used an autonomous truck to complete a Budweiser delivery in Colorado.
But Uber's latest step brings it much closer to tapping into the potential of autonomous technologies. In Arizona, the company is limiting the self-driving trucks to operating on highways, an easier challenge than driving on local roads. And its trucks don't need supervision from government officials, as was the case in Colorado. Arizona regulators welcomed autonomous technology to the state in 2015.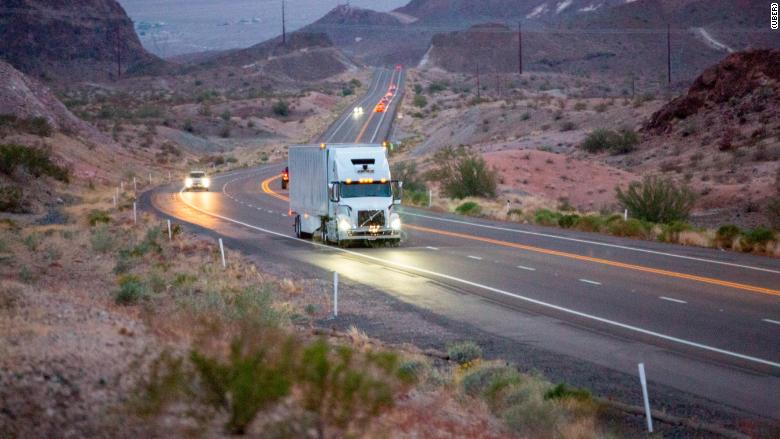 Uber's trick to making the self-driving trucks useful today is using transfer hubs, where a conventional truck and self-driving truck exchange loads. This system allows the self-driving truck to operate only where it's effective -- for now, highways. This also maintains a role for the human driver, which drives the final stretch in Arizona.
Uber has not revealed many details about the autonomous truck program. A spokeswoman declined to reveal how many loads Uber is hauling in Arizona.
Uber is combining the autonomous trucks with its freight program, which for roughly a year has offered traditional truck drivers a way to find gigs hauling specific loads. The platform resembles Uber's best known product, UberX, which pair drivers in cities with passengers in need of a lift.
Related: A self-driving truck just hauled 51,744 cans of Budwesier
Self-driving trucks have become a hot issue, especially given concerns over their disruptive impact on employment. Autonomous vehicle legislation on Capitol Hill has not yet addressed trucks amid concerns over the impact on workers.
Wendell Wallach, a senior adviser to the Hastings Center and author of "A Dangerous Master: How to Keep Technology from Slipping Beyond our Control," warns that shifting to fully autonomous trucks over a 10-year period would average out to 14,000 truckers losing their jobs a month.
But the trucking industry itself is less concerned. According to Chris Spear, CEO of the American Trucking Assocations, there is a shortage of 50,000 drivers that will double in the next five years.
He doesn't believe the 3.5 million truckers in the U.S. will be out of work anytime soon.
"It's absolutely ludicrous," Spear said. "Maybe [in several] decades we're talking about a driverless environment. Our ability to attract new talent into the trucking industry is really impeded."
CNN correspondent Samuel Burke contributed to this report.