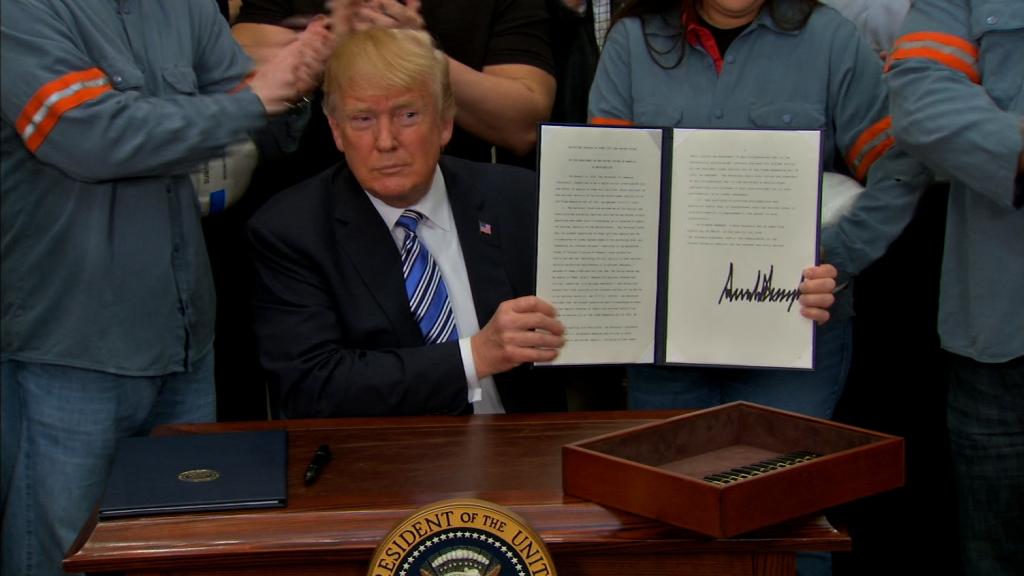 What will it cost for Europe to avoid new US tariffs on imports of steel and aluminum?
The European Union is lobbying the Trump administration in hopes of winning an exemption to the new tariffs, which President Donald Trump has imposed on all nations except Mexico and Canada.
"We are friends, we are allies," European Trade Commissioner Cecilia Malmström said Friday. "We are counting on being excluded."
Malmström will have a chance to make the EU's case again on Saturday, when she meets US Trade Representative Robert Lighthizer in Brussels.
Trump has justified the import tariffs in the name of national security, but he said on Thursday that additional countries could be made exempt, and he left the door open to negotiations.
Analysts at Capital Economics said the move looked like "another example of Trump's favored negotiating tactic of announcing punitive measures in the hope of extracting concessions."
"The trouble is that key trading partners like the EU now appear more focused on retaliation than negotiation," they added.
What the EU can do
Concessions could be required to protect the $7 billion in steel and aluminum exports the EU sends each year to the United States.
"It's a very tricky situation made harder by Trump's approach to [trade] rules," said Peter Holmes, a trade expert at the University of Sussex. It's "not clear what [the] EU could offer that would not appear to reward his behavior."
David Bailey, professor of industrial strategy at Aston Business School in the UK, said that the first step could involve the EU demonstrating that its steel and aluminum exports are not a national security threat.
Related: US in talks with countries seeking tariff exemptions
Ross Denton, a partner at law firm Baker McKenzie, said the EU may try to convince the administration to selectively drop tariffs on its most popular steel products.
That would allow Trump a symbolic victory while protecting jobs in the EU.
But Trump has shown he wants more. He slammed the EU this week for imposing higher tariffs on car imports than the United States.
And on Thursday, while making the link between trade and national security, he repeated previous accusations that some American allies have not been paying their fair share on defense. Trump specifically called out Germany, a member of the EU and NATO.
The United States spends much more on security and defense than NATO members including France, Germany and the UK. Trump has repeatedly called on the group to increase spending.
The EU was clear on Friday that it views tariffs and defense as separate.
"NATO related issues and trade are completely separate issues," European Commission official Jyrki Katainen told reporters.
Katainen said the EU could not address the issue because each of its 28 members set their own defense budgets.
"Increasing defense spending would make it a much more broad-based political issue, and not one which the EU trade commissioner could give any commitments to at this stage," said Allie Renison, head of Europe and trade policy at the Institute of Directors.
The China angle
Analysts said that the EU could also offer Trump help on China, a frequent target of the American president, which produces roughly half the world's steel.
Steelmakers have in the past accused China of overproducing and dumping steel on other markets, pushing down prices, forcing rivals out of business and killing thousands of jobs.
Related: Major US trading partners blast Trump's tariffs
The United States and EU previously sought to level the playing field with targeted tariffs.
"The US and EU could agree to work more closely to target Chinese overcapacity in steel," said Renison.
Bailey said that the EU could enlist allies like Canada, South Korea and Japan to bring a case against China at the World Trade Organization.
Plan B
If the Trump administration is not receptive, the EU could turn to its backup plan: retaliation.
Malmström said earlier this week that the EU would challenge the tariffs at the World Trade Organization.
The bloc is also considering new tariffs on American products including orange juice, bourbon, denim, cranberries, peanut butter and motorcycles.
Updated: This article has been updated to clarify comments from Peter Holmes.