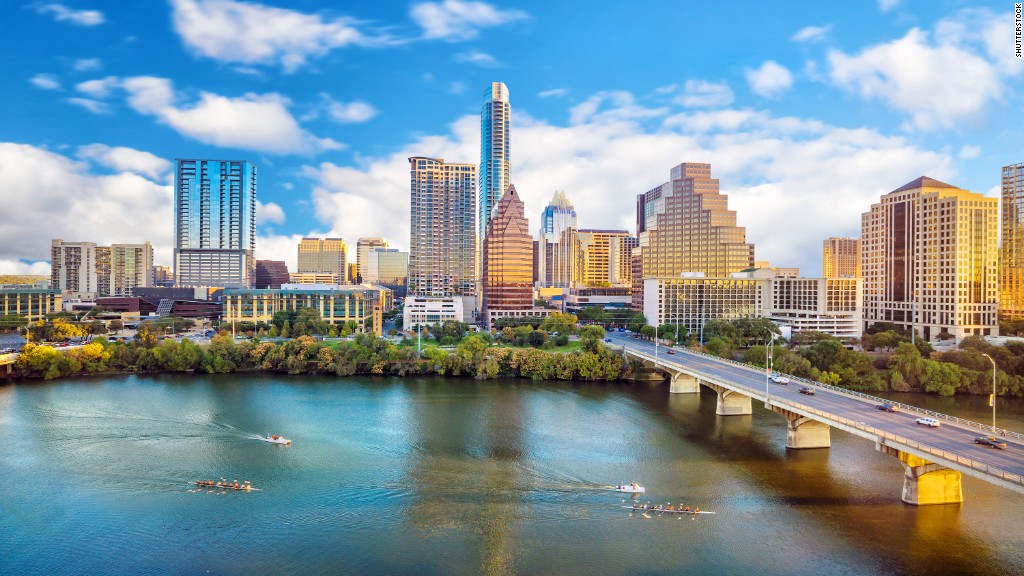 Amazon's search for a second headquarters is entering the next phase.
The company has already met with representatives from a number of contenders on its list of 20 finalists, including Denver and Washington DC.
Dubbed HQ2, the $5 billion facility will create as many as 50,000 jobs and will be a full equal to the company's existing Seattle headquarters. Amazon (AMZN) received proposals from 238 metro areas across North America.
Related: The city Amazon picks for its second headquarters will change forever
Metro Denver Economic Development Corp. (MEDC), the private organization spearheading Denver's efforts to win the second headquarters, said 10 representatives from Amazon's HQ2 site selection team visited the city in late January.
Over the course of the three-day trip, Amazon met with local business leaders of major corporations and startups and toured the community, including seeing real estate sites. The Amazon representatives also shared details about its company culture, its intentions behind HQ2 and the dynamics important to them, such as how cities tackle issues like transportation, infrastructure and affordable housing, according to Sam Bailey, vice president of economic development at MEDC.
"It was a two-way conversation," Bailey said. "They answered questions we had ... and then they had the opportunity to learn about us and some of the work we've done in investing in our community over the past several decades."
Amazon also focused on identifying scalable talent to support the massive project, Bailey said. The company asked about diversity and inclusion efforts and what the city's nonprofits and civic leaders concentrate on.
Earlier this week, the MEDC submitted a comprehensive request for information (RFI) from Amazon, containing a multitude of questions about talent, real estate, regulations and more. Bailey said such a document is standard for economic development projects.
Related: The genius strategy behind Amazon's HQ2 search
Amazon has also visited the Washington DC metropolitan area.
Washington Mayor Muriel Bowser recently had dinner with Amazon representatives to discuss why the city is an attractive place for the facility, according to her spokesperson.
"Amazon's visit to the Washington region speaks to the strength of what the region can offer the tech giant for its HQ2," the spokesperson said.
The company has also reportedly seen sites in Northern Virginia and Montgomery County, Maryland. A representative for Northern Virginia declined to comment. Montgomery County officials did not respond to a request for comment.
Because three of the top 20 finalists are in the Washington DC area, the region is considered by some to be a frontrunner. Amazon CEO Jeff Bezos also has a home in Washington and owns the Washington Post.
The nation's capital scored the highest on Hamilton Place Strategies (HPS) recent analysis of HQ2 finalists, which was based on factors outlined in Amazon's request for proposals, such as transportation, education, business, lifestyle, culture and connectivity.
There have also been some strange clues fueling speculation that the Washington area is a top contender.
Local news outlet ARLNow.com, which covers Arlington County, Virginia, said one of its stories published in December about an environmental award was one of its most viewed articles in mid-February. The majority of the traffic came from what looked like an internal Amazon.com page focused on its HQ2 search.
Amazon has also reached out to Toronto, the lone Canadian city still in the running for the site.
Toronto Global -- the group leading the city's HQ2 efforts -- said it's been in touch with Amazon and will be scheduling a meeting with their representatives in "the next while."
"Amazon is working with each HQ2 candidate city to dive deeper on their proposals and share additional information about the company's plans. We're excited to visit each location and talk about how HQ2 could benefit our employees and the local community," an Amazon spokesperson told CNN.
Related: What you need to know about Amazon's 20 final cities
Other cities haven't heard from Amazon yet.
A representative for Austin Mayor Steve Adler said the mayor has never spoken with anyone from the company.
Like Amazon -- which is famously secretive -- many contenders have remained coy about the process. Representatives for cities such as Atlanta, Chicago, Columbus, Pittsburgh and Philadelphia declined to comment about this stage of the HQ2 search. Other cities did not return requests for comment.
Toronto Mayor John Tory told reporters recently that Amazon is visiting the finalists without "fanfare."
"They're visiting the cities that are on the short list. They are asking for more details of the things that were contained in the bid books and they're going about a very methodical process of making their selection," he said.
Dallas also declined to comment about HQ2, but provided this statement from Mayor Mike Rawlings to CNN: "We've had great dialogue with Amazon throughout the process. The company's statements to media recently are consistent with our experience with and knowledge of the ongoing HQ2 search process."
Amazon is expected to make a decision this year.