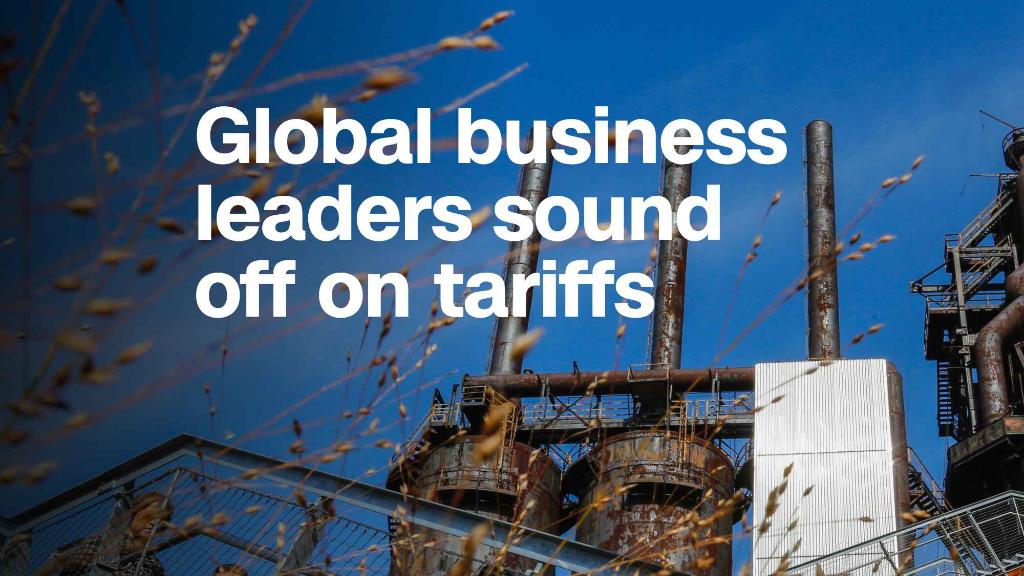 Next stop: Geneva? Now that President Trump's tariffs on steel and aluminum are official, America's trading partners are threatening to take their grievances to the World Trade Organization.
You might wonder why a distant international body has a say in US decisions on imports and exports.
Here's a primer on the WTO, and how it's linked to the current trade fight.
What is the WTO?
The WTO is the center of the global trading system.
Made up of and governed by member nations, the WTO administers the network of international trade rules currently in place. It serves as a place to negotiate changes to existing agreements and, when issues come up, for member countries to mediate any disputes.
Who's in the WTO?
About 160 countries belong to the WTO, including the United States, the UK, Germany, Brazil, South Korea, Japan, Canada and Mexico.
China joined the WTO in 2001. This was a major moment in China's journey to becoming a global trade powerhouse, and accompanied the country's decision to open its markets to more foreign goods and investment.
Russia became the world's last major economy to join the WTO when it became a member in 2012.
How long has it been around?
The World Trade Organization can trace its roots back to end of World War II.
In 1947, 23 nations came together to sign the General Agreement on Tariffs and Trade, or GATT. It went into effect in 1948.
The rules established in GATT governed international trade during the second half of the 20th century. It eventually was subsumed by the WTO, which was formally established in Geneva, Switzerland in 1995.
The WTO's authority is broader than GATT, which only pertains to trading goods. The WTO also monitors the exchange of services, as well as intellectual property.
Related: 'A serious attack' -- Major US trading partners blast Trump's tariffs
What does Trump think about the WTO?
The United States was a key architect of the system governed by GATT and the WTO.
But Trump has been critical of the institution.
"The WTO has been a disaster for this country," Trump said last week at a listening session with steel and aluminum executives.
He went on to say that China's economic rise coincided with when it joined the WTO.
"It has been great for China and terrible for the United States, and great for other countries," Trump said.
Related: Craft breweries fear Trump's tariffs will doom the boom
Do Trump's steel and aluminum tariffs violate WTO rules?
That's the big question. There are a few thorny legal issues baked into the 25% tariff on steel imports and the 10% tariff on aluminum imports, both of which go into effect in less than two weeks.
First, there's the fact that the Trump administration is implementing the tariffs by arguing that they're necessary to protect national security.
While WTO rules do allow countries to act to protect their "essential security interests" in a time of war or emergency in international relations, foreign countries have questioned whether that applies here. Critics say Trump's decision was clearly motivated by a desire to shore up domestic industries, and that the national security justification is nothing more than a guise.
Another issue is the exemption that the United States granted to Canada and Mexico. Under WTO rules, countries typically can't grant special favor to certain trading partners over others.
Related: Are Trump's tariffs legal?
If the tariffs are illegal, what can the WTO do?
Nothing on its own. A member country, or a bloc like the European Union, would need to file a complaint, kicking off the WTO's dispute resolution process.
So far, no country has filed a formal complaint against the United States over the new steel and aluminum tariffs. But it's definitely on the table.
Related: These American companies could be hurt by Trump's tariffs
What would the complaint process look like?
The process generally takes about 18 months, according to the WTO.
The case first goes before a panel, which makes an initial ruling. That ruling can be appealed by either side. Oftentimes, both countries end up coming to a settlement agreement on their own.
If the WTO rules against the United States, it could then authorize the complaining nation to retaliate proportionally.
Experts are divided on how the WTO would come down on this.
"I think the judges at the WTO would say this isn't a real security [issue]," said Joel Trachtman, an international law professor at Tufts University. The president has made clear his main focus is jobs, he added.
Petros Mavroidis, who specializes in WTO law at Columbia Law School, said he believes it would be difficult for a panel of judges to question how a country interprets its own national security interests.
"My view is that they will have a very hard time second guessing the US," he said.
Related: Tariffs, Trump and trade wars - Here's what it all means
Do countries have any options outside the WTO?
Sure. Affected countries will want to act quickly, and the WTO process is decidedly slow.
The European Union has threatened to go about "rebalancing" the trade situation by putting its own tariffs on bourbon, motorcycles and blue jeans. It claims such a move would be legal under WTO rules.
The goal would be to send a message to American manufacturers like Jack Daniel's, Harley-Davidson and Levi's — which would then put pressure on the US government to back down.
But that runs the risk of kicking off a string of tit-for-tat responses that could culminate in a trade war.
There's also fear that other countries could choose to retaliate unilaterally against the United States, outside the aegis of the WTO.
That could undermine faith in the entire global trading system.
"It would weaken the institution's legitimacy if everyone seeks to end run the WTO rules," said Mark Wu, a professor of international trade law at Harvard Law School.