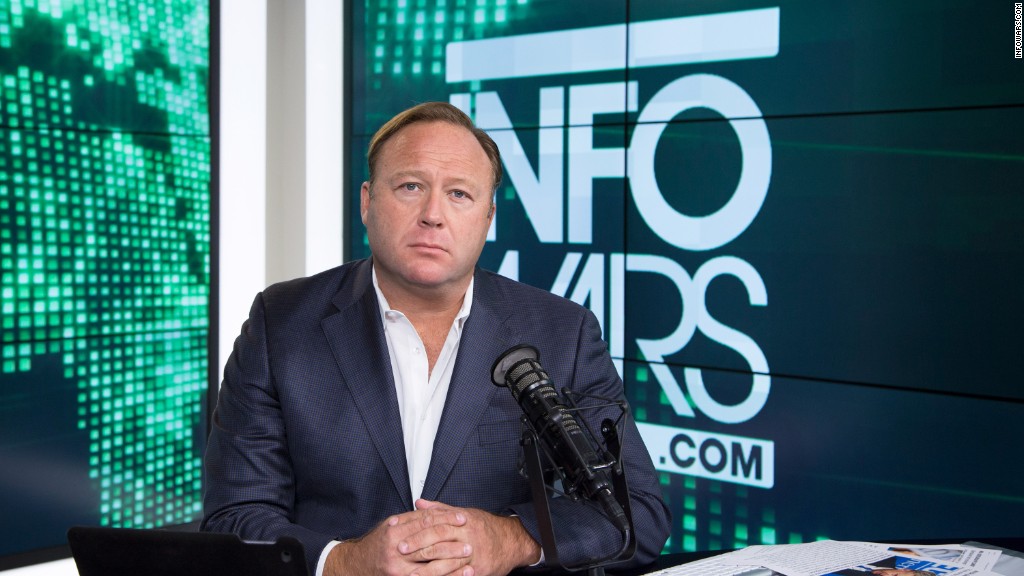 A State Department employee filed a defamation lawsuit on Tuesday against InfoWars, the fringe outlet notorious for peddling conspiracy theories, and several other far-right individuals, alleging they falsely suggested he played a role in the Charlottesville terror attack as part of a supposed "deep state" conspiracy. 
Brennan Gilmore, a foreign service officer on long-term unpaid leave from the State Department as he pursues other endeavors, filed a lawsuit seeking at least $75,000 in damages in U.S. District Court after being the subject of false stories that he said to led to a flood of death threats, including a letter in the mail that contained suspicious white powder. 
Named in the lawsuit, in addition to InfoWars, were Alex Jones, the conspiracy theorist who heads InfoWars; Free Speech Systems, the company that operates InfoWars; Lee Ann McAdoo, an InfoWars personality; Jim Hoft, the far-right media figure who heads Gateway Pundit, a fringe website; Allen B. West, the far-right former congressman who operates allenbwest.com, a website that purports to be a news outlet; Derrick Wilburn, a Colorado Republican Party official who wrote an allegedly defamatory article for West's website; Lee Stranahan, a former Breitbart writer who hosts a radio show for Sputnik, a state-sponsored Russian news agency; and Scott Creighton, who operates a left-wing fringe website.
Conspiracy theories about Gilmore started after he uploaded to Twitter a video that showed a Dodge Challenger ramming a crowd of counter-protesters at last summer's Unite the Right Rally, a far-right demonstration in Charlottesville, Virginia. James Alex Fields, 20, was charged with killing 32-year-old Heather Heyer.
Gilmore said he uploaded the footage he recorded of the incident, which also injured more than a dozen others, onto social media in an effort to prove that the attack was deliberate and not an act of self-defense as some suggested.
When the video went viral, members of the far-right, many of whom have large followings on social media, used Gilmore's employment with the State Department as a basis for conspiracy theories. They suggested he was a member of the "deep state," a supposed cabal of government employees working to undermine the Trump administration and maintain power, and had played a role in the attack to politically harm President Trump and his administration. Gilmore's lawsuit alleged that InfoWars and the other defendants all played a role in amplifying this baseless theory.
"Breaking: State Department/CIA Orchestrated Charlottesville Tragedy," read one InfoWars headline cited in the lawsuit.
"BOMBSHELL: New Evidence Suggests Charlottesville Was a Complete SET-UP," declared a headline on West's namesake website, which was also cited in Gilmore's lawsuit.
Gilmore told CNN by phone on Tuesday that the stories have had an adverse effect on his life. He said that he lost friends in the community who "believed what they have read." More alarming, he added, was that death threats started pouring in "almost immediately" after stories about him started circulating on the internet. The lawsuit cited a threat that took place as recently as February.
"We had to have several meetings with different law enforcement agencies about the threats," Gilmore added, noting that it was a particularly "terrifying moment" when he received an envelope in the mail with a suspicious white powder inside.
The lawsuit was filed by attorney Andrew Mendrala, with the assistance of law students from the Georgetown University's Civil Rights clinic, which he helps oversee. Gilmore said he hopes the lawsuit helps "blunt the ability" of fringe websites and individuals to spread baseless conspiracy theories.
"The primary motivation was accountability and trying to confront what I consider to be an incredibly dangerous trend in our civil discourse, our democracy," he told CNN. "And that is the widespread saturation these sites have and their unwillingness to go by traditional journalistic practices."
Mendrala told CNN that he believes Gilmore's case is "extremely strong" and "on the merit, we ought to win." Some of the defendants, however, did not seem moved by the lawsuit.
Reached for comment, a representative for InfoWars pointed CNN to a video of Jones seemingly standing by the claims he has made about Gilmore and encouraging his audience to "look him up." In the video, Jones continued to falsely suggest the CIA was involved in the terrorist attack.  
West, the former congressman, spoke to CNN over the phone shortly after the lawsuit was filed. Asked about it, he said, "I have no idea what you are talking about." When informed of the lawsuit and asked if he would like to have a copy emailed to him for review, West replied, "I don't need to see it, because I don't know anything about it."
Hoft, the Gateway Pundit founder, called the lawsuit "frivolous" and told CNN by email that he was "still looking at the details." In a follow up email, Hoft added, "It's bullshit. I went through a few pages. Full of lies, conjecture and nonsense."
Stranahan, who was interviewed by McAdoo, the InfoWars personality, told CNN in a statement that the lawsuit "makes numerous false claims" about him. He cited parts of the lawsuit that said the defendants supported the Unite the Right Rally and promoted PizzaGate, the conspiracy theory that falsely suggested Democrats were operating a child sex ring out of a pizza shop in Washington, DC. Stranahan told CNN he did not support the Unite the Right Rally and has been "outspoken" in calling the PizzaGate conspiracy theory "fake news."
"My family and I have been victims of online and offline harassment and threats for years, so I would never wish such a thing on Mr. Gilmore or anyone," Stranahan said, adding that he does not believe the lawsuit cites a "single solitary false statement" that he made.
The lawsuit cited Stranahan referring to Gilmore's employment at the State Department in his interview with McAdoo, and other social media posts that he made. The lawsuit contended "the plain and natural meaning of these statements" made by Stranahan was that Gilmore "was involved in a conspiracy ... to stage a coup resulting in the removal of Donald Trump as President."
Creighton responded to a request for comment in a blog post in which he defended his Charlottesville coverage.
McAdoo and Wilburn could not be reached for comment.