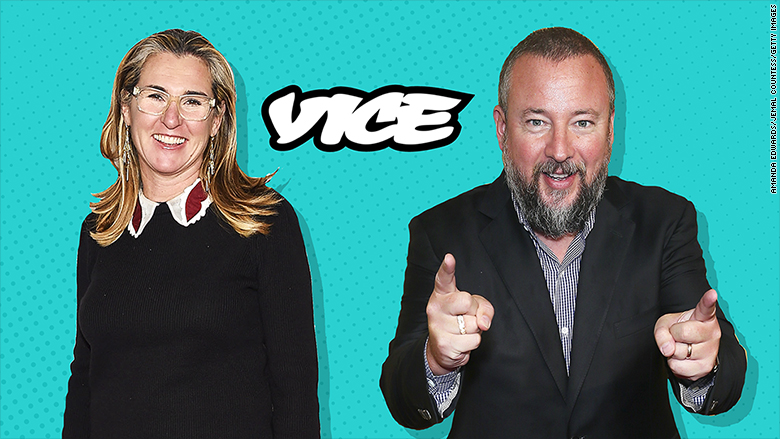 Vice Media marked the end of an era Tuesday as Shane Smith officially handed over the title of chief executive officer to Nancy Dubuc.
Smith, the co-founder of Vice and long the face of the millenial-focused brand, will move into the role of executive chairman "to focus on strategic deals and content development," the company said in a press release.
In a statement, Smith praised Dubuc, most recently the CEO of A+E Networks, with whom he worked in launching Vice's 24-hour television channel, Viceland.
"Why Nancy Dubuc? Simply put, because rarely in business do you get to work in a perfect partnership," Smith said in a statement.
News of the change of power trickled out on Monday, when Variety reported that Dubuc was in advanced talks for the job. A+E confirmed her departure after the story was published, and said Abbe Raven, herself a former CEO at A+E Networks, will replace Dubuc on an interim basis.
"Shane and the team at VICE have done what all of us aspire to do - build a brand and make content that people really care about," Dubuc said in her own statement. "VICE speaks to a generation that defines today's cultural conversation, and the opportunity to partner with all of the incredibly creative people across the entire company was one of those rare moments in a career."
In the press release confirming the news on Tuesday, Vice trumpeted its "record growth" and said the company was poised to "further its position in 2018 as the industry vanguard."
Related: Vice digital chief out after suspension over sexual misconduct
But Smith is stepping down at a moment of rising uncertainty for Vice -- if not the entire media industry. The company reportedly missed its revenue target last year by more than $100 million, and has faced a reckoning with what is allegedly a long history of sexual harassment and inappropriate workplace conduct.
After the New York Times published a story detailing allegations of a culture of misogyny at Vice late last year, Smith and fellow co-founder Suroosh Alvi apologized for what they described as a "detrimental 'boy's club' culture that fostered inappropriate behavior that permeated throughout the company."
Smith himself did not face any allegations in the Times' story, but he helped shape the bro-ish, in-your-face culture of Vice as much as anyone. He has been with the company from the beginning, when Vice was a music and culture magazine in Canada.
Related: Vice fires three employees amid investigations into sexual misconduct
Under Smith's leadership, the company shifted its home base to Brooklyn and became a darling of investors. Vice ultimately grew into a well-funded multimedia conglomerate that produces documentaries, a nightly news show and other original series, and has its own cable channel, with which Dubuc has been involved.
But the bullish period could be nearing its end. The Wall Street Journal reported last month that, due to the revenue shortfall, Vice's long-anticipated IPO will likely not come in 2018. And Viceland, the channel Smith launched in concert with Dubuc's A+E in 2015, continues to be starved for viewers.
In his statement on Tuesday, Smith rattled off the reasons why he was shifting to a new role to make way for Dubuc.
"First off, she is better than me at everything," he said. "Second, it allows me to move to Executive Chairman, where I can concentrate on the only things that I am good at - content and deals. Thirdly, as we go forward VICE needs a best-in-class management team to harness all of this growth and control our own destiny, where it be staying independent, strategically partnering with someone or going public. Lastly, I get to work with one of my best friends and media heroes. We are a modern day Bonnie and Clyde and we are going to take all your money."