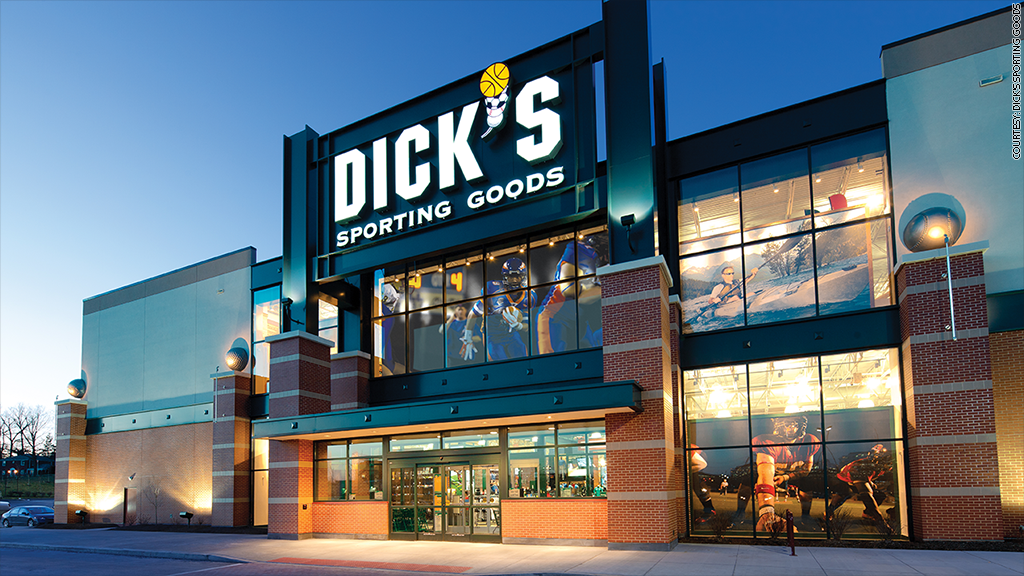 The CEO of Dick's Sporting Goods said he's forging ahead with his new gun sales policy, even though he expects to lose customers.
"There's going to be some pushback and we expected that," said CEO Edward Stack, in an earnings call with Wall Street analysts. "There are going to be the people who don't shop us anymore for anything."
Following a mass shooting at a high school in Parkland, Florida, last month, Stack announced that he would stop selling assault-style rifles, high capacity magazines and raise the minimum age to buy any gun from 18 to 21.
He said he made this decision after he learned that alleged shooter, Nikolas Cruz, 19, had bought a shotgun at one of his stores, though he didn't use it at Parkland.
The company said its decision was met with support from customers, some of whom sent flowers and donuts to store employees.
Related: Dick's to stop selling 'assault-style rifles'
But on Tuesday, Stack said the decision is "not going to be positive from a traffic standpoint and a sales standpoint."
While the company said it had a quarterly increase of 7% in sales compared with last year, and a 4% rise in net income, same-store sales have been slumping and are expected to stay that way for another year, according to the company.
Stack said it was too early to measure the impact of the new gun policy on sales, but said it was "baked into" the full year guidance of $2.80 to $3 earnings per share.
The share price for Dick's (DKS) was down 2% following the call.
Related: Dick's CEO expected 'backlash' but got flowers instead
Sam Poser, analyst for Susquehanna Financial Group, said in a report on Monday that the gun and hunting part of Dick's business has been "extremely soft" in the last three quarters. He said that banning the sale of assault-style rifles and high capacity magazines and raising the minimum gun purchase age after the Parkland shooting was a "prudent decision both from a business and PR perspective."
The gun industry has struggled under President Donald Trump because of his support for the NRA and the Second Amendment. Firearms sales have lacked the same urgency as they did under President Barack Obama, who many enthusiasts believed would heavily regulate firearms.
Dick's was not alone in its decision to make changes to its gun sales policy.
Walmart (WMT), L.L. Bean and the grocery chain Kroger (KR), which sells guns through its Fred Meyer stores, all raised their minimum gun buying age to 21.