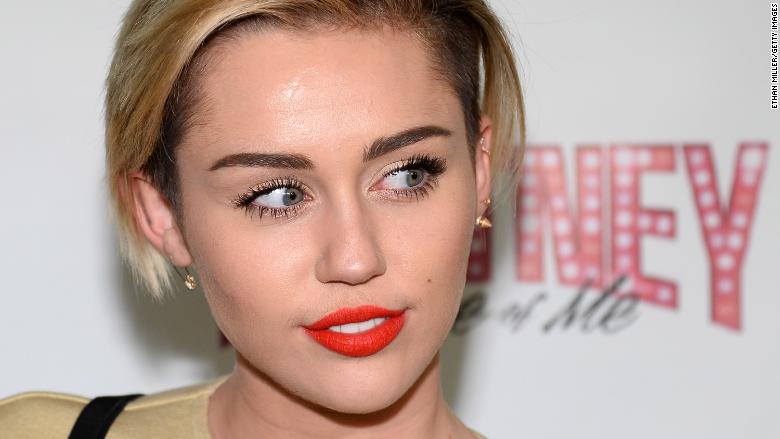 A Jamaican songwriter is taking Miley Cyrus to court in a $300 million war of words.
Michael May, who performs as Flourgon, claims that the pop artist's 2013 party anthem "We Can't Stop" features lyrics that infringe on his own musical work. He filed a copyright complaint in federal court in New York on Tuesday.
The seven offending words: "We run things. Things don't run we." They were featured heavily in the chorus of Cyrus's song.
May claims he created the phrase for use in music in 1988, when he wrote the reggae track "We Run Things." His lyrics were: "We run things. Things no run we."
The complaint says that the 2013 song owes its "chart-topping popularity and its highly-lucrative success" to May's work. Without May's influence, it adds, "the entire theme of 'We Can't Stop' would be hollow in sound and impact."
May is asking the court to prevent the song from being sold, distributed or performed. Although court documents do not specify an amount requested in damages, his attorney, Stephen Drummond, told CNNMoney on Wednesday that $300 million "would be a reasonable compensation."
He is also suing the song's other writers and producers, Theron and Timothy Thomas and Michael Len Williams II. The Thomas brothers make music as Rock City, while Williams is known under his stage name, Mike Will Made It. Sony Music and its label RCA Records are also named in the suit. May is also suing Larry Rudolph, Cyrus' manager.
RCA declined to comment Wednesday. Representatives for Cyrus, the Thomas brothers and Williams did not respond.
Cyrus, who found fame as the clean-cut Disney idol Hannah Montana, drastically altered her look when she released "We Can't Stop." The song features references to partying and drug use, and Cyrus played up her controversial new image while promoting the song and its album, "Bangerz."
Related: Miley Cyrus sings her Liam Hemsworth love story
May argues that Cyrus was influenced by Caribbean music as part of this career move, leading her to seek out songwriters familiar with the genre.
According to court documents, the phrase at the center of the case is rooted in the "unique phraseology and linguistic combinations" of Jamaican Patois. The complaint also cites an interview Theron Thomas gave to the music magazine Vibe in 2015, when he said that "we incorporate Caribbean culture because that's who we are and that's the base of our creativity."
Jeff Peretz, an assistant arts professor at New York University's Tisch School of the Arts, said he was skeptical of the case against Cyrus because the phrase was not specific enough.
"I think they're just throwing a shot in the dark," he added. "If she's influenced by this and likes the way it sounds and wants to use any of these tropes in her music, they're all fair game."
Copyright lawsuits involving lyrics are not unheard of, though.
For example, a judge in 2015 threw out a case against Taylor Swift. She had been a accused of stealing lyrics from a song called "Haters Gone Hate" for her hit "Shake It Off."
Related: 'Blurred Lines' jury orders Robin Thicke and Pharrell Williams to pay $7.4 million
But the landscape for music copyright has become complicated in recent years. Peretz pointed to the case made against "Blurred Lines," the hit song from Robin Thicke and Pharrell Williams.
A jury found in 2015 that the song infringed on the copyright of the 1977 Marvin Gaye song "Got To Give It Up." Thicke and Williams were ordered to pay millions in copyright damages, and Gaye is now credited as a songwriter on the track.
Peretz said the case made it more difficult to separate homage from theft. He added that its outcome could discourage young artists who draw influence for new songs from those who came before them.
"The lines keep getting blurred," he said. "If you can't start by emulating your heroes, how do you begin?"