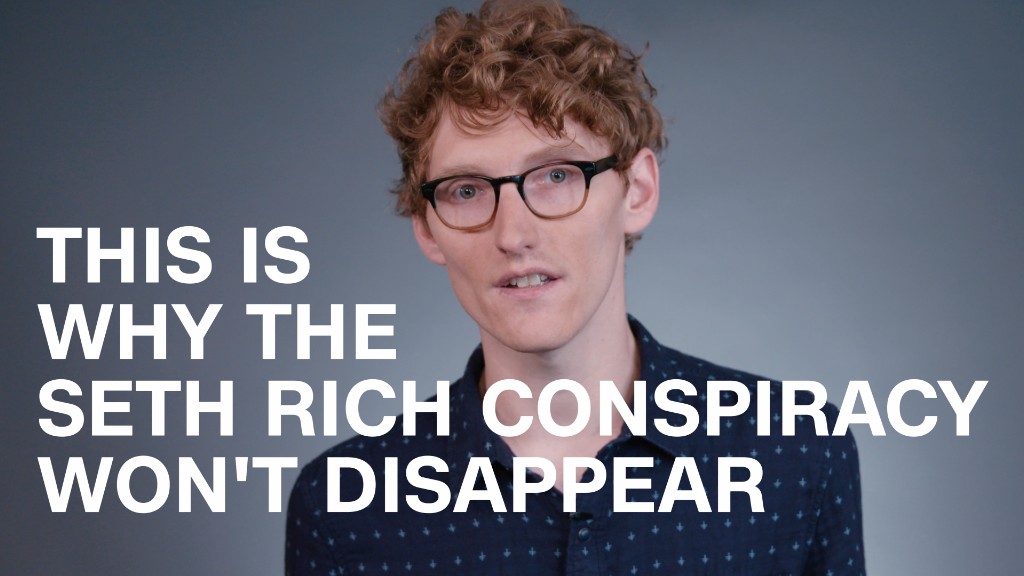 The family of slain Democratic National Committee staffer Seth Rich filed a lawsuit on Tuesday against Fox News, one of the network's reporters, and a wealthy Texas businessman over their roles in the publication of a baseless conspiracy theory about Rich's 2016 death.
The lawsuit, filed in US District Court for the Southern District of New York, seeks compensation for "mental anguish and emotional distress, emotional pain and suffering, and any other physical and mental injuries."
"No parent should ever have to live through what we have been forced to endure," Joel and Mary Rich said in statement Tuesday night. "The pain and anguish that comes from seeing your murdered son's life and legacy treated as a mere political football is beyond comprehension."
The lawsuit said that Malia Zimmerman, the Fox News reporter named in the lawsuit, worked with Ed Butowsky, the wealthy businessman, to develop a "sham" story about Rich's death that Fox News published online in May 2017 and referenced on-air multiple times.
ABC News first reported on the Rich family's lawsuit.
Related: The chaos behind the scenes of Fox News' now-retracted Seth Rich story
Zimmerman's story said Rod Wheeler, a private investigator and Fox News contributor hired by Butowsky on behalf of the Rich family to look into Rich's death, had learned that Wikileaks had been in contact with Rich prior to his death. The story suggested without real evidence that Rich had leaked a trove of DNC emails to Wikileaks and further suggested that his death, which police suspect was a botched robbery, was retribution for the supposed leak.
Within hours, however, the Fox News story fell apart when Wheeler, who is now suing Fox News over the story, told CNN he had no evidence to suggest Rich had contacted Wikileaks before his death.
But Fox News left the story up on its website for days and guests continued to mention the conspiracy theory on its air. The network ultimately retracted the story seven days after it was published.
The Rich family lawsuit said the actions taken by the defendants "were so outrageous in character and so extreme in degree as to go beyond all possible bounds of decency and are atrocious and utterly intolerable in a civilized community."
Since Fox News published its baseless story, the Rich family has been open about the pain it has inflicted upon them. Aaron Rich, the brother of Seth Rich, sent a letter to Hannity days after Fox News published its story, telling him that continuing to cover the story would "cause us additional pain, suffering and sorrow." Joel Rich later told NPR that the publication of Fox News' story was "almost as bad for us as when we first learned of Seth's death."
To that end, Leonard A. Gail, the attorney representing the Rich family, said in a statement that "Joel and Mary Rich have brought this case" to hold the defendants "accountable for their reprehensible actions."
"Whether motivated by party politics, ratings, corporate profit, or personal gain, we hope to help prevent this kind of malicious and reckless behavior in the future so that others can be spared the hell the Riches have had to endure," he said.
Related: Fox News asks court to dismiss lawsuit filed over Seth Rich story
Neither a Fox News spokesperson nor Zimmerman immediately responded to a request for comment. The network said at the time it retracted its story that it would carry out an investigation and "provide updates as warranted." But so far, Fox News has announced no disciplinary action or updates related to the publication of its story.
Butowsky told CNN Tuesday night that he did not "understand this lawsuit at all."
"This whole thing has caused unbelievable damage to my life and my family," he said. "And the idea that somebody has capitalized is ridiculous. It just doesn't make any sense to me."
Update: This story has been updated to clarify the circumstances of Rod Wheeler's hiring.