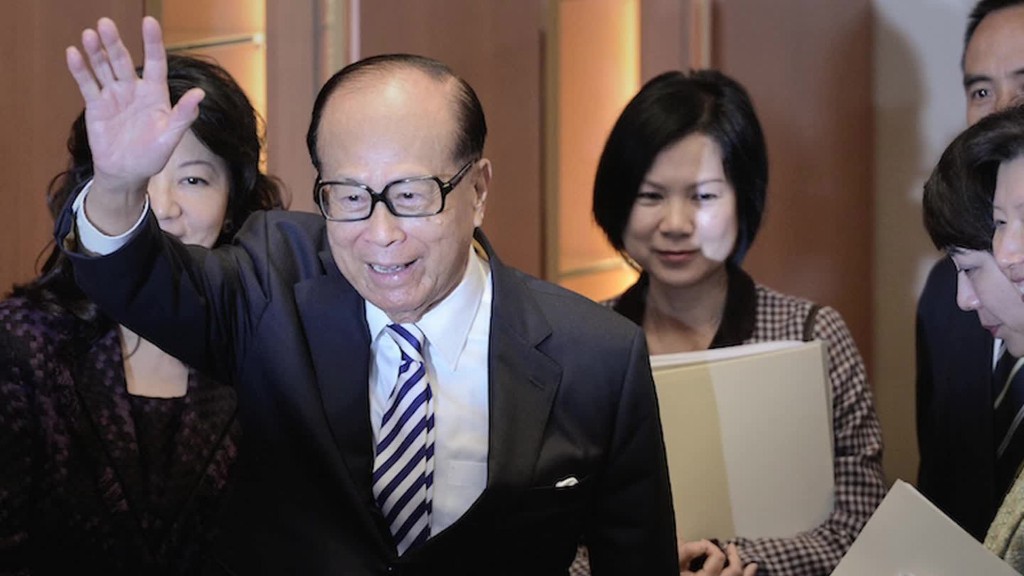 Legendary business tycoon Li Ka-shing is retiring.
CK Hutchison Holdings (CKHUY), the company that Li built into one of the biggest businesses in Asia, announced Friday that he will step down as chairman in May.
The 89-year-old billionaire presides over a business empire that spans shipping, telecommunications and retail. But he got his start in property, snapping up real estate that was going cheap following riots in Hong Kong in 1967.
Rumors of Li's retirement have been circulating for years. He named his son Li Tzar Kuoi, also known as Victor Li, as his successor last year. Victor, 53, has spent years preparing to succeed his father as chairman of the company.
Forbes estimates Li's current net worth at $35.4 billion, making him Hong Kong's richest man.
In Hong Kong, the self-made billionaire is known simply as "Superman," a reflection of his business prowess and skill at cutting deals.
Li was deeply involved in what remains the biggest corporate deal of all time, Vodafone's (VOD) takeover of Germany's Mannesmann in 2000. His business empire walked away with billions from the sale of shares in Mannesmann acquired when Li sold UK mobile operator Orange to the German firm.
Today, Li's CK Hutchison Holdings does business in more than 50 countries, including 52 ports around the world, and employs more than 290,000 people.
Its global assets include Canadian oil company Husky, one of Europe's leading telecommunications operators, and one of the UK's largest train leasing companies. He was knighted by Queen Elizabeth II in 2000.
Li, who turns 90 in July, will stay on as a senior adviser to the group.